E-Bike Rentals and Electric Shuttle Service Launched With Community Input
LOS ANGELES, CA –
LACI recently launched its fourth community pilot in Leimert Park with a consortium of community partners to bring zero emissions mobility to the South LA neighborhood. The pilot is the fourth pilot launched under the Zero Emissions Mobility and Community Pilot Project Fund, which provides clean and affordable transportation solutions as well as benefits of the green economy through workforce development and job creation. The Leimert Park Pilot provides courier and commuter e-bike rentals from Zoomo and neighborhood electric vehicle shuttles from Circuit. In addition, ghost kitchen and delivery service, Chewbox, is the third participating company that will expand their service offering to include Leimert Park's own South LA Cafe specialties to patrons across LA County. 
Funded by the California State Legislature via GoBiz to support zero emission transportation in underserved communities, LACI selected and deployed technologies after deep community engagement in the Greater Leimert Park Village Crenshaw Corridor community that included outreach to local elected officials, business owners, and grassroots organizations to assess their greatest transportation needs. 
"The issues of racial, economic, and climate justice are inextricably linked–working hand-in-hand with one of Los Angeles' historically Black communities, it's our goal to create an inclusive green economy," said Matt Petersen, LACI's President and CEO. " Launching this fourth community pilot in Leimert Park was quite special — especially because of the extraordinary input we got from so many community leaders who we are proud to call partners."
"For far too long, people of color and poor communities have borne disproportionate harm from air and climate pollution. I'm excited that LACI and their community partners are launching this project in Leimert Park that lacks access to zero emissions mobility solutions," said Assemblymember Sydney Kamlager-Dove (D-Los Angeles). "I'm proud that the legislature and State is supporting this project, and hope that this community pilots program can serve as a model for other programs in underserved communities in the L.A. region."
"I am thrilled to see this pilot in Leimert Park which continues to be a hub for creativity and innovation in South LA," shared Los Angeles County Supervisor Holly Mitchell (D-Los Angeles). "This initiative is helping to revitalize our local workforce while offering timely options for our residents to travel safely during this pandemic. The courier shuttles and electric bikes provide solo transportation that helps protect our environment and the health of our communities."
"LACI's partnership with South L.A. businesses is the type of work that will help our Black and Latino entrepreneurs sustain through this pandemic. The small business community continues to innovate and serve our neighborhoods during these difficult times," said L.A. City Councilmember Marqueece Harris-Dawson (D-8). "Our city must continue to support small businesses and connecting them to new technology and transportation options is a great way to help them connect with residents."
"It's indisputable that the impacts of pollution are profound and that we need to move with a sense of urgency in our transition to cleaner, greener mobility solutions. I'm proud that not only are we piloting this potentially impactful initiative in Leimert Park with LACI, but that we're doing it in a way that engages our entrepreneurs and supports our local workforce," said L.A. City Councilmember District Mark Ridley-Thomas (D-10). "We don't have to choose between a healthy environment and good jobs—we can and we must have both."
Two of these local businesses, Ride On! Bike Shop and South LA Cafe, have participated in LACI's Founders Business Accelerator, and are organizers and activists in their community. Another community partner is Ben Caldwell, artist, filmmaker, activist, and founder of KAOS Networkz. Caldwell is also a founding member of SankofaCity, a Leimert Park led initiative focused on afrofuturism designs for urban technology that include automated Neighborhood Electric Vehicles built locally. 
We Love Leimert, a local organizing group focused on creating sustainable opportunities for Leimert Park residents, was engaged to run a digital community feedback campaign on select zero emission mobility options. The Greater Leimert Park Village Crenshaw Corridor Business Improvement District (GLPVCC), Community Build Inc., Destination Crenshaw, and the Community Economic Development Corporation (CEDC) / Institute for Maximum Human Potential also helped with community outreach and project scoping.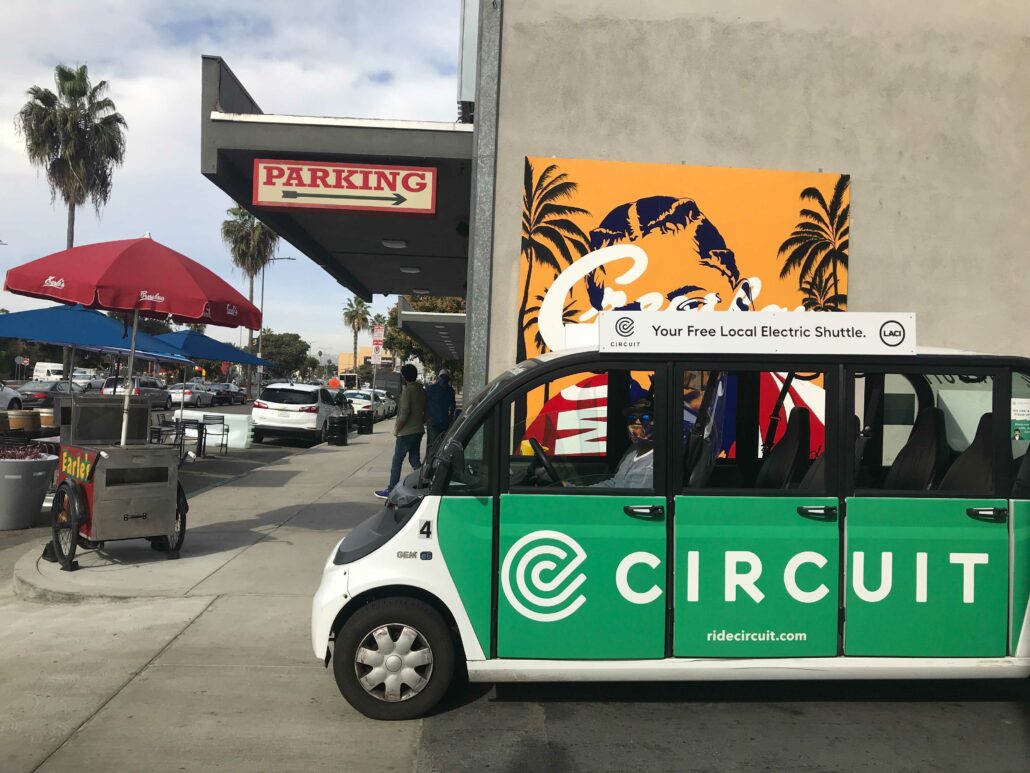 The pilot program began in November and features technology from Circuit, a neighborhood electric vehicle shuttle service, offering both flag down and on-demand (via a mobile app) service within the designated pilot coverage area. Circuit was also recently accepted into LACI's latest Market Access program. 
Chewbox, a software platform for ghost kitchens, is partnering with South LA Cafe. The South LA Cafe menu and eventually Market will be offered on the app and be delivered on set routes throughout LA County. This partnership will pilot their drink delivery service as well as be the first onboarded third-party restaurant which will test the increased revenue goals Chewbox aims to deliver. Chewbox is also a member of LACI's latest Market Access cohort.

Zoomo, e-bike rentals for couriers and commuters, is partnering with local Ride On! Bike Shop / Co-op to host the rental service. Ride On! Bike Shop / Co-op will not only be the location of service but also receive a revenue share. Complementary to the e-bike rentals launched for local couriers, rentals for commuters began at the end of the year. 
In addition to the technologies and services deployed in Leimert Park, this six month pilot will focus on local hiring for shuttle drivers, e-Bike mechanics, and operations staff. The pilot will run training and education workshops and seek to establish partnerships with local groceries and restaurants for food delivery to support local businesses during the pandemic and beyond. 
"We Love Leimert is proud to partner with LACI, Ride On Bike Shop, and Kaos Networkz to propel the Greater Leimert Park Village Crenshaw Corridor community into the future by providing access to clean and green transportation technology via the zero emissions mobility pilot," said Kaya Dantzler, Co-Lead Organizer of We Love Leimert. "Our section of South Los Angeles is well known for our contributions to LA's rich art and culture scene and we have so much to contribute to the development of our city beyond the creative industry. Given that, it's exciting to contribute to an effort that  combats the destructive impacts of the systemic economic and environmental racism that has plagued South LA for decades and expands the green economy in our community."
"Circuit is extremely excited to have partnered with LACI and the local community to provide an innovative and eco-friendly transportation option for a part of town that is currently underserved by public transportation, and we have seen immediate success," said Daniel Kramer, Director of Operations and New Business at Circuit. "We look forward to building on this success and providing connections to public transportation in the area as the Leimert Park community continues to grow."
"As the founder of ChewBox, and a native of both Watts and Silicon Valley, I am proud to leverage technology to empower hard working low income households with greater access to the gig economy. LACI was highly instrumental in helping us secure a pilot partnership with South LA Cafe, resulting in a rare symbiosis: where two black-owned companies join forces to expand their collective reach, resources, and reinvestment in the community," said Kim Gaston, Comisar.io / Chewbox Founder. "As a result, we can offer discounts on chef made meals to families throughout LA County, and with every purchase delivered donated meals to those in need, all while providing jobs and gig work to low income families."