The Los Angeles Cleantech Incubator and the City of Santa Monica are partnered to deploy a voluntary Zero-Emissions Delivery Zone (ZEDZ), the first of its kind in the US.
Goals of the Santa Monica ZEDZ
Provide a blueprint for cities to adopt zero emissions delivery zones and provide best practices for other zero emissions zones.

Provide ahead of the curve learnings to delivery companies for zero emission delivery zone operations by working hand in hand with the project implementation team. 

Immediate benefits to the local community such as reduced air pollution, GHG emissions, noise and congestion, as well as improved safety.

Provide economic opportunity to small businesses and individuals through access to zone benefits.
Why a Zero-Emissions Delivery Zone
The medium-duty trucks on the road in LA County come in many different forms, but most of them are involved in supporting goods delivery, including last-mile delivery. While economically vital, these trucks pose a public health hazard, as they are frequently powered by diesel, whose emissions are linked to any number of health problems, from asthma to lung cancer.
 Even before the pandemic, the challenge with medium-duty trucks was only getting worse, thanks to the skyrocketing growth of e-commerce. The World Economic Forum estimates that "without any intervention, the number of delivery vehicles in the top 100 cities globally will increase by 36% until 2030. Consequently, emissions from delivery traffic will increase by 32% and congestion will rise by over 21%, equalling an additional 11 minutes of commute time for each passenger every day."  
In May 2018, LACI launched an unprecedented multi-year Transportation Electrification Partnership bringing together local government officials, utilities, state regulators, industry leaders and startups to reduce GHG emissions and air pollution in the greater Los Angeles region by accelerating transportation electrification and zero emissions goods movement by 2028, the year that the Olympic and Paralympic games arrive in Los Angeles. 
This Transportation Electrification Partnership (TEP) launched its Roadmap 2.0 in November 2019, articulating how to achieve an additional 25 percent reduction in GHG emissions and air pollution in the LA region.  In particular, the Roadmap calls for 60% of medium-duty delivery trucks in LA County to be electric by 2028.
This goal aligns seamlessly with other Los Angeles goals linked to medium-duty trucks. Such as the City of Los Angeles' partnership with  global nonprofit C40 to commit to a zero emissions zone covering people and goods movement by 2030. Moreover, LA's Green New Deal calls for 100 percent of urban delivery vehicles to be zero emission by 2035.
Where is it?
The zone is a one-square mile area in the commercial activity core of Santa Monica.  The zone is roughly bound by Wilshire Blvd on the north, Lincoln Blvd on the east, Dewey Street (City boundary) on the south, and the Pacific Ocean on the west. The zone covers ZIP  codes 90401, 90405, and 90403 and is home to 15,850 residents, and two primary commercial districts—Downtown Santa Monica (including Third Street Promenade) and Main Street—that together employ roughly 28,900 workers in a wide range of industries. These areas welcome millions of annual visitors, and are hubs of commercial, social and institutional activity.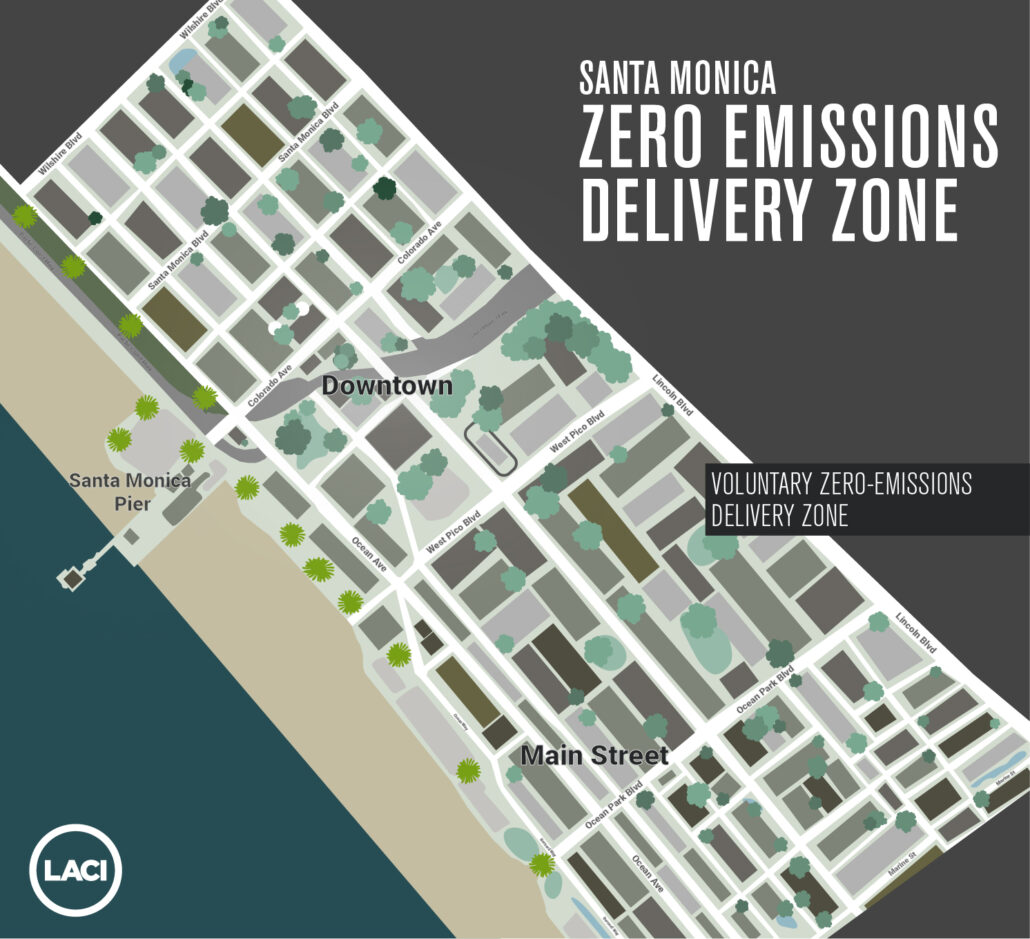 What will happen in the Zero Emissions Delivery Zone?
In 2020 and 2021 you can expect to see the following technologies deployed in the Santa Monica ZEDZ: 
Micromobility for food and parcel delivery
Heavy-duty, medium-duty and light-duty electric delivery vehicles
Commercial electric vehicle car sharing
Priority zero emission loading zones and curb management
Mobile charging applications for delivery
In the news and at conferences
On Demand Delivery and Low Emissions
The Rise of City Zero Emission Zones
The Los Angeles Cleantech Incubator (LACI), a private nonprofit organization, is creating an inclusive green economy by unlocking innovation (working with startups to accelerate the commercialization of clean technologies), transforming markets (through partnerships in transportation, energy and sustainable cities) and enhancing communities (through workforce development, pilots and other programs). Founded as an economic development initiative by the City of Los Angeles and its Department of Water & Power (LADWP), LACI is recognized as one of the most innovative business incubators in the world by UBI. In the past seven years, LACI has helped 78 portfolio companies raise $221M in funding, $220M in revenue, create 1,750 jobs, and deliver more than $393M in long term economic value. Learn more at laci.org