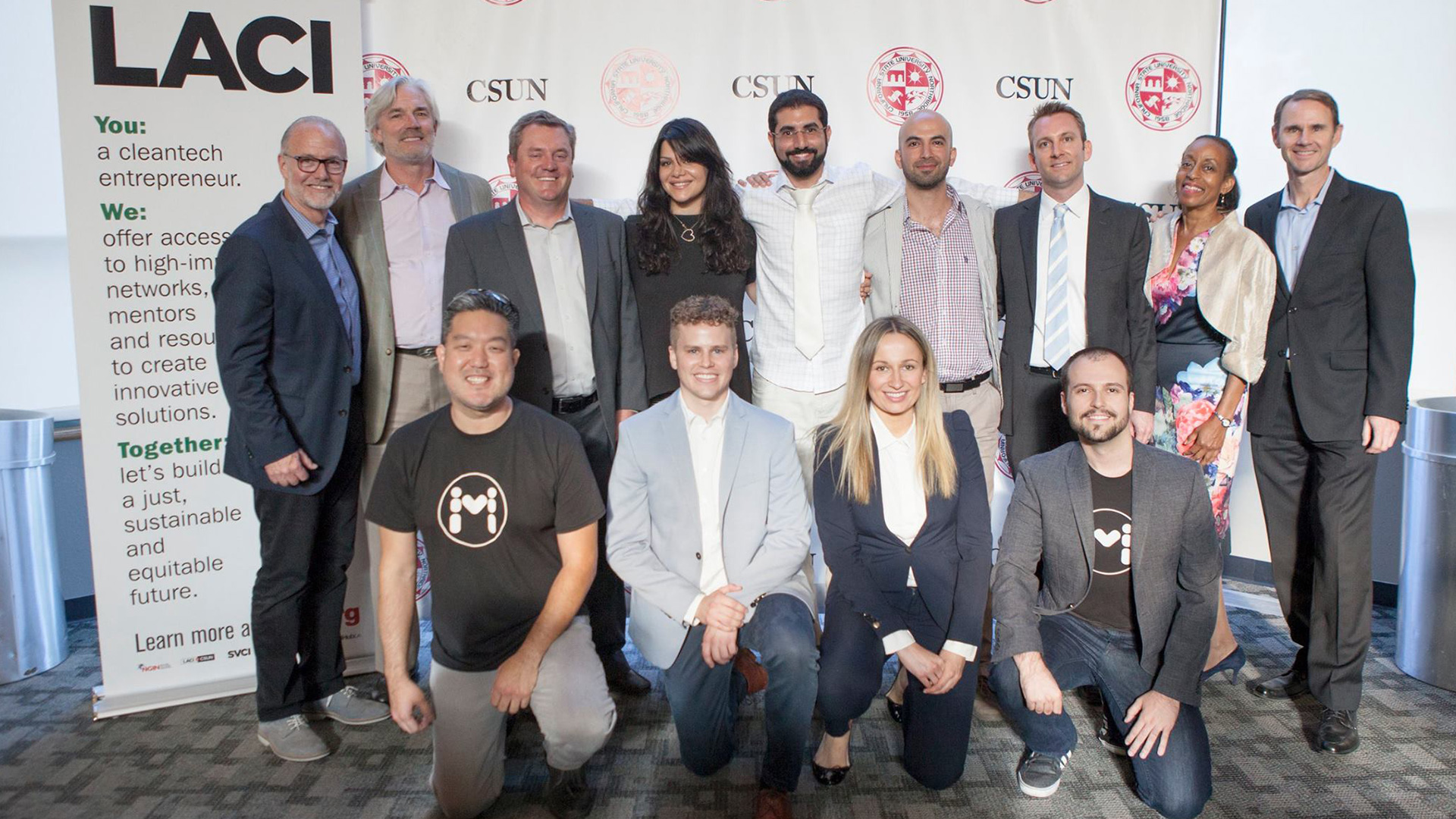 Pictured (L to R) are Tom White (Executive Director, LACI@CSUN), Paul Jennings (CEO, PCS Development), John Siegler (Executive-in-Residence, LACI), Cam Kashani (Founder, COACCEL), Ash Sobhe (CEO, R6S), Ryan Holbrook (Entrepreneurship Program Director, CSUN), Lois Shelton (Professor, Department of Management, CSUN), Max Aram (Founder & CEO, Pick My Solar), Ed Beres (Director of University Relations, LACI), and the winners Wan Song (MyGymPals), Steven Van Alen (Sleepyhead USA), Martyna Skrodzka (Sleepyhead USA), and Muris Mulalic (MyGymPals).
NORTHRIDGE, CA, May 9, 2017 – LACI@CSUN portfolio companies Sleepyhead and MyGymPals took home first and second place in the Bull Ring New Venture Competition, held on the campus of California State University Northridge (CSUN).
During the event, modeled after the ABC hit series Shark Tank, five teams of student entrepreneurs pitched their business ideas to a panel of independent judges: Enplug CEO Nanxi Liu, PCS Development CEO Paul Jennings, COACCEL co-founder Cam Kashani, and R6S CEO Ash Sobhe.
Sleepyhead earned the top prize of $20,000 and MyGymPals claimed the second-place prize of $10,000. The third-place prize of $5,000 went to Germ 3 Solutions. The cash prizes will go toward funding the teams' innovative startup concepts.
Sleepyhead, founded by CSUN business management major Steven Van Alen, is an e-commerce startup that sells boxed memory foam beds and donates one mattress to charity for every ten units sold. MyGymPals, founded by CSUN psychology major Muris Mulalic, is an app that helps exercise enthusiasts locate fitness communities and gym partners. Both are portfolio companies of LACI@CSUN, the University's on-campus branch of the Los Angeles Cleantech Incubator. Germ 3 Solutions' first product, the Body Substance Isolation Sleeve, helps reduce the spread of germs while doctors measure patients' blood pressures.
"We are grateful for David Nazarian's tremendous support of entrepreneurship efforts at CSUN and immensely proud of LACI@CSUN's two portfolio companies—Sleepyhead and MyGymPals—as well as all of the other extraordinarily talented teams that were involved in this competition," said Tom White, Executive Director of LACI@CSUN. "Their creativity, hard work, and vision will serve them well in their careers as entrepreneurs."
The finalists were chosen by popular vote from a pool of 46 applicants and advanced to the finals after a competitive semifinal event. The competition, co-organized by CSUN's David Nazarian College of Business and Economics, is designed to be a springboard for student entrepreneurs.
"This year, we had students competing from across the university, including computer science, mechanical engineering, biochemistry, psychology, arts, and many other disciplines," said Ryan Holbrook, CSUN Entrepreneurship Program Director. "With the prize money, in-kind services, and a three-month free membership in LACI@CSUN, teams will have the resources and support network needed to take their new ventures to the next level."
The event was made possible through a generous donation from the Jeff Marine family and ongoing support from the David Nazarian family. Top three finishers will also receive legal startup services from DLA Piper, accounting services from Armanino, LLP, marketing services from SKY Marketing Consultants, a brand design opportunity. Cash and in-kind services for the winners of this year's competition is valued in excess of $70,000.
For more information about the CSUN Bull Ring New Venture Competition, please visit www.csunbullring.com.
About LACI@CSUN
LACI@CSUN is an on-campus business incubator that fosters a culture of innovation and entrepreneurship across the California State University, Northridge (CSUN) campus. It is the goal of LACI@CSUN to help CSUN become the center of commercialization for the San Fernando Valley. Serving categories that include media and entertainment, health and wellness, education technology, and mobility, LACI@CSUN is a partnership between CSUN and the Los Angeles Cleantech Incubator (LACI). Dedicated to nurturing the next generation of innovators, entrepreneurs, and intrapraneurs from among CSUN's diverse 40,000 member student body, LACI@CSUN serves graduate and undergraduate students, alumni, faculty and staff from colleges across the CSUN campus, as well as the general public. It offers professional mentoring, collaborative work space, and access to a network of angel investors, private donors, and other influencers in the community.  For more information, please visit the LACI@CSUN website: http://csun.laci.org
About LACI
LACI is a private non-profit organization helping to accelerate the commercialization of clean technologies by offering flexible office space, CEO coaching, mentoring, and access to a robust network of partnerships and capital. LACI was founded in 2011 as a cluster-driven economic development initiative supported by the City of Los Angeles, the Los Angeles Department of Water & Power and the Community Redevelopment Agency of Los Angeles. Recognized as one of the most innovative business incubators in the world by UBI, LACI identifies local entrepreneurs across multiple cleantech business sectors and guides them to market, creating jobs that advance LA's green economy. In just five years, LACI has helped 67 companies raise $130M in funding, created 1,500 jobs, and delivered more than $335M in long term economic value for the City of Los Angeles. LACI operates out of the La Kretz Innovation Campus with satellite offices in Northridge, CA and Silicon Valley and is founder of the Network for Global Innovation NGIN. For additional information, please visit: laincubator.org.
Media Contact:
Laurie Peters
LACI Communications Director
lpeters@laci.org
(818) 635-4101