LADWP La Kretz Innovation Campus Grand Opening
Friday October 7th dawned sunny and bright, a perfect day for the grand Opening of LADWP's La Kretz Innovation Campus. Speakers included Los Angeles Mayor Eric Garcetti, LADWP General Manager David Wright, LADWP Chief Sustainability and Economic Development Officer Nancy Sutley, the United States Economic Development Administration's A. Leonard Smith, LACI's own President and CEO Fred Walti, and special guests Linda La KretzDuttenhaver and Morton La Kretz, a founding partner of LACI's whose philanthropic efforts helped get the facility built that bears his name, as well as William W. Funderburk, Jr., Partner at Castellón & Funderburk LLP.
Festivities included a ribbon cutting, tours of the facility's collaborative workspace, Advanced Prototyping Center and the LADWP Customer Engagement Center. An innovation expo, company fast pitches, and music spun by KCRW's Travis Holcombe rounded out a day of celebrating the arrival of LA's new cleantech innovation hub.
If you missed The Campus' big day, you can sign up for a walking tour and info session on the building's LEED and WELL features, plus an in-depth look inside LACI's Advanced Prototyping Center (APC). Tours are offered most Fridays at noon with advanced RSVP: https://laincubator.org/la-kretz-innovation-campus/la-kretz-tours/
Workspaces • Prototyping Center • Training Center
The La Kretz Innovation Campus is Los Angeles' new cleantech industry hub – a place where entrepreneurs, engineers, scientists and policymakers can collaborate, promote and support the development of clean technologies and LA's green economy. A fully renovated 60,000 square foot building located at 5th and Hewitt Streets in the dynamic Arts District of Downtown Los Angeles, the Campus comprises 3.2 acres and is owned by the Los Angeles Department of Water and Power.
The Campus features offices, conference rooms, R&D labs, prototype manufacturing workshop, training center, and event space, in addition to LADWP laboratories for both Customer Engagement and Energy Efficiency and Technology. The Campus is directly adjacent to the site of a new Arts District Park and will offer surface parking with a 175 kilowatt photovoltaic solar canopy, greywater filtration, bioswale, and microgrid systems, all in the heart of LA's Cleantech Corridor.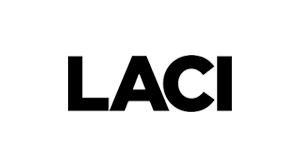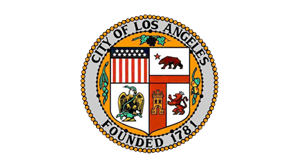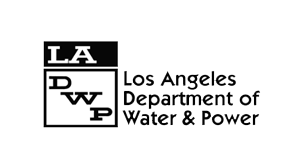 Join us in the
community

Become a Member
Interested in using the
Advanced Prototyping
Center?
Interested in using the
Training
Center?
Are you interested in a
Tour
of the La Kretz Innovation Center?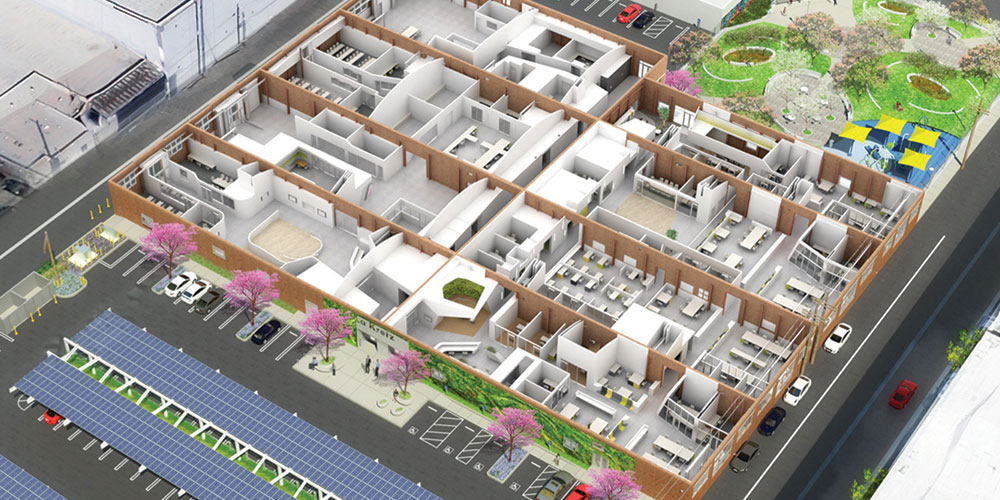 © John Friedman Alice Kimm Architects
An ecosystem created for companies in the clean technology space, The La Kretz Innovation Campus was designed with creativity and collaboration in mind, and comes complete with resources to accelerate growth by preserving capital and offering scalability (Use fees apply).
The Campus will house LACI, further enhancing their ability to accelerate the commercialization of clean technologies by offering flexible office space, CEO coaching and mentoring, and access to a growing network of experts and capital. LACI is the business equivalent of baseball's farm system: it identifies local talent, nurtures it, and helps it get to market, resulting in more jobs and a bigger green economy in Los Angeles.
Engaging entrepreneurs, inventors, business leaders and students to work together in one environment: the La Kretz Innovation Campus is a new focal point for the future of cleantech in Los Angeles.
Features
Collaborative Workspace
Private Offices
Conference Rooms
Event Space
Dedicated Fiber Connection
Adjacent to the new Arts District Park
Training Center
40-person Classroom
32-person Classroom
16-person Classroom
HD Video streaming Capability
Multiple Room Configurations Available
Prototype
Manufacturing Center
& Equipment
Electronics Lab
Wet Lab
3-D Printing Room
Welding Room
Laser Cutter / Water Jet / CNC Milling Machine
Machine Shop Tools
All plans are available through an application and review process, subject to applicant meeting general LACI cleantech sector focused requirements and approval by LACI.
All LACI Membership Plans Provide
Unlimited conference room booking ability
Booking access for Training Center at LKIC, Atrium Event Space, and Break Room
Access to the Prototyping Center (Use fees apply)
Access to LKIC events, classes, and speaker series
Free beverages and printing (within standard limit)
The LACI Corporate Plan
Brand Recognition
Collaborative Workspace open seating access for 20 days per month
Usable by any company employee on a per day basis
LACI International Partner
Brand Recognition
Dedicated Open Space Desk and Private Office options available
LACI Strategic Partner
Brand Recognition
Dedicated Open Space Desk and Private Office options available
LACI Portfolio Company
Collaborative Workspace open seating access
Dedicated Open Space Desk and Private Office options available
Free booking access for training rooms at LKIC, Atrium Event Space, and Break Room
Discounted and priority access to the Prototyping Center
Free access to LKIC events, classes, and speaker series
Parking and Public Transit
Standard daily parking rates apply for the La Kretz Innovation Campus. EV fast charging and monthly packages available.
We encourage use of public transportation, details can be found at: www.metro.net
Event Space and Training Center
Contact us for rates and availability
Ben Stapleton
Chief Partnerships Officer
LACI

John Friedman Alice Kimm Architects (JFAK) was founded in 1996 and is based in the vibrant Arts District of Downtown Los Angeles. With the belief that architecture has the power to transform people's lives, JFAK creates environments and buildings that encourage creative and social interaction, sustain the environment, and catalyze positive change for their users and surrounding communities. The firm's work spans schools, university research and activity centers, commercial ventures, custom homes and multifamily housing, and public space installations. While embracing technology and sustainable principles, each project is approached as an opportunity to artfully enhance the cultural context in which it is located.
JFAK has been internationally recognized for its material and sustainable intelligence, as well as for its spatial fluidity, quality of light, and social significance. John and Alice have each been honored with election to Fellowship of the American Institute of Architects, and both partners are active architectural educators who lecture widely. To learn more about John Friedman Alice Kimm Architects, visit www.jfak.net.
Los Angeles Arts District
The La Kretz Innovation Campus sits on one entire city block in the heart of the Los Angeles Cleantech Corridor, on the the eastern edge of Downtown Los Angeles in the Arts District.
The campus is accessible by public transit and is surrounded by a lively mix of live/work lofts, restaurants, bars, coffee houses, art galleries, and green space.
Nearby cultural landmarks include the 
Museum of Contemporary Art (MOCA) the Japanese American National Museum, the Los Angeles Performing Arts Center, 
Disney Concert Hall and LA Live.
Take a tour and see for yourself! Find out how you can join our community of entrepreneurs, innovators and game-changers today.