"Rancho San Pedro Electric Car Share" Pilot Part Of Initiative To Reduce Air Pollution, Increase Access To Zero-Emissions Mobility Across LA
LOS ANGELES, CA – Los Angeles Cleantech Incubator (LACI), the Housing Authority of the City of Los Angeles (HACLA), and Envoy, a LACI portfolio company, recently launched a new electric vehicle (EV) community car-share program named Rancho San Pedro Electric Car Share. LACI's Transportation Electrification Partnership member, Nissan North America, is providing funding for one of the electric vehicles for the pilot. 
The cars are stationed at the HACLA Rancho San Pedro property, providing direct and affordable access to EV's to Rancho San Pedro residents beginning last week.
The program is part of LACI's Zero Emissions Mobility and Community Pilot Project Fund which is launching four zero-emissions mobility pilots around Los Angeles county this year. The first pilot, named Pacoima Electro-Share, launched in Pacoima, CA in July 2020. The fund is part of the ongoing work of LACI and the Transportation Electrification Partnership's (TEP) efforts to bring investment, jobs, and the benefits of the green economy to underserved communities while reducing air pollution and increasing the use of zero-emission vehicles regionally.
The pilot program's commitment to community includes affordable hourly rates and alternative payment methods for the unbanked population. The pilot is being made possible by a grant to LACI from the State of California.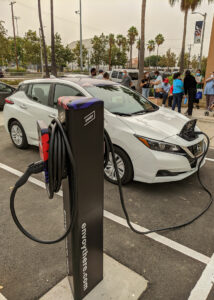 "LACI is determined to bring the benefits of electric vehicles and mobility to historically underserved communities," said LACI CEO Matt Petersen. "Partnering with HACLA and Envoy, with support from the State Legislature and other partners, we are putting in place the kinds of solutions that can ensure equity and help meet the goals announced in Governor Newsom's historic executive order this week." 
"I am pleased that the State of California is supporting this innovative project led by LACI and HACLA," said California State Senator Steven Bradford (D-Gardena). "This program will bring EV ride sharing and charging infrastructure into communities in the 35th Senate District that previously lacked access to both, empowering consumers with new clean transportation options. Broadening access to clean vehicles is a critical part of our response to climate change."
"Congratulations to this public-private partnership between Envoy, the Los Angeles Cleantech Incubator and the Housing Authority of Los Angeles," said California State Assemblymember Patrick O'Donnell (D-Long Beach). "This project will bring good paying, green jobs to our community while providing San Pedro residents access to transportation options that will reduce carbon emissions."
"As California takes the necessary steps to reduce greenhouse gas emissions and improve our air quality, we must also take steps to ensure that every community is included in this zero-emission future," said Los Angeles City Councilmember Joe Buscaino (D-15). "In order to achieve that inclusive future, we must innovate with pilot programs like LACI's EV car share program and continue to make sure that diverse and underserved communities benefit from these innovations."
"Going green shouldn't be reserved for only a specific socioeconomic status," said HACLA President and CEO Doug Guthrie. "This electric vehicle share initiative provides a benefit to the community and environment as a whole. The Housing Authority of the City of Los Angeles is proud to partner with LACI on this forward-thinking and innovative pilot program that brings both opportunity and access to our residents in a community that is often overlooked and underserved," Guthrie added. 
"We're thrilled to be launching our second community car share program in partnership with LACI and HACLA.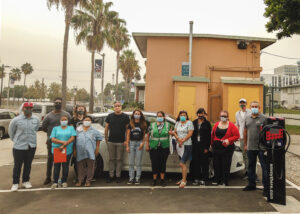 Envoy's vehicles will be providing anessential service to this San Pedro community where the nearest grocery store is over half a mile away," said Aric Ohana, CEO of Envoy. "Envoy is providing a low-cost mobility solution to help bridge the access gap. In addition, we're enabling communities who are typically late adopters of technology and especially electric vehicles to be first adopters."
"We are excited to make a Nissan Leaf available for the HACLA residents in San Pedro in partnership with Envoy and LACI," says Rachel Nguyen, Director of Nissan Future Lab. "We continue to work to find solutions that provide people access to clean and affordable means of transportation for their everyday trips."
#  #  #
LACI's currently seeking e-bike share solutions (e-bikes, infrastructure, and ops & maintenance providers) for the Housing Authority of the City of Los Angeles' Rancho San Pedro development. Submit your Request for Proposal (RFP) by October 29, 2021 at laci.org/opportunities
ABOUT LACI
Los Angeles Cleantech Incubator (LACI) is creating an inclusive green economy for the people of Los Angeles by: unlocking innovation by working with startups to accelerate the commercialization of clean technologies; transforming markets through partnerships with policymakers, innovators, and market leaders in transportation, energy and sustainable cities; and enhancing communities through workforce development, pilots, and other programs. Founded as an economic development initiative by the City of Los Angeles and Los Angeles Department of Water & Power (LADWP), LACI is recognized as one of the most innovative business incubators in the world by UBI. In the past ten years, LACI has helped 236 portfolio companies raise $508 million in funding, $272 million in revenue, and create over 2,100 jobs in the Los Angeles region. Learn more at laci.org
MEDIA CONTACT