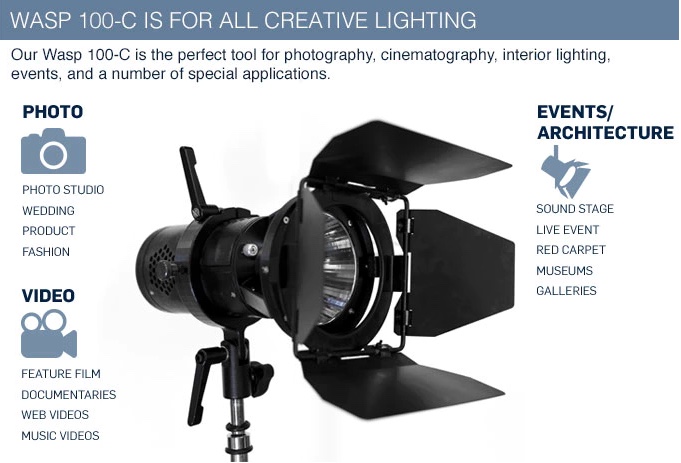 First Product Developed at LA's New Advanced Prototyping Center Surpasses Crowd-funding Goal by 500% in First Week of Campaign
Los Angeles, CA—November 29, 2016—Hive Lighting, manufacturer of energy efficient lighting for the entertainment industry, introduced the first product to be developed and prototyped at LA's new cleantech innovation hub. The Los Angeles Cleantech Incubator (LACI) portfolio company just launched their newest energy efficient lighting fixture, the Wasp 100-C, for entertainment lighting through Kickstarter, surpassing its crowd-funding goal by 500%. Pre-sales at discounted rates reached in excess of $200,000 the first week of the campaign.
Hive Lighting, in consideration for a Scientific and Technical Academy Award this year, designed and prototyped the environmentally-friendly entertainment lighting product at the new Advanced Prototyping Center in downtown LA's La Kretz Innovation Campus. The Wasp 100-C represents the next generation of lighting for all levels of production, from professional gaffers on Hollywood feature films to aspiring indie filmmakers, video bloggers and fashion photographers. Known for premium quality energy efficient plasma bulbs for film, television, live events, sports and architecture, this is Hive Lighting's first LED light and offers convenient controls and limitless color options. It provides a cost-effective solution for quick adaptation in lighting situations with superior quality, energy efficiency and reduced heat generation.
"The Wasp 100-C brings quality and control from the highest levels of professional lighting to a much broader audience," commented Hive Lighting Co-founder and Chief Product Officer, Jonathan Miller. "This Kickstarter campaign has been a great opportunity for us to interact directly with our customers. Involving the customer earlier in the process has been real win/win for us and them. We receive their input and support and in exchange can offer very affordable pricing for this state-of-the-art lighting."
Hive Lighting Inc. designs and manufactures energy efficient lighting products for the entertainment industry. The company's award-winning products are high quality, environmentally responsible and proudly Made in the USA. Hive Lighting's innovation in plasma lighting for film and television is currently in consideration for a 2017 Academy Award for Scientific and Technical Achievement. For additional information please visit the Hive Lighting Kickstarter campaign here.
The Los Angeles Cleantech Incubator (LACI) is a private non-profit organization helping to accelerate the commercialization of clean technologies by offering flexible office space, mentoring, and access to a robust network of partnerships and capital. Recognized as one of the most innovative business incubators in the world by UBI, LACI identifies local entrepreneurs across multiple cleantech business sectors and guides them to market, creating jobs that advance LA's green economy. The La Kretz Innovation Campus is home to LACI and an ecosystem of innovative thought leaders promoting the development of clean technologies and a green economy for Los Angeles.
Media Contact:
Laurie Peters, lpeters@LACI.org
LACI Communications Director
(818) 635-4101