Since 2015, the Los Angeles Department of Water and Power (LADWP), in partnership with LACI, has run electric vehicle (EV) pilot projects at LADWP's La Kretz Innovation Campus (LKIC), home to 32 EV chargers and a 178.5 kW solar carport. The project, better known as the "EV Showcase," seeks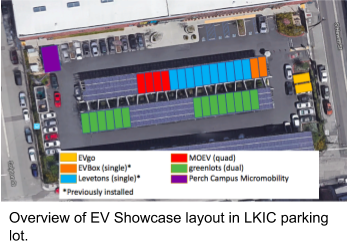 to monitor the environmental benefits of solar paired with EV charging, financial benefits provided to EV drivers, and public charging usage trends. The groundbreaking EV Showcase project, using LKIC as a living lab for clean technology, works with LACI portfolio companies such as graduated startup companies MOEV, Perch and Freewire to demonstrate the latest technologies for EV adoption. Since its inception, the project provides compelling evidence that public and workplace charging influences EV charging adoption and showcases the benefits of a tied-in solar/battery microgrid system with EV charging benefits. These findings reinforce that the goals set forth by LACI's Transportation Electrification Partnership (TEP) can be reached by deploying clean energy solutions and EV infrastructure.
Setting Bold Goals 
Los Angeles has set bold sustainability goals in the Green New Deal for LA. Elevating these goals further, LACI's Transportation Electrification Partnership (TEP)—an unprecedented multi-year partnership among local, regional, and state stakeholders to accelerate transportation electrification—created the Roadmap 2.0 to reduce greenhouse gas emissions (GHG) and air pollution by an additional 25% beyond existing commitments by 2028. To reach this goal, the following EV adoption rates must be met: 
30% of all cars are EVs, and 80% of car sales are EVs.

20% of all trips shift to public or active transport.

All public investments into goods movement are zero emission. 
In addition, the Roadmap 2.0 calls for 84,000 public and workplace EV chargers in order to support 30% of all cars on the road being EVs. LACI's pilots, such as the EV Showcase in partnership with and founded by LADWP, aim to inform regional sustainability initiatives that bring the TEP Roadmap 2.0 goals to reality. As the region sets its sights on these aggressive goals, there is a need to understand the incentives, public usage trends and environmental benefits behind workplace and public EV charging and the added benefits of pairing solar to offset power from the electric grid. The findings from the EV Showcase at LKIC can inform regional and utility supported programs that incentivize workplace EV charging, policy making and LADWP rate and infrastructure decisions. 
If You Build Them, They Will Come 
In November of 2018, 16 EV chargers were installed at LKIC, doubling the overall number of chargers on campus before the deployment. The installation included two direct-current fast chargers (DCFC) in collaboration with LADWP and EVgo, and 14 Level 2 chargers donated by LACI TEP member Greenlots. Before the installation, 16 Level 2 chargers on campus supplied ~6,100 kWh per month

– enough power to fuel 18 EVs, based on average monthly vehicle miles driven1. With the additional 16 chargers installed, usage increased immediately and the average monthly demand for EV charging more than doubled throughout 2019. This resulted in enough fuel to power the average monthly vehicle miles driven by 43 EVs per month (~13,900 kWh). These adoption rates have also been incentivized by LADWP's commitment to moving the needle on public and workplace charging. Level 2 charging on campus is offered free to campus members. By removing these financial barriers to EV adoption, in 2019 campus members collectively saved more than $38,000 compared to fueling costs of driving a gas vehicle the same distance. 
Furthermore, when building owners and parking lot operators deploy public EV charging at a workplace, not only will the employees use the EV chargers during the day, but EV chargers will also attract local and nearby EV drivers outside the workplace. For example, at LKIC, charging during evenings and weekends accounts for nearly half (48%) of all EV charging consumption, supplying enough power equivalent to the average annual distance driven to power an EV 20 times.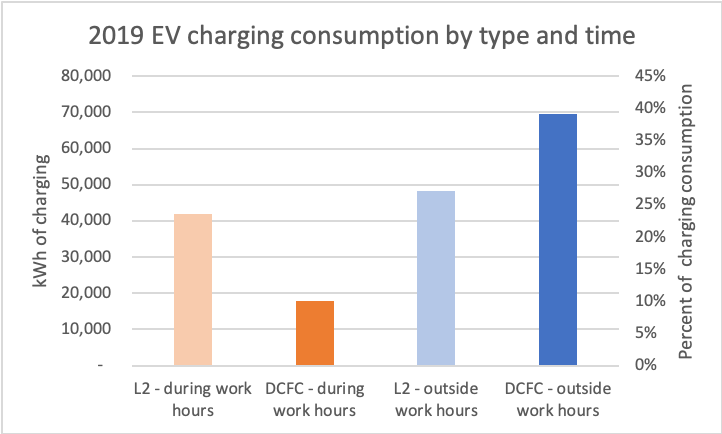 The EV Showcase pilot also unveils interesting user preference findings due to the different types of chargers on campus. Findings from the EV Showcase suggest EV drivers prefer different charging capabilities (Level 2 or DCFC) based on the time of day and the day of the week. For example, 80% of all DCFC electricity consumption in 2019 took place outside of work hours, from 5PM – 8AM during weekdays and all day during weekends. In comparison, during weekday work hours, from 8AM to 5PM, 70% of all EV charging is consumed by the Level 2 chargers. The breakdown of charging consumption by time and type of charger is shown here on the right.
Pairing Solar with EV Charging Achieves Significant Greenhouse Gas Emissions Reductions
LKIC generates enough electricity from the 714 panel, 178.5 kW solar carport, to meet 100% of LKIC EV charging consumption, while also providing excess clean solar to the regional electricity grid.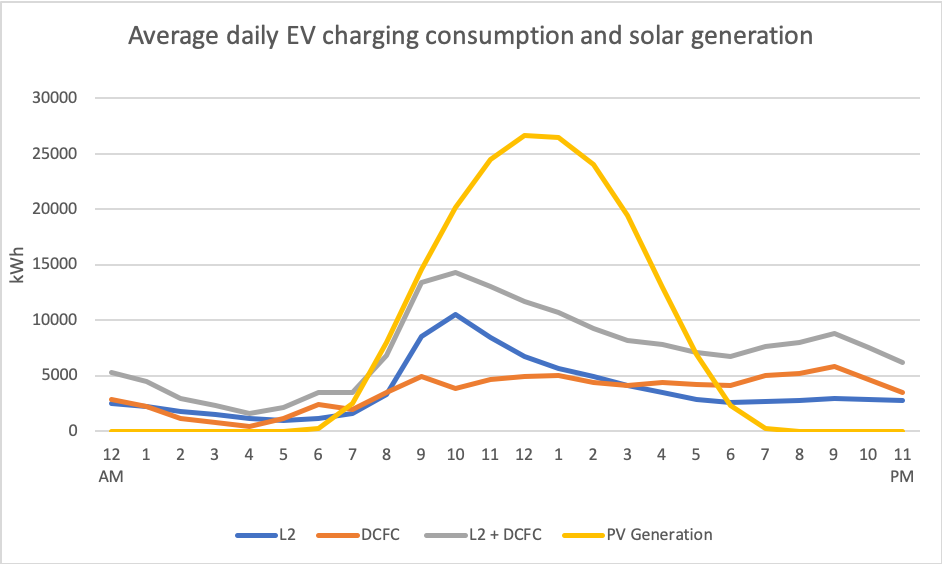 During 2019, solar generation on campus provided enough electricity to power 43 EVs annually. This carbon-free electricity equates to roughly 487,300 pounds of GHG emissions reduced. The conversion also equates to 24,871 gallons of gas avoided, the annual electricity consumed by 37 American homes, or the carbon sequestered by 246 acres of forests2. In addition, the solar carport generates 16,091 kWh more electricity than is needed for EV charging, sending additional clean electricity back to the power grid or to maintain the grid integrity of the La Kretz Innovation Campus through the synergy established through the battery energy storage system. 
EV Showcase Pilot Proves TEP Goals are Achievable
To achieve an additional 25% in GHG and air pollution savings beyond existing Green New Deal commitments, early adopters of workplace charging need confidence in deploying public EV charging to meet TEP Roadmap 2.0 2028 goals. At LKIC, charger deployments of this magnitude have already been met.
To achieve the TEP goal, that 30% of all cars in Los Angeles are EVs, and 80% of car sales are EVs by 2028, the TEP Roadmap 2.0 calls for 84,000 public and workplace charging stations by 2028. That translates to 2.2 charging stations per 100 employees (in an office building) in LA County3. At LKIC, with 256 employees and 32 chargers, there are 12.5 charging stations per 100 employees. LKIC has nearly 6 times more EV chargers than the needed amount to reach TEP goals by 2030. This infrastructure serves as the model for large scale commercial electrification plans.  
Los Angeles has just eight short years until the world arrives in our city for the Olympic and Paralympic Games in 2028; this is an incredible opportunity not only to have clean air and reduced GHG emissions, but also to highlight LA's sustainability leadership. Leaders who adopt technologies such as EV charging and solar can accelerate EV adoption and reduce GHG emissions. Applying the learnings from pilot projects like the EV showcase are just one of the ways LACI is paving the path to an inclusive green economy. 
Footnotes
U.S. Department of Energy. Alternative Fuels Data Center https://afdc.energy.gov/vehicles/electric_emissions_sources.html
EPA Greenhouse Gas Equivalencies Calculator https://www.epa.gov/energy/greenhouse-gas-equivalencies-calculator
US Census Bureau QuickFacts, Los Angeles County https://www.census.gov/quickfacts/fact/table/losangelescountycalifornia/BZA110217