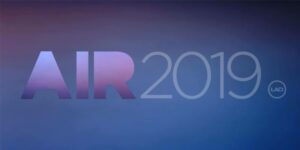 Call for submissions open for a second year as AIR fosters innovation by supporting research-led artists to combat climate change
Los Angeles, CA – Los Angeles Cleantech Incubator (LACI) today launched the second year of its Artist-in-Residence Program (AIR) by opening its application process for a new cohort of diverse artists. LACI is hosting a panel today with 2018 resident artists—Rebecca Bruno, Nova, Jiang, and Program Founder Debra Scacco— who will discuss how the residency impacted their art practice through exposure to the intellectual and mechanical resources housed at LACI.
AIR is a pioneering program at the intersection of art and the environmental sector.  The first of its kind at the LA Kretz Innovation Campus, AIR is made possible through generous support from the Durfee Foundation, a family foundation investing in extraordinary people and programs to improve the lives of those living in Los Angeles, and many others. The program continues to engage donors to meet its funding needs for the coming year.
AIR is designed to uniquely function within a clean technology incubator. Through a stipend, training and access to tools, and the opportunity to collaborate with members of LACI's intellectual network, three artists are supported in the process of research, learning, and developing long-term ideas related to climate change. For research-based interdisciplinary artists, this is ideal. They have the opportunity to forge relationships with entrepreneurs, policy makers and leading thinkers while also having access to the Advanced Prototyping Center (APC). The APC provides artists with tools including a laser cutter, water jet, metal shop and more.
"We are so excited about AIR and the work of our second cohort of incredible artists–we are endeavoring to empower innovation by uniting the creative and cleantech communities to address environmental problems. Curiosity unites our artists and entrepreneurs to partner together to find breakthrough solutions to climate change," said Matt Petersen, LACI's CEO. "Complex issues cannot be approached from one perspective, and being a nexus of different mediums for problem-solving is core to LACI's DNA." Matt Petersen, President & CEO, LACI.
Today's panel discussion will share how first year residents discussed innovative approaches to climate change. Through varying ways of working, each artist engaged with a deep study of humans in relation to their surrounding environments, highlighting agricultural regeneration, urban erasure, and city infrastructure.
Rebecca Bruno explored the link between agricultural systems and the choreographic process used in dance and performance art through her piece, Life Keeping Recipe for a Relic.
Nova Jiang focused on the relational cycles of urban blight and redevelopment, specifically as they affect neighborhood accessibility and diversity through her installation, Bunker, which commemorates the Los Angeles neighborhood of Bunker Hill.
Debra Scacco initiated the first phase of her long-term project, titled Future Tense, an installation that uses Los Angeles as a case study to investigate the relationship between city geographies, historic river courses and existing highway configurations.
"Artists are faced with multiple professional challenges: financial insecurity, being continually overstretched and limited access to resources being among the most common. I created AIR specifically to address these challenges. The program provides space for critical thinking, interdisciplinary dialogue and conceptual and material experimentation. We encourage artists to think, learn, and play; and facilitate opportunities to build relationships with leading minds in the environmental sector. My hope is in the not-so-distant future we start seeing public works about climate change appear throughout LA and beyond as a result of the support and introductions made during AIR." Debra Scacco, Founding Director of LACI's AIR Program.
AIR is committed to reflecting the diversity of multi-cultural Los Angeles, and to enhancing opportunities of creative thinkers across the city. In addition to the residency itself, AIR hosts year-round creative programming. 2018 included artists' studio visits for South LA teens, an artists' talk featuring Carolina Caycedo, a site visit to a recycling facility and a range of professional development workshops with community partner Small Green Door. AIR's free on-and-off campus programming benefits a diverse array of creative thinkers concerned with climate-related issues.
About AIR
AIR, the Artist-in-Residence Program at Los Angeles Cleantech Incubator (LACI), empowers innovation by uniting the creative and cleantech communities in the shared aim of addressing global environmental problems.
Situated in the heart of Los Angeles' Arts District, AIR enhances LACI's innovation community by introducing research-led artists to a thriving environment: where entrepreneurs, engineers, organizations and policy makers collaborate, promote and support the development of clean technologies.
The benefits of the six-month residency include:
— $13,000 stipend
— Access to leading minds
— Training and access to prototyping equipment
— Community engagement at the interplay of technology, sustainability, and the arts
Artists in the program receive training and access to the Advanced Prototyping Center at the La Kretz Innovation Campus, owned by LADWP and managed by LACI. The Advanced Prototyping Center features an electronics lab, bio-chemistry lab, CNC center, water jet center, welding shop, 3D printing shop, use of premium CAD software, laser cutters, sand- blasting, large scale printing, an industrial sew shop and more.
In addition to the Residency Program, AIR offers free public programming focused on equity, collaboration, community building and empowering artists as agents of change.
AIR is now accepting applications for three new resident artists, with the six-month residency to begin May/June.
To Apply: https://laincubator.org/air2019call/
Eligibility: Professional Los Angeles based artists from all backgrounds and of all disciplines are encouraged to apply.
For more information visit: https://laincubator.org/air/
About LACI
The Los Angeles Cleantech Incubator (LACI) is a private nonprofit organization creating an inclusive green economy by unlocking innovation (through working with startups to accelerate the commercialization of clean technologies), transforming markets (through partnerships in transportation, energy and sustainable cities) and enhancing communities (through workforce development, pilots and other programs). Founded as an economic development initiative by the City of Los Angeles and its Department of Water & Power (LADWP), LACI is recognized as one of the most innovative business incubators in the world by UBI. In the past six years, LACI has helped 73 portfolio companies raise $184M in funding, $220M in revenue, create 1,700 jobs, and deliver more than $379M in long term economic value. Learn more at laci.org.
For more information, please visit http://laci.org and follow us on Twitter and Facebook @LACIncubator.
Media Contact
Claire Totten
Mercury for Los Angeles Cleantech Incubator
Cell: (805) 901-0447
Ctotten@mercuryllc.com