Along a deserted riverbed covered with wild grasses and low shrubs, 16 young men and women work to clear branches, debris and trash, remove invasive plants and install irrigation systems. They are restoring this stretch of the Los Angeles river to rebuild wildlife habitats, restore native species and provide space for residents to engage with nature.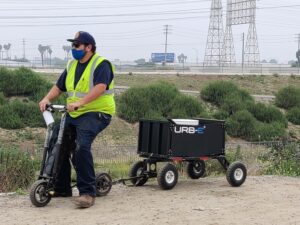 These young people are part of the Conservation Corps of Long Beach Work & Skills Program, where they work for a living wage, gain job experience and smooth their transition between community college and four-year college or between high school and full-time work. 
LACI has teamed up with the Conservation Corps of Long Beach to add an exciting element to this program—participants are taking part in a pilot program to test e-cargo bikes as an alternative to diesel-burning utility vehicles used for their work. As part of the pilot program, participants are part of a critical zero emissions pilot program to address three issues: 
1. Air quality. As an alternative to diesel-powered utility-terrain vehicles (UTVs), the e-bikes' with cargo capacity will reduce GHG and criteria air pollutants. The pilot measures the distance traveled each day to quantify the amount of GHG emissions offset by using zero emissions transportation. The e-bikes are charged every evening by an off-grid solar PV and battery system.

2. Workforce development. The at-risk youth are encouraged to pursue green jobs and they will work with LACI and the Conservation Corps of Long Beach on training and green job opportunities.
3. The feasibility of off-grid charging. The URB-E bikes are charged in a recycled shipping container outfitted with rooftop solar and battery storage, proving that the charging hub can be a modular infrastructure.  Finding ways to more sustainably and more cost-effectively charge micro-mobility devices, whether e-bikes or scooters, is a focus of nearly every player and investor in the micro-mobility space.
The pilot program in Long Beach is one of three pilot programs—announced by Mayor Garcetti in May 2019— for clean air, reducing greenhouse gas emissions and bringing the benefits of the green economy to disadvantaged communities. The  Zero Emissions Mobility and Community Pilot Project Fund dedicated more than $400,000 for zero emissions mobility solutions, technical assistance from LACI and new technology for LACI cleantech Portfolio Companies.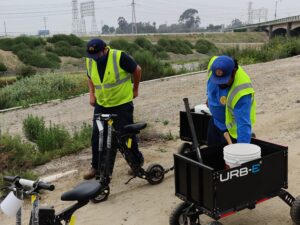 The 10 electric cargo bikes used in Long Beach are from Pasadena-based URB-E, a startup company in LACI's Incubation Program. The URB-E cargo bikes are high-performance, foldable electric vehicles with aircraft-grade aluminum, suspension for a smooth ride, durable tires and trailer. The e-cargo bike is 35 lbs and it folds for easy storage and transport. The bike and trailer are the same currently being used by UPS for zero emissions package delivery. 
Many of the young people participating in the Long Beach pilot program live in the Lower Los Angeles River corridor, and therefore the workforce development opportunities created in conjunction with revitalization projects directly benefit local residents in their neighborhoods. Most are of color (approximately 55% African American, 36% Latino, 9% Asian). Most live in communities in North and West Long Beach, Compton, South LA or Watts and 100% are low-income. The workforce development aspect of the pilot program includes training opportunities through LACI's workforce development programs.  
The Long Beach Pilot Project— the first of the Zero Emissions Mobility and Community Pilot Project Fund— will help us deliver creative solutions to cut pollution, spur innovation and make good on our commitment to environmental justice in every community.