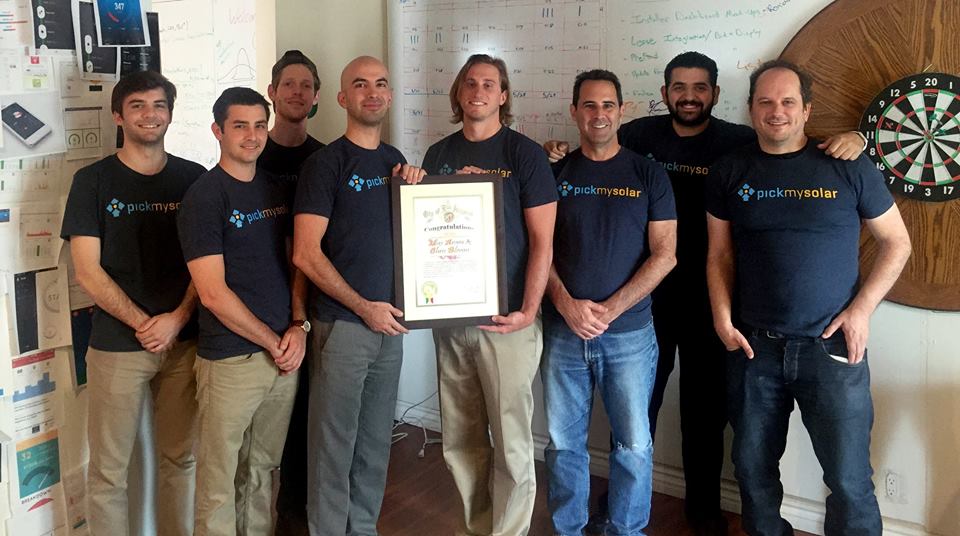 LACI Portfolio Company Pick My Solar was named this year's "Outstanding Small Business" on May 4th at Los Angeles City Hall. Presented by Mayor Garcetti as part of LA Small Business Week, the recognition comes from the U.S. Small Business Administration's Small Business Development Center.
Pick My Solar was founded in 2013 and joined LACI that same year. With backgrounds in engineering, Co-Founders Max Aram and Chris Blevins have always felt passionate about solar power, both from scientific and environmental perspectives. When they entered the solar industry after college, they realized that a major obstacle to broad-based industry growth was confusion on the part of consumers over the purchasing, bidding, and financing of solar power. Max and Chris then created Pick My Solar, which serves as an online marketplace, to simplify the process, drive down costs, and provide transparency for homeowners.
Since it's founding just two years ago, Pick My Solar has assisted over 10,000 homeowners with solar pricing, data, and installation.
This award from Mayor Garcetti and the Small Business Administration adds to an exciting list of recognitions the company has received this year, including winning a U.S. Department of Energy grant for app development and being highlighted on KTLA's "Money Smart" segment.
LACI's President & CEO Fred Walti commented on the award, saying
Pick My Solar is a great example of a company harnessing the innovative, entrepreneurial spirit here in the LA region. Not only are they making a positive environmental impact through the services they offer, they're saving homeowners money and contributing to the increase in home solar installations, which helps created jobs in LA's green economy. Here at LACI, we're proud to have Pick My Solar as one of our Portfolio Companies and know they will continue to succeed as they expand throughout the Southern California market.
To learn more about Pick My Solar and how they can help you go solar in a simple, affordable way, visit their website.
If you're interested in putting LACI's tools and networks to work for you and your business, apply to be a Portfolio Company here.