LACI Produces 30,000 Face Shields for Essential Workers across Los Angeles
Advanced Prototyping Center Supported With Key Partners to Increase Production
To help alleviate the shortage of personal protective equipment (PPE) Los Angeles area hospitals are facing due to the COVID-19 pandemic, the Los Angeles Cleantech Incubator (LACI) has partnered with the Los Angeles Public Library's Octavia Lab to prototype and produce face shields for essential healthcare workers.
Members of the public now have the opportunity to donate directly to LACI's PPE efforts. Water and Power Community Credit Union (WPCCU) has generously created a public campaign in support of LACI's efforts, and has offered to match the first $1,000 raised. All donations will directly cover the cost of materials and the manufacturing process. No amount is too small. Make a difference and donate now.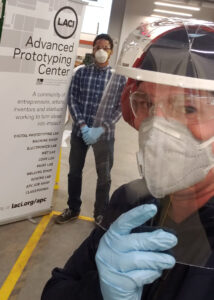 During the first phase of production, the innovative PPE was field-tested by doctors at Cedars-Sinai Medical Center and, with the generous support of Metabolic Studio and Snap Inc., over 10,000 reusable face shields were produced and distributed to Los Angeles County hospitals.
Support from the Octavia E. Butler Estate and Tieks allows LACI to significantly increase reusable face-shield production capacity in the Advanced Prototyping Center (APC), a $10M+ prototyping facility housed at LADWP's La Kretz Innovation Campus in DTLA. Shields are distributed to LA County hospitals via Los Angeles Public Library and Greater Los Angeles Hospital Registry. This expanded program will generate an additional 20,000 face shields to be donated to Los Angeles County frontline medical workers fighting the resurgent COVID-19 pandemic. 

In collaboration with Los Angeles Public Library, the City of Baldwin Park, Goodwill of Southern California and Los Angeles County's Youth@Work Program, youth aged 14 – 24 will assemble face shields produced by LACI. A program of LA County Workforce Development, Aging and Community Services (WDACS), Youth@Work places LA County youth in a paid job that leads to a long-term career pathway in high-growth, in-demand industries. To accompany shield production, LACI has designed an educational and colloquial series introducing youth to career opportunities in cleantech, including project management, industrial manufacturing and industrial design.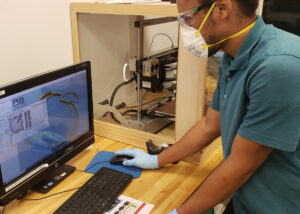 As LACI CEO Matt Petersen shared earlier this year in an interview about the initiative, "our team was looking at things that we could help in the COVID crisis (given) we have $15 million dollars of equipment and software on the campus which normally cleantech entrepreneurs would be working on to figure out the (next) solution to the climate crisis."
This initiative – convened and led by LACI – models how the  organization endeavors to forge collaborations between entrepreneurs, artists, philanthropy, government, and community leaders coming together for community action to tackle daunting challenges, whether it be the pandemic or the climate crisis. Going forward, it will serve as a model for effective community action and innovation in the face of daunting challenges, including climate change.
With special thanks to the Office of Los Angeles Mayor Eric Garcetti and the Economic Development Administration (EDA).