Pilot frameworks for sustainable EV car sharing solutions in disadvantaged communities
Summary
The Los Angeles Cleantech Incubator (LACI), Housing Authority of the City of Los Angeles (HACLA), Pacoima Beautiful, and Envoy Technologies Inc. ("Envoy") recently completed two pilots of electric vehicle (EV) car share services in Pacoima and San Pedro. The lessons we learned from these EV car share pilots can be used to design future community EV car sharing investments that increase transportation options, reduce local air pollution, provide alternatives to internal combustion engine vehicles, and improve access to jobs and services in frontline communities.
Background
Following the policy momentum of S.B. 1275 (De Leon) and subsequent funding authorized by the state legislature, LACI launched the Zero Emission Mobility and Community pilot program in 2019 with funding from the California Workforce Development Board. We kicked off the program with a two-sided Request for Information (RFI) – one for Zero Emission Mobility Technology Providers and one for Disadvantaged Communities, as defined by the State, with identified Transportation needs. Residents, Community Based Organizations (CBOs), City Departments, and Cities applied to host a pilot, with a diverse array of technology partners applying to provide solutions. The breadth and number of applications showed a true need and enthusiasm for innovative zero emission mobility solutions.
The electric vehicle was "comfortable, quiet, easy to handle, and helps the environment."
– Rancho San Pedro community member
Program design and goals
A rigorous selection process based on criteria such as community partner capacity, available real estate for infrastructure, and robust needs assessment, produced four matches between technologies and communities that were transformed into the Zero Emission Mobility and Community pilots in Long Beach, Pacoima, San Pedro, and Leimert Park.
Two communities, Pacoima and San Pedro, were selected to host EV car shares provided by Envoy, a LACI company, in partnership with Pacoima Beautiful and the Housing Authority of the City of Los Angeles (HACLA), respectively. Nissan North America, a TEP founding partner, provided a long range Nissan LEAF SV+ for each pilot. The EV car share pilots focused on providing easily-accessible, healthy, environmentally friendly, safe, reliable, and affordable transportation to accelerate the adoption of light duty electric vehicles while also developing a replicable, sustainable program model that tested for market transformation opportunities.
The pilots launched during the global Coronavirus pandemic, and the EV car share was approved by the City of Los Angeles as an essential service – offering alternatives to mass transit which was perceived as a health risk and became less reliable due to reduced service and shutdowns. Despite launching in the middle of the pandemic, both pilots exhibited unique successes.
"I had no car and worked full time and Envoy was more affordable than ubers/lyfts everyday."
– Pacoima community member
As a focal point of both pilots, the project team worked collaboratively to test pricing scenarios specific to community needs. Pricing for vehicle use was set by the community partners. A portion of the rates were subsidized by the grant using a "Transportation Wallet" model – direct community incentives aimed at making the program more accessible to low-and-moderate income individuals. The Transportation Wallet was flexibly deployed to cover rate subsidies and promotional campaigns as directed by the pilot partners.
Program revenue garnered during the pilot period was another critical pilot component. Envoy established 50/50 revenue share agreements with community partners based on the full hourly market rate. As long as the Transportation Wallet could support the subsidized rate, Envoy and the community partner earned revenue at the market rate, and shared the benefits from the revenue split. This tested methods to reinvest dollars back into programs post-pilot period.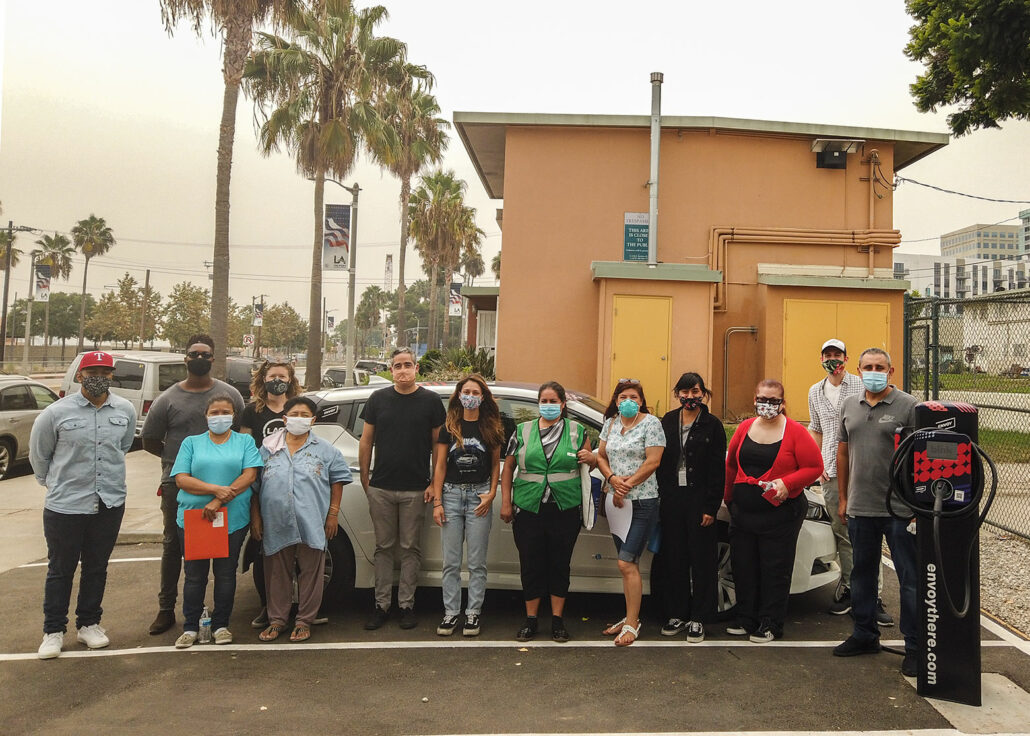 Compare and contrast
The Pacoima Electro-share pilot launched as a community-facing EV car share with two Nissan Leaf EVs, dedicated EV chargers, and dedicated parking spaces. Uniquely, this pilot tested the use of innovative off grid EV chargers. The EVs were parked a mile from Pacoima City Hall and a short two block walk from the nearest bus stop. Pacoima Beautiful, a local environmental justice organization, led the community outreach, education, and enrollment via flyer door drops, email newsletters, and social media posts. Envoy reinforced these activities through supportive marketing, education, and outreach (ME&O) activities. Due to the pandemic, the partners avoided in person events.
The HACLA Rancho San Pedro Electric Share pilot was specifically for the ~1400 residents of the Rancho San Pedro property. The EVs, also two Nissan Leafs, were parked adjacent to the Resident Advisory Council office with dedicated EV chargers and parking spaces constructed on the property. HACLA's existing Community Coaches served as the program ambassadors, performing all outreach, education, and enrollment duties which included flyer door drops and phone calls. Envoy also fortified these efforts with dedicated ME&O.
Results
During the 12-month pilot term, we tracked quantitative membership growth and utilization (distance, time) while gathering qualitative data on users' habits and motivations.
Some learnings of interest included:
Powerful leadership by the non-profit partners. Both Pacoima and San Pedro community partner teams took ownership of the pilots, which helped bolster a "train the trainer" approach specific to each community's needs. This included direct support in native languages of the community.
Different usage patterns over the pilot period: Usage was impacted during peak COVID transmission periods. Rancho San Pedro bounced back quickly and hit higher overall membership numbers and utilization rates, but Pacoima's growth was slower and directly tied to COVID restrictions – when restrictions were lifted, usage went up. This result aligns with the contrast between a public vs private program, where visibility, easy access to the EVs and program point of contact helps overcome barriers to adoption, as well as with Pacoima's high COVID rates. Generally, the program team observed that vehicles were often used to support essential service activities (such as travel to and from grocery stores and the hospital).
Unexpected trip lengths: Members of both programs did not hesitate to take longer trips, despite range anxiety often being cited as another EV adoption barrier, because the new EVs were seen as more reliable than older personally owned vehicles.
Key value adds: In addition to the expected EV car share benefits, designated parking was a motivating factor for using the program due to local parking constraints.
Pricing impacts: The subsidized rate and price changing during the pilot period were a success. The Pacoima pilot tested price elasticity by raising the hourly rate incrementally by $1/hour at a time, from $2/hour up to $5/hour, over a three-month period. This represented a discount of roughly 50% from the hourly market rate. Despite price changes during this period, utilization did not decrease and membership continued to grow. This demonstrated the need for, and interest in, the EV car share even if the cost was not as deeply discounted, and the willingness by the community members to have some "skin in the game" to pay out of pocket a certain subsidized price. The Rancho San Pedro hourly rate, by contrast, remained constant throughout the pilot period.
"I use [the EV car share] because my personal car is not great for long distances or freeway. I also use it because it is convenient sometimes to not lose my parking spot at [Rancho San Pedro]."
– Rancho San Pedro community member
Post-pilot
In order to continue the EV car shares beyond the 12-month pilot term, the CBOs wanted to see their monthly revenue share exceed operating expenses. This threshold represents the point at which the program would be sustained by its utilization. The EV car share at Rancho San Pedro hit this target, but the EV car share in Pacoima did not.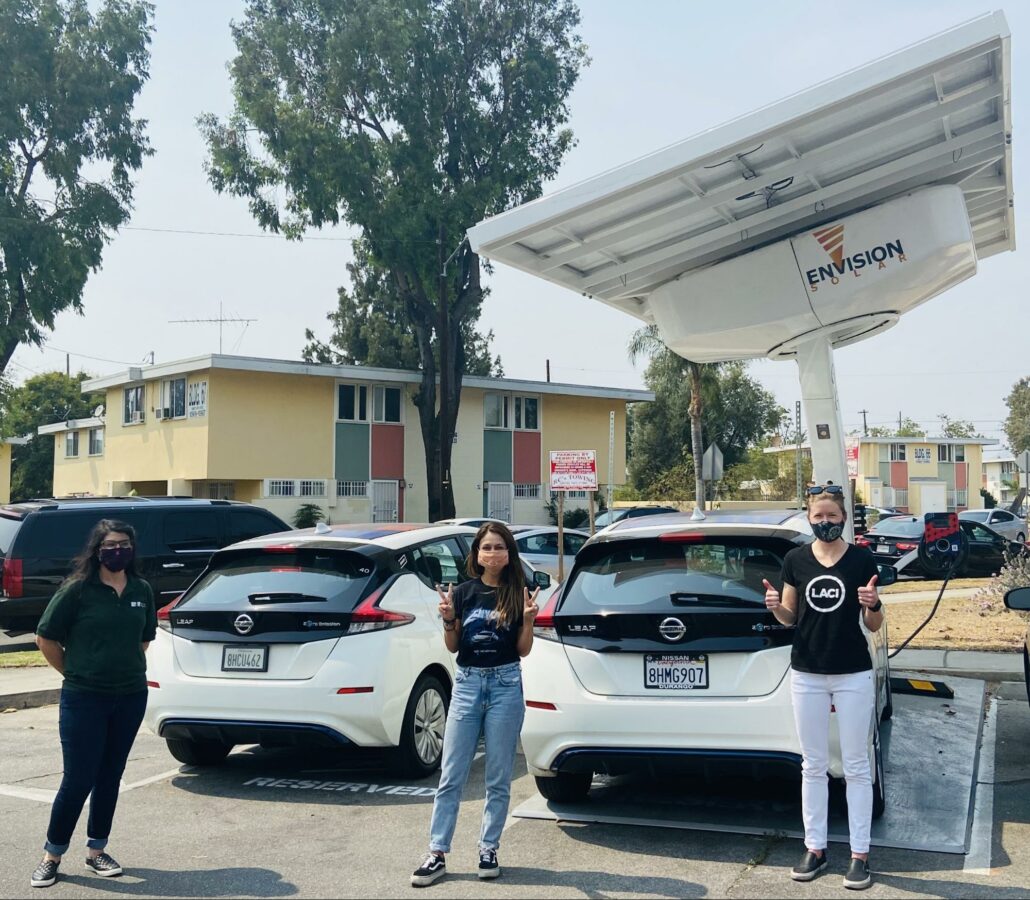 Nevertheless, both EV car shares are continuing as independent programs post-pilot term. Rancho San Pedro's operating expenses are fully covered by the monthly revenue share. Pacoima Beautiful will use the accrued pilot term revenue share to pay for the program until an additional grant can be secured. We expect that the Pacoima program will hit the break-even target within the next 6 months as steady growth continues.
Finally, the program operators will need to establish a self-sustaining Transportation Wallet to make sure that these programs can succeed in the years to come. Currently, the Transportation Wallet is filled by grant funding, but since the programs are continuing, the operators can test alternative sources of funding for the Wallet like monthly membership fees, small amenity fees charged to multi-family housing residents, tiered membership pricing based on income level, or even utility credits like those available from the Low Carbon Fuels Standard Program, which may provide additional revenue sources to help bolster program.
The lessons we have learned from the EV car share pilots can be used by community members, local governments, community-based organizations, service providers, and housing operators to inform community EV car shares that benefit the community environmentally and economically by cleaning the air and providing access to jobs. We are also encouraged by the ability of these pilots to have successfully explored potential pathways to market sustainability. We encourage more partners to explore EV car shares as part of their clean transportation and equity efforts.
This is a hidden gem solution for cleaning the air that can reduce the number of personally owned vehicles, reduce air pollution and greenhouse gas emissions, decrease the need for parking spaces and can allow for increased green space for community socializing. It has been a successful effort to take policy to action, and provided deeper insight for all stakeholders on the path to expanding market-driven EV sharing ecosystems.
Contact
If you have further questions about the Zero Emission Mobility and Community Pilots in Pacoima and San Pedro please reach out to pilots@laci.org.