California's policy makers are setting some of the boldest climate policies in the world—such as SB100 on 100% clean energy, Executive Order B-48-18 on electric vehicle charging infrastructure and vehicle targets, and Mayor Eric Garcetti's Green New Deal LA's Sustainable City pLAn.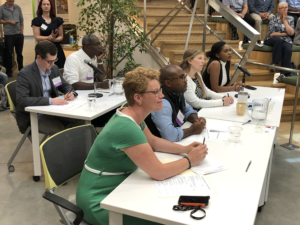 Corporate and startup innovators from around the world are responding to these market signals and demonstrating to California's policy makers how their visionary work is resulting in real action around clean energy and smart grid infrastructure, the urban energy-transport nexus and zero emissions transportation. 
In 2018, in the run up to the Global Climate Action Summit in San Francisco in September 2018, LACI CEO Matt Petersen and New Energy Nexus Executive Director Danny Kennedy decided their organizations should join forces to create the California Climate Cup. This year, we held the California Climate Cup again to highlight the startup entrepreneurs who are responding to these market signals and to demonstrate to California policy makers the results of their bold action. The California Climate Cup is one of the many ways we are unlocking innovation—we have a suite of programs and competitions to help startups grow, access capital and build networks. This year's competition helped us identify a number of important trends in early-stage cleantech innovation, including: 
Innovation is happening globally and being drawn to California.
Of the nine semi-finalists, two-thirds are headquartered out of the state or out of the country, but have focused on California as their target market. This includes WeTrott, e-scooter charging infrastructure, from France, which felt compelled to enter the competition and explore the California market because of the proliferation of scooters in California's cities. Also the 2019 Climate Cup Grand Prize winner, SparkCharge is based in New York but is focused on California because it is their beachhead market for product and service deployment.   Optimal Solar, based in North Carolina, is expanding to California to bring their novel concentrated solar technology to access a market hungry for advanced solar.
The fundamentals of energy storage technology and the way it is deployed are both being directly challenged.
The core science underlying batteries is changing before our eyes, with SurgePower Materials bringing to market a plant-based, graphene anode. If scalable, their graphene anode would improve battery safety and performance using sustainable materials.  AC Biode is upending the entire incumbent DC battery platform by developing the first-ever AC battery. SolPad and Hygge Power are challenging the status quo in the residential energy storage market by changing not only the footprint of energy storage but also pushing it to the true grid edge.  SolPad is deploying scalable DC-coupled batteries behind PV panel on rooftops to avoid taking up space in a garage or on the side of a house. Hygge Power is bridging the price and performance gap between UPS systems and traditional home energy storage by providing smart plugs with built-in energy storage to plug into your connected devices.
Startups are bringing solutions to market that are removing barriers to consumers adopting EVs.
SparkCharge is directly addressing "range anxiety" by offering a product and service where users can order miles of range from their phone and have that charge delivered directly to their EV.  NeoCharge is allowing consumers with garage access and a 220V outlet to smartly split that outlet and share it with their EV, dryer and/or water heater without the cost and complexity of an electrician and permitting.  RideSVP  is opening the option for inter-city travelers to book seats on EVs as part of a green carpool network.
Diversity of industry, knowledge, gender and race from our judges brings critical thinking and different viewpoints.
In our mission to create an inclusive green economy, we are working to diversify the entrepreneurs and business founders in our programs and competitions. As part of this effort, the California Climate Cup saw a judging review panel made up of someone from a federal research agency, a startup accelerator, a venture capital firm, a corporate automotive, an international energy developer and a startup who was also last year's Climate Cup 2018 Grand Prize winner. In a traditionally non-diverse sector as cleantech, the panel was also evenly represented by 50% females and 50% people of color.  This led to not only the best overall technologies and products winning their respective categories, but a Category Winner pool of 100% people of color awardees.
At LACI we are building an inclusive green economy by focusing on three interwoven threads: innovation, markets and communities. To unlock innovation we help startup companies and entrepreneurs find solutions to accelerate climate action. At the same time we work to unlock innovation, we are transforming markets through partnerships with policymakers, innovators and market leaders in transportation, energy and sustainable cities and we are enhancing communities through workforce development, pilots and other programs, to ensure that the future green economy works for everyone. 
Keep in touch with LACI to apply for next year's California Climate Cup or apply to one of our other programs or competitions to unlock innovation.