Los Angeles Cleantech Incubator and New Energy Nexus Hold Pitch Competition—Brings Attention and $35,000 to Startups With the Most Promising Climate Solutions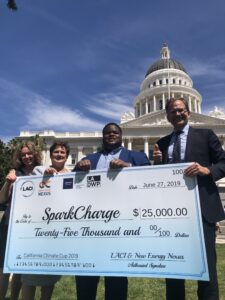 Los Angeles, June 27, 2019. The Los Angeles Cleantech Incubator (LACI) and New Energy Nexus announce SparkCharge as the winner of the 2019 California Climate Cup and recipient of the $25 thousand dollar cash prize. The California Climate Cup is sponsored by Volvo Group and the Construction Climate Challenge and Los Angeles Department of Water and Power.  
California's policy makers are setting some of the boldest climate policies in the world—such as SB100 on 100% clean energy, Executive Order B-48-18 on electric vehicle charging infrastructure and vehicle targets, and Mayor Eric Garcetti's Green New Deal LA's Sustainable City pLAn. 
The California Climate Cup highlights the entrepreneurs who are responding to these market signals and demonstrating to California's policy makers how their visionary work is resulting in real action around clean energy and Smart Grid infrastructure, the urban energy-transport nexus, and zero emissions transportation. 
"The California Climate Cup semi-finalists demonstrate how our state and local policy makers can help unlock innovation to help solve the climate crisis with their bold policy measures," said Matt Petersen, President and CEO of the Los Angeles Cleantech Incubator. "As states like California and cities like Los Angeles lead the way putting the Paris Agreement goals into action, we need entrepreneurs to help deliver essential climate solutions. Congratulations to Joshua Aviv of SparkCharge and the other semifinalists. We look forward to their continued success."
"California not only is passing ambitious green policies, we are also coming up with policies we can scale and sell to the rest of the world," said Ben Allen, State Senator. "This is why holding startup competitions like the California Climate Cup is so important—we are demonstrating California's leadership on climate change solutions, while  helping to amplify and promote the amazing entrepreneurs like Joshua Aviv and SparkCharge that are responding to California's market signals." 
"The Volvo Group, like the state of California, is committed to sustainability, innovation and advancing new ideas that are accepted by society," said Dawn Fenton, Director of Public Affairs for Volvo Group North America. "Sponsoring the California Climate Cup enables the Volvo Group to support innovation that ultimately will help create a cleaner, improved future for the transportation of people and freight, and we were pleased to help support the competition."
"California is a world leader in a lot of ways—including experiencing the impacts of climate change," said Danny Kennedy, CEO of New Energy Nexus. "The good news is we are also demonstrating the solutions, especially in LA. The California Climate Cup is a great platform for entrepreneurs to showcase their most innovative climate change solutions and technologies to California's policy and business leadership. We will shine a light on the startups that will bring us the clean mobility and electricity we need and speed them on their way to commercial success."
The three category winners are: 
Reginald Parker •

Optimal Solar

, Clean and Smart Grid

Joshua Aviv •

SparkCharge

, Energy / Transportation Nexus

Michael K. Opoku •

SurgePower

, Zero Emissions Transportation 
The nine semifinalists are: 
Clean & Smart Grid
Energy/Transportation Nexus
Zero Emissions Transportation
We are proud that momentum for 2018 California Climate Cup winner, Uwgem Eneyo, SHYFT Power Solutions (formerly Solstice Energy Solutions), continues to build since last year's event. This growth demonstrates the California Climate Cup's track record of picking successful startups and founders.  
The semifinalists pitched their cutting-edge climate solutions in several events across California—on June 25 in Los Angeles to an audience of LA's innovation ecosystem, on June 26 in Mountain View at the Hub 335, and at Volvo Group and the Construction Climate Challenge's innovation hub on June 27 in Sacramento at the Capitol Building, with Senator Ben Allen, from California's 26th district. 
About LACI
The Los Angeles Cleantech Incubator (LACI), a City of Los Angeles established nonprofit organization, is creating an inclusive green economy by: unlocking innovation through working with startups to accelerate the commercialization of clean technologies, transforming markets through partnerships with policymakers, innovators and market leaders in transportation, energy and sustainable cities; and enhancing communities through workforce development, pilots and other programs. Founded as an economic development initiative by the City of Los Angeles and its Department of Water & Power (LADWP), LACI is recognized as one of the most innovative business incubators in the world by UBI. In the past eight years, LACI has helped 78 portfolio companies raise $221M in funding, $220M in revenue, create 1,750 jobs, and deliver more than $393M in long term economic value. Learn more at laci.org
About New Energy Nexus
New Energy Nexus (NEX) is a global organization that supports the next wave of entrepreneurs with funds, programs, and connections that reflect emerging trends in the clean energy economy. Since 2004, New Energy Nexus (formerly known as the California Clean Energy Fund) has leveraged $1.5 billion in investment, invested in more than 100 clean energy enterprises, and launched industry leading centers for collaboration. Our network includes more than 100 incubators and accelerators, funders and development organizations from 29 countries around the world. We have offices in California, Shanghai, Singapore, Indonesia and Vietnam.
Media Contact
Sarah Bryce
424-362-9462
sarah@laci.org