Today, 13 startups join Los Angeles Cleantech Incubator's (LACI) second cohort of its flagship Incubation Program, which helps founders grow their company and impact in Greater Los Angeles and beyond. From utilizing software analytics to reduce traffic congestion to diverting over 5 tons of waste from landfills using a rental clothing membership model, Incubation Cohort 2 founders are showing up with passion, grit, and inspiring leadership to enhance LACI's commitment to building an inclusive green economy.
"LACI is committed to helping our startups improve their environmental, social, and economic impact—that's why we are excited to welcome our new cohort of companies," said Matt Petersen, LACI President and CEO. "Our startup Impact Framework measures and financially rewards founder diversity, hiring employees from disadvantaged communities, and reducing GHG emissions."
In line with LACI's mission to create an inclusive green economy, Incubation Cohort 2 represents 38 percent female founders, 38 percent underrepresented founders, and 8 percent veteran founders, a general increase from Incubation Cohort 1 metrics. 
Startups applied to LACI's program following a recruitment push that articulated LACI's specific technical priorities for the year.  Sector-wise 46 percent are focused on zero emissions mobility, 23 percent on clean energy, and 31 percent on circular economy.
LACI companies are stepping up to create an inclusive green economy for the people of Los Angeles. For example, as the city and the rest of the state move towards 100 percent clean energy, there is much needed work to be done to decrease costs of solar and battery energy storage and advance data processing capabilities to create greater grid resilience. Widespread deployment of smart microgrids are the way of the future and LACI Incubation Cohort 2 startups have already begun the work. IQHi, Inc. incorporates data analytics tools to gain operational data thus improving battery technology development time and OpenEGrid applies emerging technologies to legacy Energy Systems to create 'Smart Grids.'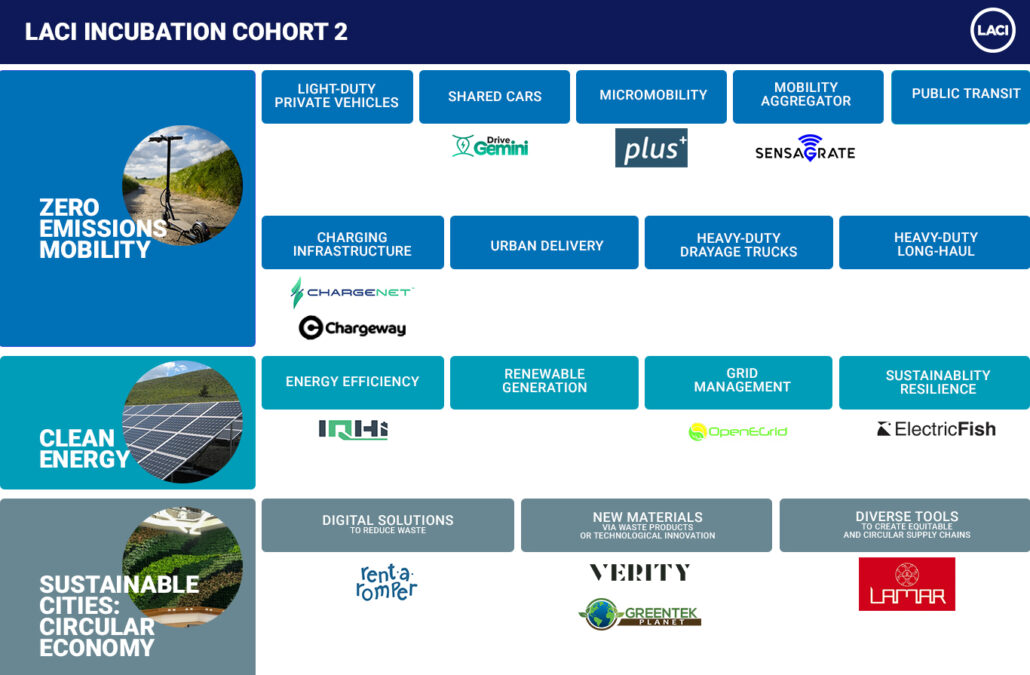 By progressing the work of IQHi Inc. and OpenEGrid for example, LACI will provide a stepping stone for one of the solutions in addressing current complications in distributed energy resources (DERs) and addressing the ambitious climate and energy goals California has in place already. 
For the next two years, Cohort 2 startups will engage in an intensive 6 months of curriculum covering essential topics to prepare founders and teams for operational growth, product development, investor preparedness, pilot readiness, and strategies for going to market. Additionally, each startup team is matched with an Executive in Residence (EIR) who will support in setting a roadmap and holding teams accountable for achieving those milestones. Cohort 2 startups will build a network not only with their fellow Cohort members, but also with the greater LACI community to enable a collaborative and supportive environment for achieving growth towards a greener planet. 
Throughout the first year of our revamped Incubation Program, we're proud to say that Cohort 1 startups are paving the way for what LACI can do to support cleantech founders, empower impact, deploy these innovative technologies all across the world. Since joining LACI, collectively Cohort 1 startups have raised over $7.5 million including Sparkcharge's $1 million deal from SharkTank's Mark Cuban. LACI's workforce development program helped initiate ChargerHelp!'s pilot by training their first 10 hires and providing maintenance to 46 electric vehicle stations in Southern California and the company just raised $2.75 million from investors. In addition, Maxwell Vehicles is one of many partners and startups helping to excel deployment of the nation's first-ever Zero Emission Delivery Zone, furthering LACI's mission by lowering emissions and decreasing traffic.
We're thrilled to support another Cohort of 13 innovative startups for the next two years. Read more about Cohort 2 startups below. 
ChargeNet Stations: LACI's Innovators Cohort 5 startup, ChargeNet is a SaaS company helping fast food restaurants and property owners track consumer data and renewable energy to charge electric vehicles quicker and cheaper. 
Chargeway: Chargeway created a software platform, mobile app, and communication tool to help consumers understand how electric vehicles are charged, as well as helping the automotive industry sell EVs for easier adoption. 
ElectricFish:  ElectricFish builds, deploys, and operates distributed energy resources integrated with 350kW Electric Vehicle chargers to bring clean, and robust sources of power to communities.
Gemini Electric Mobility Co.: Gemini Electric Mobility Co. is a sustainable mobility platform that provides affordable Electric Vehicles and convenient access to charging, for all, today. By starting with those who drive the most and have the biggest impact, we're accelerating electric mobility adoption and getting closer to a pollution-free skyline!
GreenTek Packaging: LACI's Innovator Cohort 5 startup, GreenTek Packaging creates compostable plasticware made from industrial hemp and corn byproducts.
IQHi, Inc.: IQHi builds advanced data analytics tool sets to help gaining in-depth insights from energy storage system operational data for better products and shorter developing time for their clients.
LAMAR, IoT: LACI's Innovator Cohort 5 startup, LAMAR, IoT is developing new sustainable supply chain solutions to reduce costs, inefficiencies, and mitigate waste towards a zero emissions planet. 
OpenEGrid: Analytics platform to apply the emerging technologies in Big Data, Analytics, and Cloud Computing to legacy Energy Systems in order to significantly improve interoperability across Distributed Energy Resources in what is now emerging as the 'Smart Grid'.
PLUS: Portable zero emission electric vehicles for round trips under 12 miles.
Rent-a-Romper: A rental clothing company for babies and toddlers because kids (out)grow so fast. Rent-a-Romper set out to build a community-shared closet, filled with great baby and children's clothing, so that you don't have to spend time shopping and looking for deals.  
Sensagrate: Sensagrate (which stands for sensor integrated technology) is developing an industry-defining, infrastructure-to-vehicle (I2V) communication platform that provides data to support intelligent decision making for both human-driven and autonomous vehicles to foster safer interaction as they navigate our roadways. 
Verity Packaging, Inc.: Verity is on a mission to eliminate waste from the beauty and personal care industry by making a circular economy approachable and affordable for retailers, brands, and consumers. We make reusable containers and offer a turnkey take-back service to collect, sanitize, and put containers back to use.