LACI PROUDLY WELCOMES 34 STARTUPS & SMALL BUSINESSES TO THEIR SUITE OF INCUBATION & FOUNDER PROGRAMS
Throughout the Summer and Fall of 2022, Los Angeles Cleantech Incubator (LACI) welcomed 9 startups innovating clean technologies to our light-touch Innovators Program,  9 startups to our 2-year intensive Incubation Program, and 1 company deploying a larger scale impact-focused pilot to our Market Access Program. Beyond the lens of cleantech we also opened our doors to a Cohort of 15 entrepreneurs joining our Founders Business Accelerator Program. These small business founders  have cared for our local communities through their offerings in dining, entertainment, health and wellness services, and so much more.
LACI's annual Market Landscape Report, analyzes the market and various sectors to identify top priorities in accelerating the commercialization of cleantech and reductions in real and perceived barriers to adoption. Guided by this intelligence, LACI's recruitment efforts are focused on Zero Emissions Transportation, Clean Energy, and Sustainable Cities. As a result,  we are better able to identify and support startup businesses incubating these technologies and help them develop, test, pilot and bring these key offerings to market and thereby promote environmental, health, and economic opportunities and benefits for communities throughout our market and across the nation.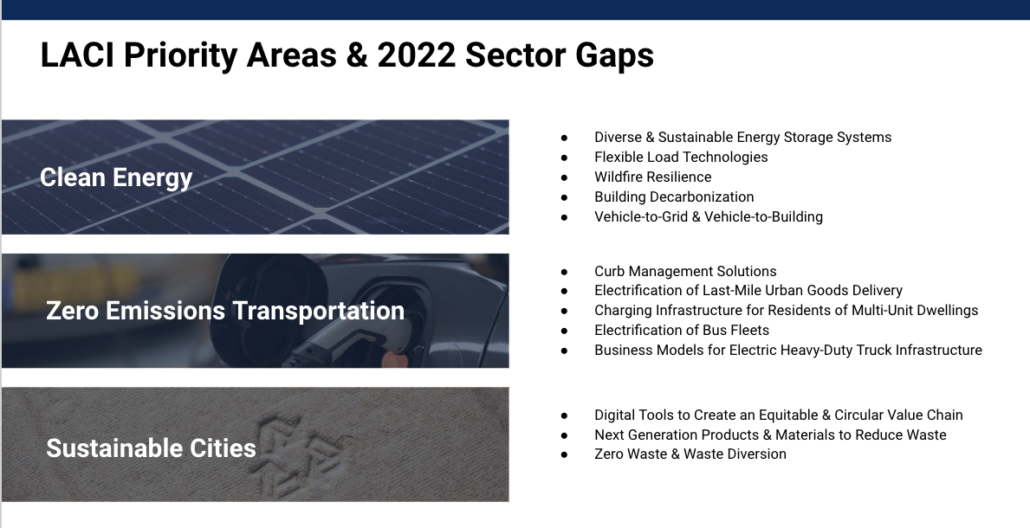 LACI's Market Access report identifies three core areas of cleantech from which we recruit and develop founders innovating solutions in these sectors.
We're eager to advance incoming startups like Veloce Energy that are providing modular energy storage, installation systems, and integration software to electrify everything from vehicles, commercial buildings, and homes. And others like LACI's Market Access portfolio company Microgrid Labs that makes it easier for medium and heavy duty electric vehicle fleet operators to perform assessments and aggregate electrification plans with their creative platform management solution. We're also excited for Coralite to demonstrate their waste reduction solution for recycling foam into various applications throughout the automotive & construction industries.
We encourage circularity and help our startup and small business participants focus on impactful outcomes through a progression of programs that help founders scale their businesses and develop proprietary technologies as they advance through these programs. We also provide guidance to help our portfolio companies pivot when new opportunities arise. Take Shred Cycle for example, who participated in our 6-month Founders Business Accelerator Program (FBA). When Shred Cycle's founder realized her original passion project of recycling skateboard wheels could better serve her mission and the community with an entirely new business model of upcycling polyurethane waste, thereby reducing the impact that industry has on the City of Los Angeles, aided by her Executive In Residence, she made the shift with great success. Companies like those in our FBA Cohort 7, some of who have been in business for 2 years while others are regarded as community legends with operating history of some 20 years, will re-imagine and re-invigorate their businesses and the communities they serve by focusing on sustainable and environmentally conscious business practices that create new jobs, reduce waste, and stimulate economic wealth across our region – especially among historically under-resourced communities.
LACI is proud to amplify these stories, lift-up and empower 34 women founders and 36 founders from traditionally underrepresented groups who are joining the LACI Family this year!
We're happy to introduce the full roster of 19 startups companies entering LACI's founder programs across our three sector areas of focus:

APPLY FOR LACI'S INCUBATION PROGRAM TODAY!

CLEAN ENERGY
Hardware solution to unlock the great potential of residential buildings in providing affordable, clean, and equitable energy for residents by making the electric meters intelligent, without costly upgrades.
Developing a  vertical wall concept device which is comprised of a series of wind  induced oscillating geometries. As the devices flutter in the wind, they produce electricity on a micro scale on the interior encasement of the system.
Wayside Energy is creating a recyclable, modular, and rigid single piece injection molded battery pack system with a unique geothermal cooling system that is industry leading in price, reliability, safety, and performance while being cheap and simple to manufacture.
A new source of renewable energy from a combination of compost and solar heat. The project provides an alternative solution to current waste landfill operation which is not environmentally safe, and does not benefit the surrounding communities.
ZERO EMISSIONS MOBILITY
Veloce is creating a platform of technologies to make it easier, faster and cheaper to electrify everything: vehicles, commercial buildings, homes.
Microgrid Labs is launching a pilot with LACI to provide their EVopt planning Software as a Service solution to a network of medium and heavy duty electric vehicle (EV) fleet operators. This pilot will demonstrate  the advantage of our self-service platform for performing EV fleet assessments and the ability to aggregate electrification plans.
BASEstud.io is designing Beyond Smart Lighting Infrastructure to provide communities with access, equality, safety and sustainability – core needs for a well-balanced city.
Emissionless Technologies
Emissionless Technologies is an all-electric freight carrier, operating a fleet of electric semi-trucks through a network of supercharging hubs. The X Logistics solution overcomes range limitations  using the Transfer Hub model and connected fleets to keep freight moving, reducing inefficiencies endemic to conventional distribution networks.
Wild Technologies has designed the easiest to manufacture and customize battery pack for the marine industry.
CIRCULAR ECONOMY
Kit Switch is a  modular building interiors startup creating a line of plug-and-play kitchens for multifamily housing developments.
Relyion Energy is enabling longer and sustainable use of Li-ion batteries.
VARIANT3D is 3D printing on demand for fully customizable textiles using sustainable or recycled inputs.
Shred Cycle Inc. is making sustainability easy and accessible to action sports enthusiasts by upcycling polyurethane waste, from skateboarding wheels and manufacturing  waste, back into useful outdoor products.
Coralite
Coralite is an innovative performance material company –  the Coralite material is made from 100% recycled foam, is fully circular, and has little to no waste in its production.
Galora is the Airbnb of homegrown food. Neighbors can buy, sell or trade what they grow, bake, or make. Every year, 11.5 billion pounds of U.S. homegrown food is  wasted.
ThermoShade
ThermoShade is a "passive cooling" panel that can be retrofitted onto outdoor structures, creating a space that feels up to 20°F cooler than the outside air temperature with zero electricity and zero water.
LACI's network of cleantech companies continues to grow in membership and as individual startups advance their solutions and demonstrate tremendous success in-market after completing LACI's founder programs. To date, LACI has helped 340 portfolio companies raise $697M in funding, generated $323M in revenue, and created 2,565 jobs throughout the Los Angeles region, with a long-term economic impact of more than $573M.  Of the Incubation startups from LACI's rebooted cohort model, EV charging station services provider ChargerHelp! currently employs 32 people and services 20,000 charging stations across 11 states. EV charging as a service provider SparkCharge recently raised $1M from SharkTank's Mark Cuban. And, Maxwell Vehicles is working with a group of partners and startups to deploy the nation's first-ever Zero Emission Delivery Zone with the goal of lowering emissions and decreasing traffic.
DIVERSITY METRICS
LACI's mission of building an inclusive green economy is powered by a diverse range of staff, partners, program participants, and cleantech innovators, many of which are from historically underrepresented populations. As highlighted in a recent Yahoo! Finance story, LACI is leading efforts to create an inclusive green economy in Los Angeles. With a focus on supporting underrepresented founders. Our commitment to recruiting and supporting women, BIPOC, LGTBQ+ founders and other historically underrepresented groups is demonstrated by the diversity of founders represented in our recent cohorts as indicated below:
FBA COHORT 7
Founders Business Accelerator welcomed 15 small businesses into the program this fall.
Sectors: Founders in this cohort include those in entertainment, retail, wellness, circular economy and food services.
Location: City of Los Angeles
Diversity: Among 26 founders – 81% women, 96% BIPOC, 15% LGBTQ+
This is our most diverse cohort yet with founders who identify as Latinx (30%), Black (32%), Middle Eastern (3%), Indigenous (9%), East Asian (3%), South Asian (6%), South East Asian (3%).

INNOVATORS COHORT 7
We welcomed 9 new startups to this cohort in September. To learn more about these inventive founders and their offerings, please view this Startups Overview Deck.
Tech Sector: 44% Clean Energy focused, 33% Zero Emissions Transportation focused, and 22% Circular Economy focused.
Location: 3 based in the City of Los Angeles (Global Energy Credit, Emissionless Technologies, Galora)
Diversity: Among 15 founders – 6 women (40%), 3 BIPOC (20%)
INCUBATION COHORT 5
We welcomed 9 new startups to this cohort in October. To learn more about these dynamic founders and their cleantech solutions, please view this Startups Overview Deck.
Tech Sector: 33% Clean Energy focused, 11% Zero Emissions Transportation focused, and 55% Circular Economy focused
Location: 3 based in the City of Los Angeles, 2 based in Southern California, and 4 based in Northern California
Diversity:  Among 22 founders – 4 women (18%), 5 BIPOC (23%), 2 LGBTQ+ (9%)

MARKET ACCESS COHORT 4


Welcome Microgrid Labs!
The Market Access Program welcomes its newest founders, Narayanan Sankar and Namit Singh, of Microgrid Labs. Microgrid Labs offers Software as a Service for optimal planning, design and operation of electric fleets that provide a low-cost, accurate and scalable solution that can evolve with fleet demands and ease the transition to electric fleets. They have demonstrated cost and time savings with their EVopt SaaS platform across 10 projects throughout the country,  including planning for a fleet of 800 EV school buses.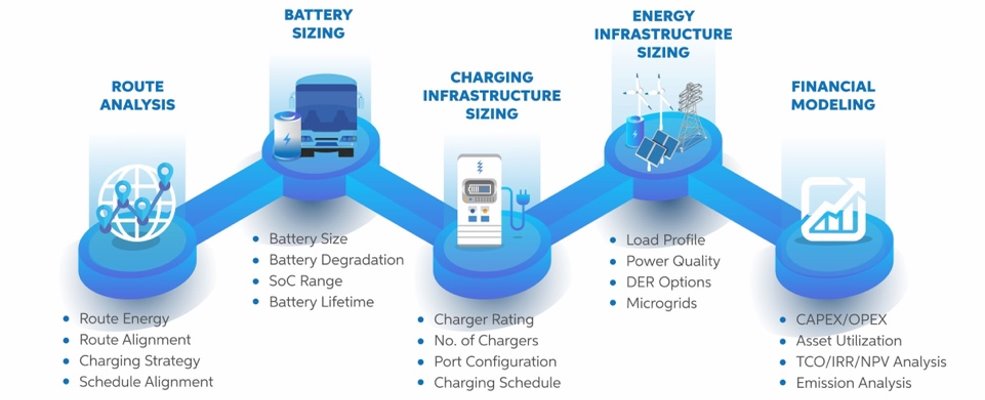 Microgrid Labs' EVopt planning SaaS Solution Model
Microgrid Labs' Market Access Pilot
During their time in the Market Access Program, Microgrid Labs will deploy a pilot that provides their EVopt planning SaaS solution to a network of fleet operators, demonstrating the advantage of a self-service platform for performing fleet assessments and the ability to aggregate fleet electrification plans. This will generate valuable insights on the shifting of demand on grid load access for multiple fleets.
Now Accepting Pilot Partners
Microgrid Labs is now accepting pilot partners in Los Angeles to serve multiple EV fleets including modes of last-mile delivery, light and medium duty, school bus and drayage fleets.
To learn more about how to be a pilot partner for this innovative solution in LA please contact pipeline@laci.org.
LACI is currently recruiting for our Incubation Cohort 6 and we will open the application process for our Market Access Cohort 5 on November 27. For more information, and to join our family of successful startups and small business founders