Today, 10 clean energy, cleantech and sustainability startups joined the Los Angeles Cleantech Incubator's (LACI) Fall 2021 cohort of its flagship Incubation program, which helps founders scale their company and impact in Greater Los Angeles and beyond. 
From helping prevent wildfires by collecting data over utility poles in remote locations (Delphire Inc.), to diverting post-industrial, non-recyclable materials from landfills and upcycling them to create beautiful, zero-waste fashion products (Rewilder), these startups and their founders are showing up with innovation, grit, and inspiring leadership to enhance LACI's commitment to building an inclusive green economy.
"Given the growing climate crisis – including extreme heat, drought, and fires – in California, we must accelerate an equitable transition to clean energy, zero emissions mobility, and a circular economy in Los Angeles and beyond," said Matt Petersen, President and CEO at LACI. "That's why we are so excited to welcome 10 new startups to LACI's incubation program and we look forward to helping our newest cohort of founders to scale their solutions for an inclusive green economy."
As highlighted in an October 10th Yahoo! Finance story, LACI is leading efforts to create an inclusive green economy in Los Angeles. With a focus on supporting underrepresented founders, LACI's Fall 2021 incubation cohort includes 30 percent female founders, 60 percent underrepresented founders, and 10 percent LGBTQ+ founders. In line with LACI's specific technical priorities for the year, 70 percent of our new startups are focused on Clean Energy, 20 percent on Circular Economy, and 10 percent on Zero Emissions Mobility.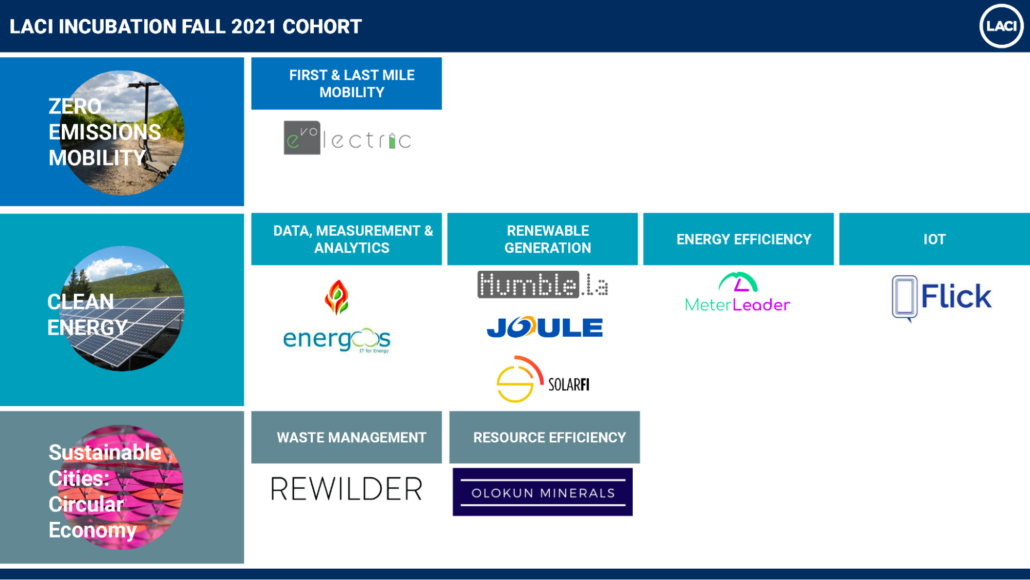 The companies joining the Incubation program this year are also showing great adaptability and are stepping up to the new challenges we now face. SolarFi, for instance, provides solar-powered, weather-resistant temporary private spaces, or "pods," which have become popular among restaurants, hotels, events, and municipalities to facilitate social distancing. Led by Antonio Dixon, who is a member of the Forbes Next 1000 class of 2021, SolarFi is now exploring more opportunities to bring clean energy to urban areas.
During LACI's two-year Incubation program, startups engage in an intensive six-month curriculum to prepare founders and teams for successful market penetration, team development, increased impact with respect to the environment and communities, financial stability with a strategy for growth, access to LACI internal funds and a strategy to access external capital. Additionally, each startup team is matched with an Executive-in-Residence (EIR) who provides support in setting a roadmap and partners with the company to track, measure, and execute on key milestones. Startups in the Fall 2021 cohort will build a network with their fellow cohort members and with the greater LACI community to enable a collaborative and supportive environment for achieving growth and contributing to the global transition to zero carbon. 
LACI's community includes a strong network of cleantech companies that completed the Incubation program and are continuing to grow and which have collectively raised $636M. Of the Incubation startups from LACI's rebooted cohort model, EV charging station services provider ChargerHelp! currently employs 32 people and services 20,000 charging stations across 11 states. EV charging as a service provider SparkCharge recently raised $1 million from SharkTank's Mark Cuban. Maxwell Vehicles is working with a group of partners and startups to deploy the nation's first-ever Zero Emission Delivery Zone with a goal of lowering emissions and decreasing traffic.
We're thrilled to support these 10 innovative startups for the next two years:
Delphire

:

Delphire is dedicated to preventing and containing wildfires by providing actionable real-time information from remote and dangerous locations. Their sentinel system monitors power lines for maintenance issues with the goal of preventing wildfires.

Energos

:

Energos develops an end-to-end platform based on the Internet of Things (IoT) and edge AI analytics to automate the energy flow between distributed energy loads and distributed energy resources.

Evolectric

:

Evolectric's offerings encompass vehicle and battery solutions that advance e-mobility through rapid prototyping, electrified mobility solutions, battery technologies  and standardized products.

Flick

:

Flick provides rate education signals to help reduce energy use and carbon-intensive on-peak usage during costly times of the day.

Humble

:

Humble makes and rents user-friendly electric carts, specifically designed for entertainment production sets, that can carry heavy equipment while providing clean energy unlike the usual dirty and loud diesel-fueled vehicles.

Joule

: Joule is engaged in the creation of a new energy paradigm to create inexpensive energy while cleaning and aerating our oceans, and other suitable bodies of water by mimicking a process already occurring in nature.

Meterleader

: MeterLeader

makes saving energy in homes and buildings fun, easy, collaborative, and measurable through the development of energy-saving challenges using real-time energy data from PG&E, Southern California Edison, and San Diego Gas & Electric. Meterleader successfully completed LACI's

Innovators

program for early-stage startups.

Olokun Minerals

:

Olokun Minerals aims to solve global clean water security by sustainably harvesting ocean minerals from desalination brine to create a renewable source of power and provide key compounds for the supply chains of the future.

Rewilder

: Rewilder

targets manufacturing industrial processes to divert 'waste' materials from landfill, and transform them into usable materials for consumer goods. Rewilder successfully completed LACI's

Innovators

program for early-stage startups.

SolarFi

: SolarFi promotes sustainable living by combining nature and technology to bring customers solar-powered, fully transparent enclosures equipped with all the essentials, including climate-controlled heating and cooling, charging stations, and free public WiFi. 
###