Revolving Debt Fund helps startups scale, with a focus on under-resourced founders
Pilot program results validate need for early-stage cleantech debt solutions
Second funder in fund, Union Bank, marks shift beyond pilot stage
LACI's mission of creating an inclusive green economy involves helping cleantech founders access the right capital to scale their startups, ultimately resulting in revenues, job creation and environmental impact. Over the past decade of incubation, LACI realized that debt needed to play a role in scaling cleantech startups much earlier than conventionally understood. 
Most early-stage startups rely almost exclusively on equity investment, primarily venture capital (VC). This reliance often leads to:
Founder dilution

, with the median founder owning

15%

of their company at exit. 

Recourse to risky and expensive alternatives. No early-stage startup is able to accurately

forecast all of its expenses

. As a result, many founders avail themselves of credit card debt when unexpected business opportunities arise or provide personal collateral for loans, a practice that prevents under-resourced but talented founders from scaling their ventures.

Lack of

capital for founders of color

. Over the course of five years, Crunchbase found that just 2.4% of total VC funding went to Black and Latino/Hispanic founders, despite the Black and Latino/Hispanic population equalling roughly

31% of the population

. LACI founders are even more diverse, with approximately 33% of incubation program founders coming from the Black and Latino/Hispanic community.
Finding a way to prudently and cost-effectively layer in debt earlier in the process would:
Allow funders more choice about how much equity investment to take on, and when, plus enable founders to reduce their ownership dilution.

Prevent founders from taking on risky alternatives, such as personal credit card debt.

Allow founders of color greater access to capital to grow their startups. Although debt funders such as banks

need to improve their track record

in terms of lending to

Black and Latino/Hispanic founders

, they often fare better than their VC counterparts.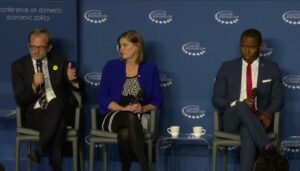 To address this problem, LACI won a grant from the Department of Energy's Capital Access Program in 2017 to research and structure a debt fund to support LACI's early stage cleantech founders. This research was initially shared at a Clinton Foundation economic conference in November of 2019, with private-sector lenders and public-sector officials validating the model to create a revolving debt fund focused on working capital and business expansion, with capital coming from philanthropic or program-related investment capital. LACI's research revealed that private banks and other financial intermediaries clearly see the need and demand for such lending, but struggled to find their path to cost effectively serve the market, other than by having founders use traditional products, such as second mortgages and credit card debt.
In 2020, Wells Fargo invested the first loan capital into the LACI Debt Fund, an initial $110,000 contribution to pilot the concept of providing loans of $20k-$40k with interest rates at or below market for LACI companies who do not yet qualify for traditional loans.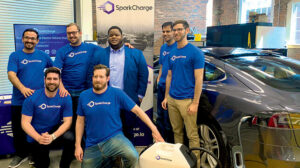 Today, LACI is pleased to exit stealth mode operations of the LACI Debt Fund by announcing that it has approved the 10th loan of the LACI Debt Fund. While the Debt Fund is modest in size, initial recipients of loans from the LACI Debt Fund have subsequently raised close to $100M in follow-on funding from both equity and debt sources, validating the crucial role that early stage debt can play as part of a comprehensive incubation experience.
With the number of successful loans entering the double digits, LACI has opened up the Debt Fund to other funders. Last week, Union Bank cemented its participation in the LACI Debt Fund, increasing the fund loan capital by almost 50% to $160k. The increased capital marks the end of the pilot phase and commencement of expanded operations, including being able to regularly support more LACI founders with additional loans.
Prospective startups interested in learning about the Debt Fund as part of LACI's overall incubation services should reach out to pipeline@laci.org. Funders interested in supporting the LACI Debt Fund via philanthropic or program-related investment capital should reach out development@laci.org.