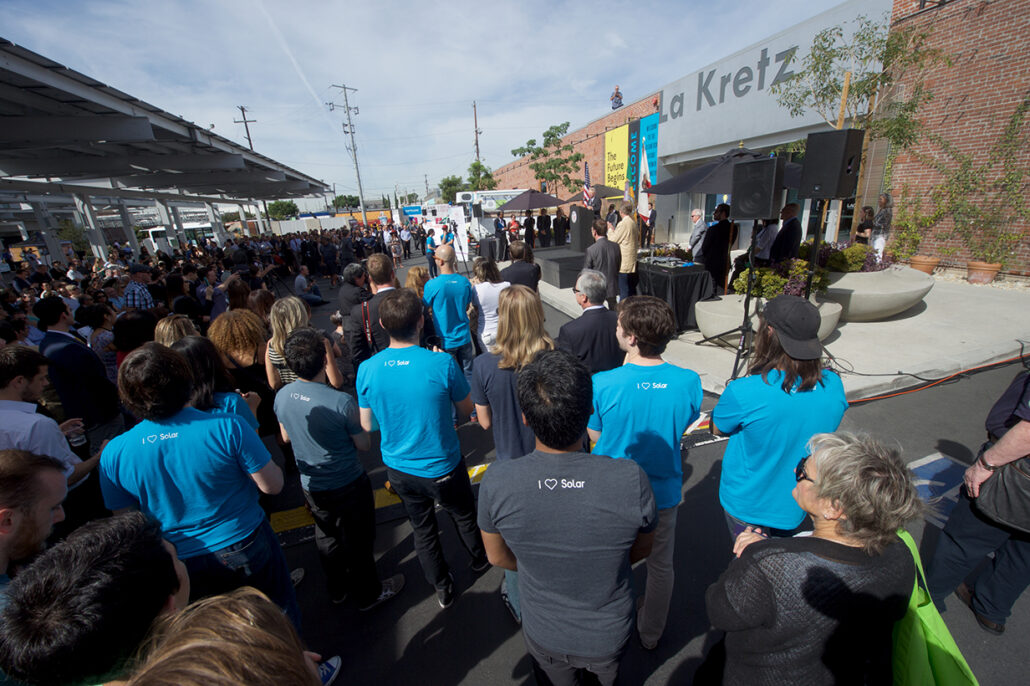 LADWP and LACI Launch Full Day of Green Technology Activities with Ribbon-Cutting Ceremony Featuring Mayor Eric Garcetti and City Leaders
LOS ANGELES–(BUSINESS WIRE)–The City of Los Angeles, Los Angeles Department of Water & Power (LADWP) and Los Angeles Cleantech Incubator (LACI) today announced the official Grand Opening of the La Kretz Innovation Campus. The fully renovated building located at 5th and Hewitt Streets in the dynamic Arts District of Downtown Los Angeles comprises 3.2 acres and is owned by the Los Angeles Department of Water and Power.
"The La Kretz Innovation Campus embodies the ambition and forward thinking that make Los Angeles a world center for green industry," said Mayor Garcetti. "This campus will foster innovation, create jobs, and set an example for cities everywhere. Clean technology is not only smart and responsible but also a terrific growth opportunity. For all those reasons, we should invest our time and resources into making it a huge success."
"By utilizing this space to showcase all of the latest green technologies, we hope to inspire customers, both residential and commercial, to adopt some of the systems for themselves," LADWP General Manager David Wright said. "The La Kretz Innovation Campus not only showcases the clean tech available to customers today, but it also allows the innovation and development necessary to create the products of tomorrow – boosting LA's economy along the way."
LACI helps manage the La Kretz Innovation Campus, recruiting entrepreneurs, organizations and community thought leaders focused on the region's clean energy sector to rent space and develop businesses within the building. The shared-space design allows emerging cleantech portfolio companies and LADWP engineers to work side-by-side with leaders in innovation and environmental sustainability, receiving guidance and mentorship as they develop new technologies that both grow Los Angeles' economy and promote sustainability amongst Angelenos.
Fred Walti, CEO and President of LACI, stated, "The purpose of the La Kretz Innovation Campus is to provide solutions, both in terms of economic growth for the City of Los Angeles and through sustainability innovations and partnerships. We have already had the privilege of hosting Vice President Joe Biden at the campus, in addition to the Administrator of the U.S. Small Business Administration, Maria Contreras-Sweet, Chair of the LA County Board of Supervisors, Hilda Solis, and many of the world's top sustainability leaders, including members of the C40 Group."
LACI, founded in 2011, has already helped 61 companies raise $78 million in funding, creating 1,150 jobs and delivering more than $230 million in long term economic value for the City of Los Angeles. LACI is currently the #3 Ranked Global Incubator by UBI Global. Recognized as one of the most innovative business incubators in the world, LACI identifies local entrepreneurs across multiple cleantech business sectors and guides them to market, creating jobs that advance LA's
Read the full press release at http://www.businesswire.com/news/home/20161007005539/en/Grand-Opening-La-Kretz-Innovation-Campus-Celebrates
Contacts
Laurie Peters
Communications Director
LACI
lpeters@laincubator.org
818.635.4101
or
Amanda Parsons
Manager of Media Relations
LADWP
Amanda.Parsons@LADWP.com
213-367-1361