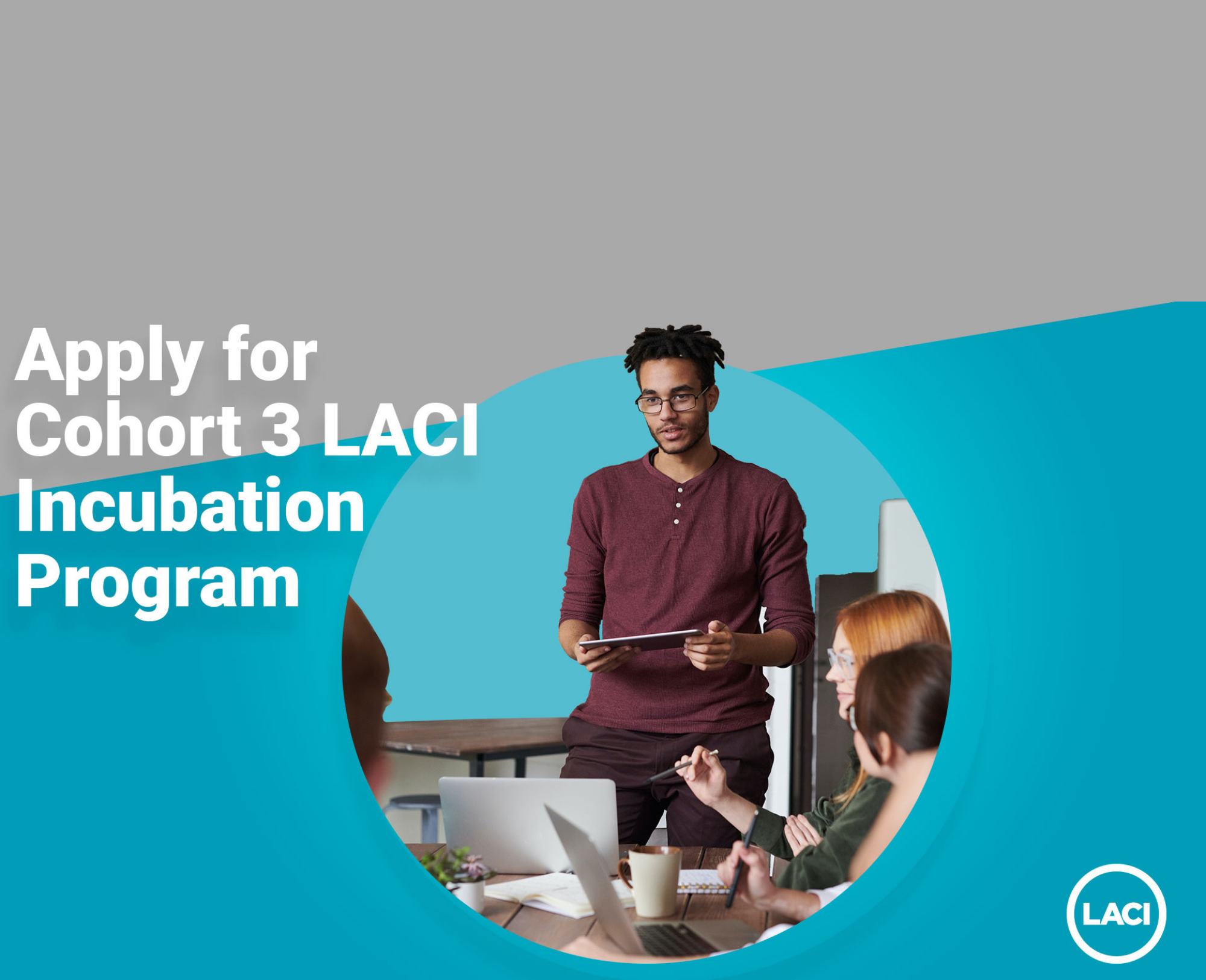 Are you a cleantech startup striving to create solutions in energy, transportation, or smart cities that would benefit from hands-on support through market access, business services, and introductions to funders?
LACI has welcomed 25 startups into our ecosystem through our last two cohorts. Cohort 1 founders have raised over $6.7 million in equity, including investment from LACI's Impact Fund,  and have deployed three pilots with seven more on the way in the first year of our Incubation Program. Cohort 2 is just getting started! LACI is eager to welcome even more startups to the community and is now taking applications for Cohort 3 until June 18.
How does LACI identify leading technologies and startup innovation?
Based on the market activity in 2020, LACI is looking for startups solving problems in Clean Energy, Zero Emissions Mobility, and Sustainable Cities. 
LACI is committed to advancing the transition of a zero-carbon, secure, and reliable grid to increase regional air quality, create more local jobs, and reduce emissions. The past year revealed community-wide vulnerabilities that have created opportunities in cybersecurity and wildfire resilience, flexible load technologies in collaboration with utilities, and integration of vehicle-to-grid and vehicle-to-building technologies to shorten the time when EVs use the grid. 
To build an inclusive green economy, LACI is also looking to support startup-led innovation focused on zero emissions mobility of people and goods. LACI's Transportation Electrification Partnership (TEP) for example, works together with policymakers, corporate partners, and other private-public collaboration to help achieve the following goals in Los Angeles by the 2028 Olympic and Paralympic Games: 
Accelerate the adoption of electric light duty vehicles to be 30% of all vehicles on the road and 80% of those sold

Shift at least 20% of all single passenger vehicle trips to zero emissions public and active transportation

Ensure that 100% of all public investments in goods movement will advance zero emissions solutions
Using this roadmap, LACI wants to work with companies that can help utilize innovative technologies and solutions to make the movement of people and goods connected, shared, and electric. Some examples of these solutions include: Real-time data reliability and multi-modality, low-cost, high visibility mobility hubs for first/last mile mobility, zero emissions last mile urban goods delivery, and more.
LA's New Green Deal of zero waste to landfill by 2050 is another example of the regional initiatives LACI supports through our startup leadership in our Sustainable Cities Program. Some solutions we're focused on include digital tools and new business models to create equitable and circular value chains, next generation products and materials to reduce waste, zero waste goals and waste diversion. 
Apply now, scale later
LACI's Incubation Program startups pave the way for climate innovation in Southern California. Companies like ChargerHelp! are training the next generation of tech engineers through LACI's Workforce Development Program to move the needle forward on EV adoption, gaining interest from investors to close an oversubscribed seed round. FreeWire, which also supports easier EV adoption just closed a $50M Series C to continue scaling infrastructure. 
FreeWire was one of eight portfolio companies that received investments from LACI's Impact Fund and we've also been able to support pilot demonstrations by our startups across the state. In the first three months, Cohort 2 startups have already taken advantage of presenting in front of TEP working groups, connecting with our partners at LADWP, meeting dozens of investors, and actively engaging in curriculum sessions to better support each other. 
Beyond the investment team, LACI's Incubation Program Cohort model provides a community with hands-on curriculum, impact driven resources, industry connections and partnership pipeline, as well as direct feedback from individual Executive in Residence coaches and expert mentors. 
For Cohort 3, we're looking for startups in our main technology priorities that are dedicated to making a positive impact on Southern California environmentally, socially, and economically.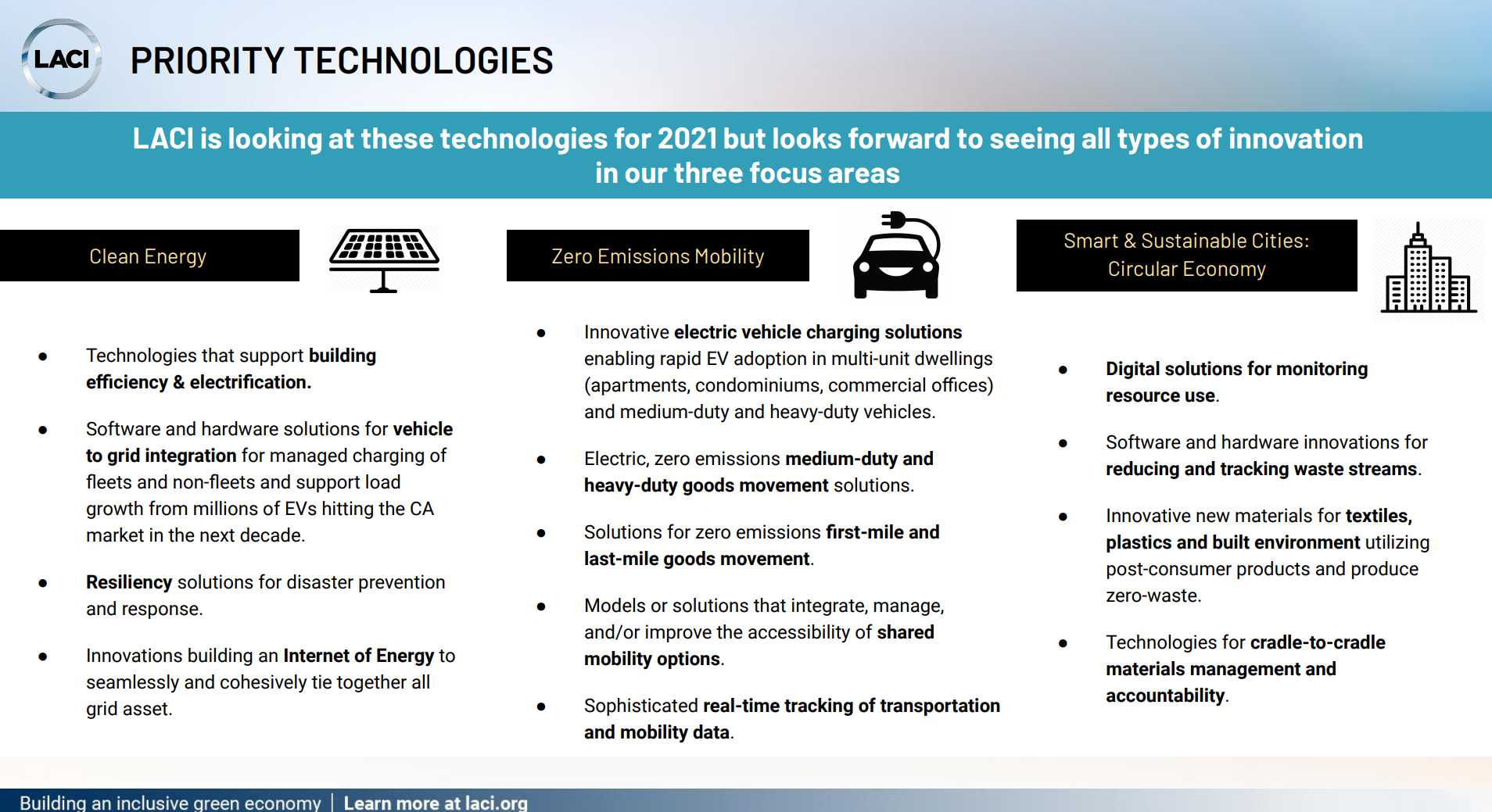 Founders who have built a novel technology that has deployed or is ready to be deployed in pilots should apply. Teams should include two or more members dedicated to incorporating diversity and inclusion through impact and creation of new jobs in the region.
Apply now and join LACI to scale faster and increase your impact in your community. If you're unsure about your eligibility or have questions, please don't hesitate to reach out to our Pipeline Team at pipeline@alaincubator.org.