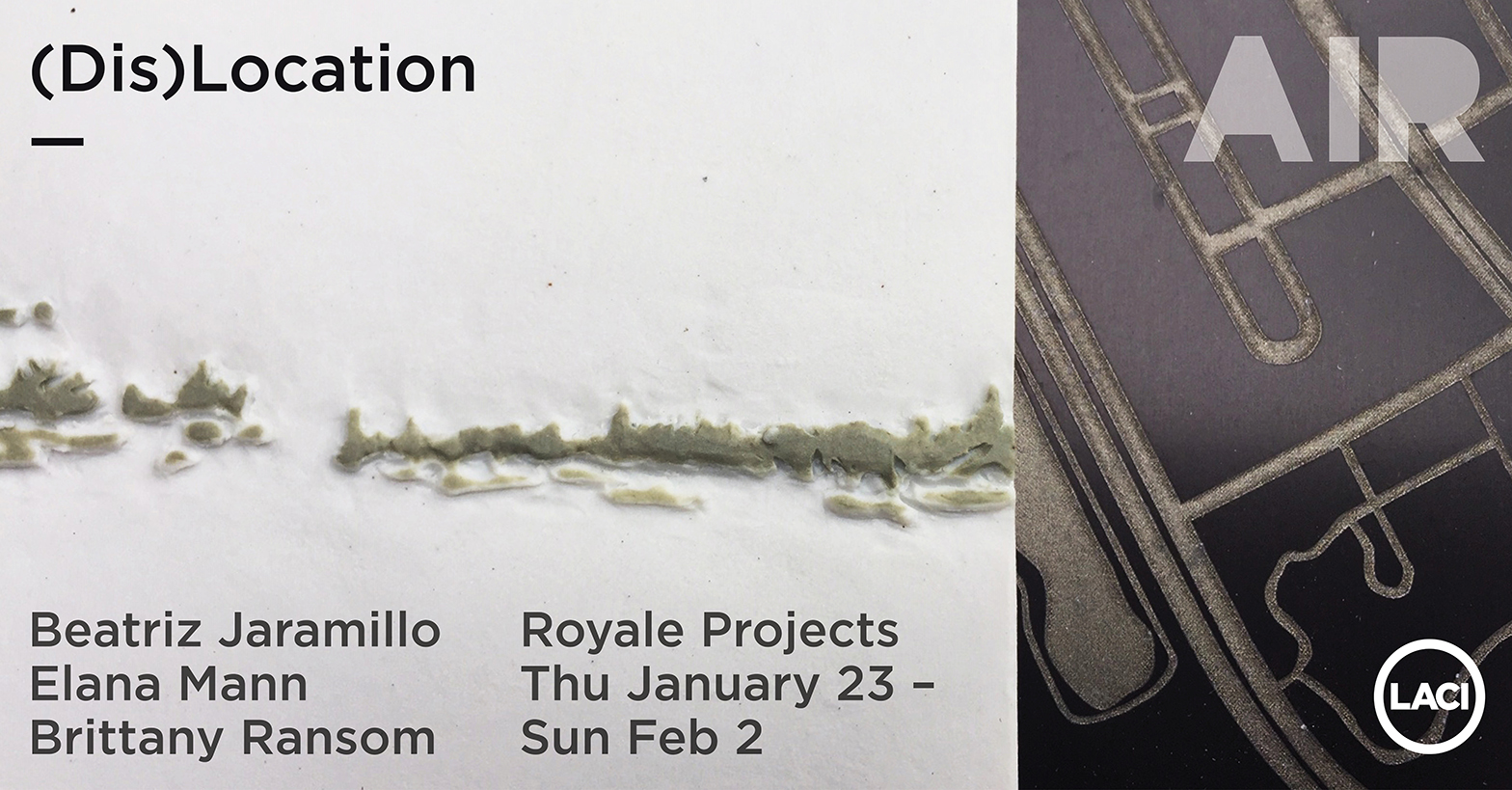 Enjoy selected findings by Beatriz Jaramillo, Elana Mann and Brittany Ransom created while artists-in-residence at Los Angeles Cleantech Incubator (LACI).
(Dis)Location
January 23 – February 2, 2020
Royale Projects
432 Alameda Street
Los Angeles, CA 90013 (Entrance on Seaton between 4th & 5th)
Open Thursday – Sunday, 12PM – 5PM
Opening Reception
Thursday, January 23, 2020
5PM – 8PM
Panel Discussion
Sunday, Jan 26, 2020
3PM – 5PM
Contact
AIR@laci.org
—
(Dis)Location presents selected findings by Beatriz Jaramillo, Elana Mann and Brittany Ransom created while artists-in-residence at Los Angeles Cleantech Incubator (LACI). Through diverse media and approaches, each artist engages in a deep study of place, highlighting the loss of Los Angeles wetlands, one path towards mitigating toxic manufacturing, and tree-destroying beetles that substantially contribute to the spread of wild fires.   A bridge between land and water, wetlands are among the most productive ecosystems in the world. Their sponge-like ability to absorb and release water creates a natural filtration system, and protects against extreme weather events. However, in order to filter water and mitigate damaging climate events, wetlands require space to breathe.
Early photographs of Los Angeles evidence thousands of acres of wetlands, with key areas stretching from mid-city to South LA, and the entirety of Marina Del Rey. Up to 95% of this natural habitat is now lost to urban development; and with this, we lose the potential to capture blue carbon, house diverse ecosystems, and recharge underground aquifers. In In Between: Los Angeles Wetlands, Beatriz Jaramillo explores the contradiction between continual urban expansion and nurturing this vital natural resource. Through research at Ballona Wetlands, Jaramillo has created a series of works in engraved aluminum and porcelain juxtaposing the serenity of the wetlands with hard edge representations of the urban infrastructure that contribute to their demise. With each wetlands area positioned within 5% of the frame, the work establishes a picture of just how much we have lost.
Elana Mann's Dark Victory discusses the life cycle of petroleum-based black pigment, found in everything from tires to water bottles; and a possible solution in LACI portfolio company Nature Coatings. Originally presented at CicLAvia: Heart of LA Celebrating UCLA 100, the work is a collaboration with Nature Coatings, a company who  transform wood waste into high performing black pigment. Mann worked with Nature Coatings to create paint from their non-toxic pigment; and invited CicLAvia guests to make prints using this paint and the bicycle as a mobile printing press. In (Dis)Location, Mann presents documentation of this public engagement about the lineage and impact of everyday products, and ways we can improve our own carbon footprint.
Another unlikely Southern California dislocator is a tiny pest you have likely never seen. One of the most destructive wildfire seasons in California history (2018) was due in large part to swarms of silent architects no bigger than a grain of rice. Referred to by a Columbia University study as "one of the world's most aggressive tree-killing insects," bark beetles thrive in drought. They burrow in bark, building armies by laying eggs throughout the tree's living tissue. While healthy trees create a resin that drowns paths and pushes the beetles out, drought-stricken trees have no capacity to do so. As the tress hollow, they become kindling for the spread of devastating wildfires. Bark beetles have killed more than 27 million trees in the greater Los Angeles area alone. As the beetles eat their way through trees, they leave behind perfectly preserved lines that resemble complex city systems. These lines are the subject of Parallel Pathways, a series of works by Brittany Ransom that study the immense impact bark beetles have on the future landscape of California. Pointing to specific places of flow, obstruction, and planned versus haphazard pathways, the bark beetle's paths are recreated in reference to our own human building patterns and possible self destruction.
—
Also on view at Royale Projects:
Joel Otterson: Among Others
Jen Aitken: 3, 4½, 7½, 12
—
With special thanks to Royale Projects for their ongoing support of AIR.