Taking bold steps to prioritize electrification for the future of its communities
Covering approximately 50,000 square miles in Southern California and providing more than 15 million people with electricity, Southern California Edison (SCE) is one of the largest regional organizations in the Transportation Electrification Partnership (TEP) and one of the founding partners that helped create the Partnership in 2018. "When we started TEP, we knew that the electric industry had to keep pushing for more renewables and bold action to reduce greenhouse gas emissions. But we also knew that to address climate change we had to reduce greenhouse gas emissions from other parts of the economy, especially the transportation sector – which in California accounts for almost 50% of greenhouse gas emissions," said Drew Murphy, senior vice president of Strategy and Corporate Development at Edison International, the parent company of SCE.
The California Clean Fuel Reward Program is an endeavor that SCE cites as an important example of their dedication to transportation electrification. This program, which was originated by SCE and then adopted statewide, provides an additional incentive for the purchase of electric vehicles across the state at the point of sale. "Having the ability to remove some of the cost pressure of EVs at the point of sale is an important incentive for customers, so we're proud to join the California Air Resources Board (CARB) and the other utilities participating in the program," said Michael Backstrom, vice president of Regulatory Policy for SCE. The company has also recently introduced a rebate program for those who buy and lease pre-owned EVs.
The Charge Ready Program is another example of the bold action SCE has taken to encourage transportation electrification in the region. As the largest utility-run electric passenger vehicle charging infrastructure program in the nation, Charge Ready will add about 38,000 new electric car chargers throughout SCE's service area over the next few years. Through Charge Ready, SCE installs and maintains the supporting EV charging infrastructure while site hosts, who are nonresidential SCE customers, own, operate and maintain qualified charging stations. Charge Ready also includes options for SCE to own, operate and maintain charging stations for specific segments, as well as provides rebates for charging stations installed during the construction of new multi-family property sites.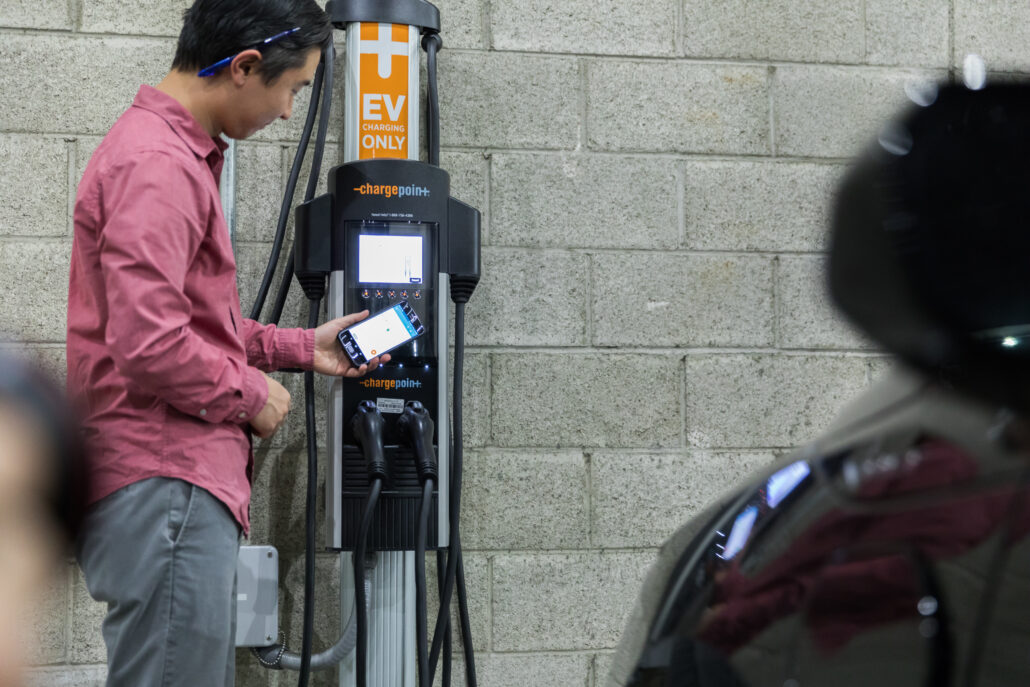 Beyond passenger vehicles, SCE is also taking ambitious steps in goods movement. The Charge Ready Transport program will support EV charging for at least 8,490 industrial EVs across the company's service area. For example, the program will play a vital role in supporting EV charging for 100 electric trucks via the CARB- and California Energy Commission-funded Joint Electric Truck Scaling Initiative. The pilot will eliminate 8,200 metric tons of harmful emissions annually through a collaboration with transportation and logistics companies NFI Industries Inc. and Schneider National, Inc. These companies recently announced that they will each put 50 heavy-duty, plug-in, battery-electric trucks into operation at their Los Angeles area locations.
In addition to programs designed to help others reach transportation electrification goals, SCE has made strides in leading by example. By 2030, every passenger car and small-to-midsize SUV in SCE's fleet will be electric, the company announced. The electric company will also convert 30% of its medium-duty vehicles and pickup trucks, 8% of heavy-duty trucks and 60% of forklifts to electric power by that same year. "As we encourage our customers to consider fleet electrification, it is critical for our company and our industry to show leadership," said Backstrom. "Setting goals to electrify our own fleet is one more way to show that we remain committed to making the changes necessary to clean our air and reduce harmful greenhouse gas emissions."
As we advance the goals we set in our Zero Emission Roadmap 2.0, TEP is determined to create an equitable and sustainable transportation ecosystem in time for the 2028 Olympic and Paralympic Games in Los Angeles. "We want to show everyone that electrification of mobility at scale is not only doable, but doable in a way that makes things better," Murphy added. "Being part of the TEP Leadership Group is important to us because it helps advance what the region and the state must do to be successful in reaching California's climate action goals. As a partnership, we can leverage our thinking throughout California, nationally, and internationally, to make a difference and start accelerating innovation across the industry and region."
– Shevonne Sua, LACI Transportation Program Assistant
The Transportation Electrification Partnership (TEP) is an unprecedented regional public-private collaboration to accelerate deep reductions in climate and air pollution by the time of the 2028 Olympic and Paralympic Games. All of our partners have committed to work individually and collectively to pursue policies, pilot projects, and other actions that are equity-driven, create quality jobs, grow the economy, and help the region reach the bold targets in the TEP's Zero Emissions 2028 Roadmap 2.0.