A small city growing a big plan for zero emission mobility.
Covering roughly five square miles in west Los Angeles County, with a population of nearly 40,000, Culver City was the first small city to join the Transportation Electrification Partnership (TEP) two years ago, with then Mayor Meghan Sahli-Wells stating, "Together, we can lead the way in championing climate action through zero emissions mobility." Since then, the City has been making steady progress on multiple fronts to support the goals of TEP. 
Culver City has become one of the fastest-growing digital media hubs in Southern California as Amazon, Apple, HBO, TikTok and other firms have expanded into the area, drawn to its location and movie history. The influx has brought thousands of new jobs to the city along with the associated transit challenges. As a small city, Culver City is readily able to address all mobility functions from electric buses to dedicated bus lanes to new first/last mile connections. 
Transforming the City Fleet
"We have adopted a vehicle policy to buy electric as long as it can meet our needs and is sustainable," says Culver City Chief Transportation Officer Rolando Cruz. "With that in mind, the Transportation Department has committed to being 100 percent electric by 2028 for all of our CityBus and CityRide vehicles, which is in alignment with our TEP goals." This fiscal year, the City will receive its first four 40-foot battery-electric buses from New Flyer.
But it's more than the electric buses themselves that cities must take into consideration; transit agencies are learning that planning for the infrastructure to support the buses is critical. "What we are doing differently than others is creating a Battery Electric Bus Transition Plan for our infrastructure that aligns with our transportation vehicle replacements," says Cruz. This plan includes a service, fleet, fuel, maintenance, and facilities assessment so that the City can fully understand the total cost of ownership. 
In the coming weeks, Culver City will take final recommendations and bring the full plan to the City Council for adoption. Culver City is also making progress in securing funding for its electrification efforts, having recently been awarded a $5 million grant from the California Energy Commission for the buildout of infrastructure enhancements required for full fleet electrification by 2028.

Reimagining Streets
Culver City's leadership in transportation electrification extends to other innovative programs as well. In particular, MOVE Culver City evaluates streets in conjunction with the community to provide mobility alternatives. More specifically, the program envisions a reimagining of streets as public spaces and prioritizes moving people over cars in the design. As part of the program, the City has partnered with a local company, Sunset Vans, to create the first electric mini-bus in the country.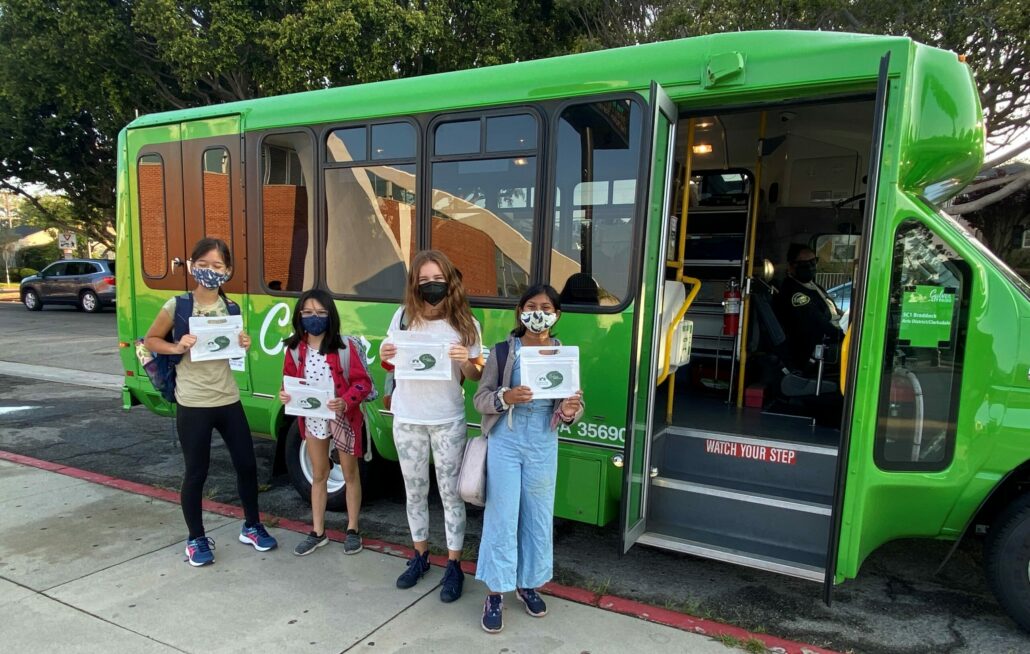 Beginning August 19, 2021, Culver CityBus is providing safe and reliable transportation to students in the Culver City Unified School District (CCUSD) for free with a special TAP (Transit Access Pass) card, as part of a new pilot program. Culver City students receive unlimited rides at no cost on Culver CityBus, LA Metro bus and rail, and LADOT Dash. "This exciting program is several years in the making. Free bus fares provide increased accessibility to transit for the youth of our community and will create future generations of public transportation users," said Culver City Mayor Alex Fisch.
Whether they're setting ambitious fleet electrification goals or creating innovative mobility alternatives, Culver City has been making impressive progress on their transportation goals in conjunction with the greater ecosystem. "Being a part of TEP has helped us look at the big picture and to take aholistic approach to tackling the mobility challenges of the City, including transportation electrification. One thing that we learned early on is that this requires interdepartmental collaboration," says Cruz. "We have created a mobility working group that includes staff from the  Public Works and Community Development Departments. We are working together to solve mobility challenges and support each others' efforts to help enhance quality of life within our community. We are working hard on a short-range mobility plan that will outline our plans over the next 2-3 two to three years. But ultimately our group is more able to collaborate and solve these bigger picture problems through our partnership with TEP."
– Shevonne Sua, LACI Transportation Program Assistant
The Transportation Electrification Partnership (TEP) ​​is an unprecedented regional public-private collaboration to accelerate deep reductions in climate and air pollution by the time of the 2028 Olympic and Paralympic Games. All of our partners have commited to work individually and collectively to pursue  policies, pilots, and other actions that are equity-driven, create quality jobs, grow the economy, and help the region reach the bold targets in the TEP's Zero Emissions 2028 Roadmap 2.0.