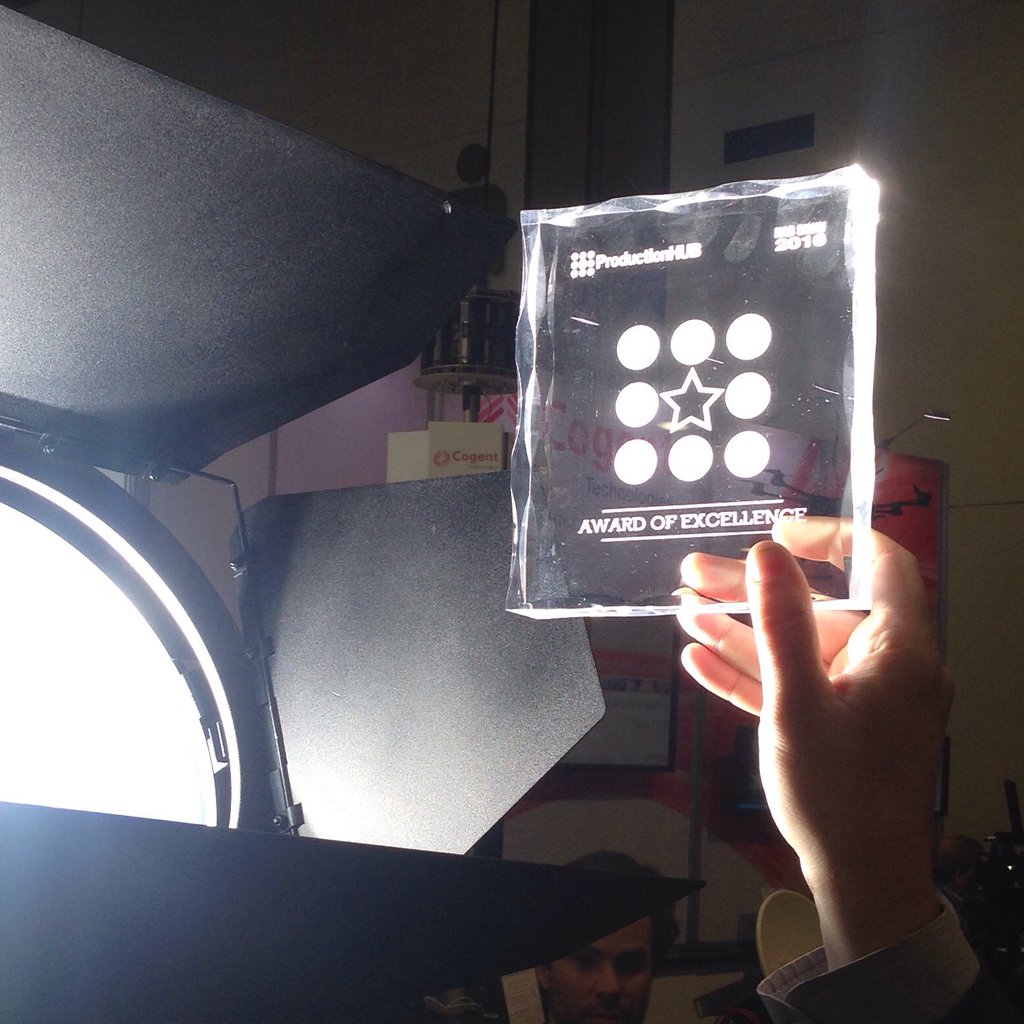 [av_one_full first min_height=" vertical_alignment=" space=" custom_margin=" margin='0px' padding='0px' border=" border_color=" radius='0px' background_color=" src=" background_position='top left' background_repeat='no-repeat' animation="]
[av_image src='https://laincubator.org/wp-content/uploads/PRODUCTION_HUB_AWARD_OF_EXCELLENCE_NA_2016-300×300.jpg' attachment='7000′ attachment_size='medium' align='center' styling=" hover=" link=" target=" caption=" font_size=" appearance=" overlay_opacity='0.4′ overlay_color='#000000′ overlay_text_color='#ffffff' animation='no-animation' custom_class="][/av_image]
[av_textblock size=" font_color=" color=" custom_class="]
LACI Portfolio company Hive Lighting's new 1000 Watt Plasma Bulb successfully debuted at NAB (National Association of Broadcasters) Show 2016 in Las Vegas last week. The 1000 Watt Plasma Bulb took home a 2016 Award of Excellence from ProductionHUB, the global network of freelancers, crew and vendors. The Awards of Excellence recognize the innovation in technology and practice from the NAB Show Floor, the anchor event of the industry.
"We interview hundreds of exhibitors from trade shows across the country to make sure our users are up to date on the tech and skills needed to succeed on set and in the workforce," says Katrina de Leon, Director of Marketing for ProductionHUB. "Because of this focused view, we are in a unique position to select and spotlight the best of the best from the NAB Show."
To finalize the award selections, ProductionHUB used a combination of the following criteria: nomination form entries, expert opinion from both industry icons and the ProductionHUB leadership team, and direct feedback from attendees at the show.
The 1000 Watt Plasma Bulb generated lots of buzz on the trade show floor, resulting in interviews with No Film School, AbelCine, a feature in ICG Magazine's April 2016 Gear Guide and more.
Hive's new 1000 Watt Plasma Bulb is 5 times brighter than their 250 Watt Plasma Bulb, has a CRI of 98, making it the brightest light you can plug into the wall. Pulling only 9.5 amps of power, the 1000 Watt is the equivalent output of a 2,500W HMI or 10,000W Tungsten Incandescent but costs almost 40% less to purchase and over 50% less to operate. All of Hive's Plasma Fixtures are manufactured in Los Angeles, CA, USA. 
The 1000 Watt Wasp Plasma Par and 1000 Watt Bee Plasma Flood are available now for pre-order and will be available for sale at Cine Gear Expo in June.
Find out more about Hive Lighting at hivelighting.com
Read more about the ProductionHUB NAB Awards of Excellence here
[/av_textblock]
[/av_one_full]