When Kabira Stokes drove cross-country from Philadelphia at age 22, like many East Coast transplants she was fascinated by the idea of Los Angeles. In contrast to New York, LA – in Kabira's mind – was "a story still being written." Fast-forward to 2015 and a career in public service, a master's degree, and a successful startup business later, Kabira and her company Isidore Electronics Recycling are contributing to the LA story – for the better.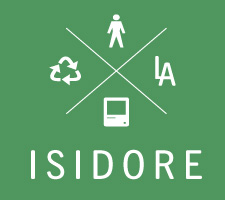 A full service electronics recycling and repair company in addition to being a vintage electronics supplier, Isidore  recycles electronics in an environmentally responsible way while providing training and jobs for Angelenos facing  barriers to employment. Formerly incarcerated and homeless job seekers can find a place there. While many organizations that serve these segments of the population are non-profit, Isidore is a for-profit company, which, as Kabira explained, demonstrates a "third way" of doing business:
We're here to make money, but equally, we're here to make a social and environmental impact.
Kabira's inspiration for the company came during her days working as a field deputy for then-Los Angeles City Councilmember Eric Garcetti. Dealing directly with constituents facing issues with gangs and crime in their neighborhoods, Kabira saw what she called "the demonization" of people who have been to prison and the difficulties they faced trying to build a new life after serving their time. "These people paid their debt to society and were ready to work again, but because of a lack of opportunity they'd often end up committing crimes again, perpetuating an all-too-common cycle," explained Kabira.
Witnessing firsthand one of the root causes of the prison recidivism rate, Kabira was determined to get a Masters in Public Policy to equip herself with the knowledge to begin to provide a solution. While studying the California penal system and workforce development, her mentor Van Jones posed a pivotal question: "Do you want to create the policy to create jobs? Or just create jobs?" That was when the idea for Isidore Electronics Recycling was born.
Since Isidore's establishment, Kabira co-founded "Impact Recyclers", a national network of 7 socially responsible e-waste companies built on the triple bottom line model. Kabira had a larger goal in co-creating the network: to redefine the recycling of e-waste as an American industry. Hundreds of thousands of tons of e-waste are shipped overseas and often times aren't processed in environmentally responsible ways. Impact Recyclers works to keep those jobs in the U.S., providing employment for the segments of our population that have the most difficulty finding work, and minimizing the impact of e-waste on the global environment.
Kabira applied to be a portfolio company at LACI at her company's most difficult time. The warehouse that she was operating out of burned down, as did most of her business. Two months later, her co-founder quit. After losing almost everything, "I needed a team, and LACI became my team. We met weekly to get the business back up and running. I wouldn't be here without them." In addition to helping the company in the aftermath of the warehouse fire, Kabira credits LACI with providing instrumental help with Isidore's financial modeling, projections, finding resources for the company, and providing ongoing mentorship and guidance.
Starting and running a successful company, especially as a woman in a male dominated industry, isn't the easiest endeavor. When Kabira was asked what keeps her going during difficult times her answer was simple and immediate: her workers. "It means a lot to have created an environment where people aren't judged by the worst thing they ever did, they're judged by how they did at work that day. The power of giving people a second chance, the way they respond to being giving that chance is just amazing. For a lot of my workers, this is the first real job they've ever had."
Kabira's short-term goals for Isidore Electronics Recycling are focused on raising capital so she can to hire more workers and provide her current ones with better wages. Long term, she hopes that her model can be replicated and expanded beyond Los Angeles. Kabira and her company demonstrate the positive impact that entrepreneurship can have on the environment, an industry, and in the lives of the people employed through her mission. The triple bottom line of "people, profit, and planet" continues to motivate Kabira as her business grows – and inspire those who are a part of it.