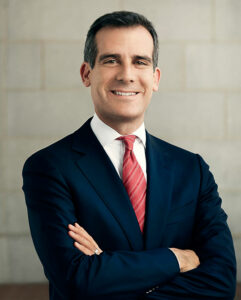 A long-time champion of sustainability and job creation, Los Angeles Mayor Eric Garcetti will deliver the keynote address on the morning of October 21st, Day 1 of GloSho'15. In April, Mayor Garcetti released L.A.'s first-ever Sustainable City pLAn, a roadmap for accomplishing back to basics short-term results while establishing a path to strengthen and transform LA in the decades to come. By taking on the challenges of the environment, economy and equity together, the Mayor's pLAn is moving the City of Los Angeles towards a truly sustainable future.
The Mayor's address kicks off a day of programming featuring compelling keynote speakers, technology demonstrations, and high-level thought leadership panels, featuring top investors who will provide an insider's perspective on the evolving Cleantech investment ecosystem. Whether you're an entrepreneur or an investor, no other Cleantech conference in North America brings you this kind of access to intellectual capital, business opportunities and investment.
Visit glosho.la frequently for the latest GloSho'15 program.