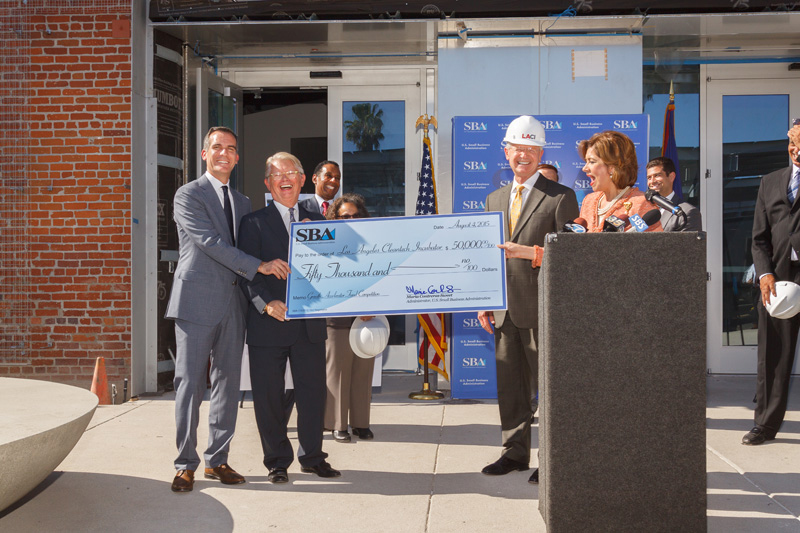 White House Cabinet Member Maria Contreras-Sweet, the head of the U.S. Small Business Administration (SBA) returned to her hometown Tuesday August 4th to visit the Los Angeles Department of Water and Power's La Kretz Innovation Campus in Downtown Los Angeles, celebrating LACI and the City of Los Angeles with a pair of awards that will directly impact L.A.'s small business community.
Ms. Contreras-Sweet presented CEO Fred Walti a check for LACI's win in the SBA's Growth Accelerator Fund Competition, applauding LACI's efforts working with small businesses and green job creation. The grant will help the organization further its mission of accelerating the commercialization of clean technology to grow the innovation economy and enhance its efforts to include a diversity initiative and more inclusive entrepreneurship for underserved Angelenos.
The SBA chose 80 winners from 400 applicants for the Growth Accelerator Fund. "The entrepreneurial ecosystem in America is incredibly exciting and very powerful," said Javier Saade, Associate Administrator for Office of Investment and Innovation. "Administrator Contreras-Sweet and I welcome this year's Growth Accelerator Fund Competition winners and the important and inclusive work they do in support of innovative and high-growth small businesses."
All in all, Tuesday was a win-win for LACI and the City of Los Angeles, as the City received the "Dream Big" Award in the SBA's "Startup in a Day" Program, a grant which L.A. will use to build an open-source web portal aimed at streamlining business licensing and registration, enabling that process to take place in under 24 hours.
---
Fred Walti commented, "We are honored that the SBA recognized both LACI and the City of Los Angeles this way, to invest in our efforts to create green jobs and help build a sustainable city."
---
Read the full press release here: http://www.prweb.com/releases/2015/08/prweb12890657.htm