Over the past eight years LACI has worked with hundreds of startups companies to help them raise outside funding and gain traction in the market—empowering startups to increase their social, economic and environmental impact in their community. 
One year ago, we distilled our best practices, improved our curriculum and added benefits to create a premier cohort-based Incubation Program. Today, we are excited to open recruitment for our Incubation Program, Cohort 2, launching March 2021.
What's LACI looking for in Cohort 2?
Our eligibility criteria remains the same as before, but our focus areas have been impacted by the dramatic events of the past year.  

Most obviously, COVID-19 has profoundly accelerated pre-existing societal changes. Remote work and e-commerce, for example, are nothing new, but they've seen explosive growth this year. For that reason, we are more bullish than ever before on zero emissions last mile urban goods delivery and remote-sensing for energy infrastructure.
The negative consequences of climate change became ever more apparent in 2020, especially in California. Raging wildfires and prolonged heat waves combined with other grid planning factors led to power outages and rotating blackouts that had not occurred since the 2001 energy crisis. This underscores the market opportunity for wildfire resiliency, flexible load technologies and vehicle to building solutions.
Finally, at the state level, California policy makers once again demonstrated climate leadership, including California Executive Order N-79-20. This landmark order requires not only that 100% of passenger vehicle sales be zero emissions by 2035, but also that signals that 100% of heavy-duty drayage truck operations be zero missions by then as well. This will open up new business opportunities for charging infrastructure for multi-unit dwellings and business models for electric heavy-duty truck infrastructure.  
Why should you apply?
Take a look at our Incubation Cohort 1 and how we've pivoted with our startups. Eight months in, we're proud to say that Cohort 1 is thriving. ChargerHelp, for example, won the MIT Solve Digital Workforce Challenge. SparkCharge closed a $3.3M seed round, followed by making a successful deal on the season premiere of Shark Tank. NeoCharge launched the world's first UL-certified Smart Splitter. Xeal became the first in the cohort to secure an investment from the LACI Impact Fund as part of their seed raise. And Power Day gave each of our startups the chance to share what concepts they're piloting in the community.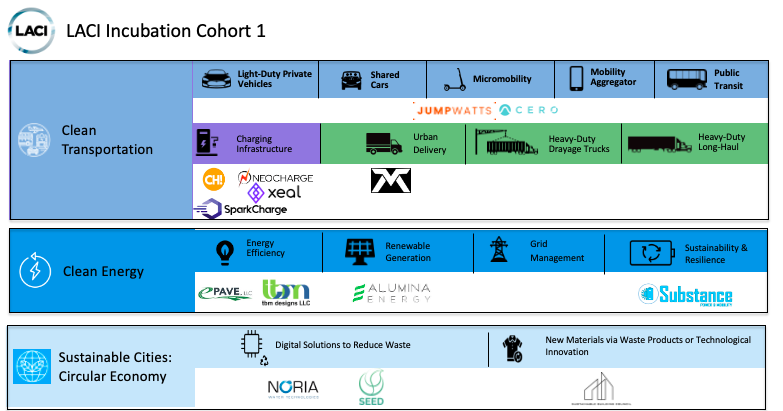 For Cohort 2, LACI is once again looking for startups that are investable based on founders, team, market, business model, technology innovation and competitive advantage; have a product that is ready to be  piloted; and are looking to increase their social, economic and environmental impact.
If you think you have what it takes to follow in the footsteps of Amply, Repurpose, Freewire or Ampaire, check out the application here.  Apply by January 8 for our March cohort intake. Not sure if your venture is a fit, or have questions about the program? Shoot an email to janine@laci.org or book a time to chat.