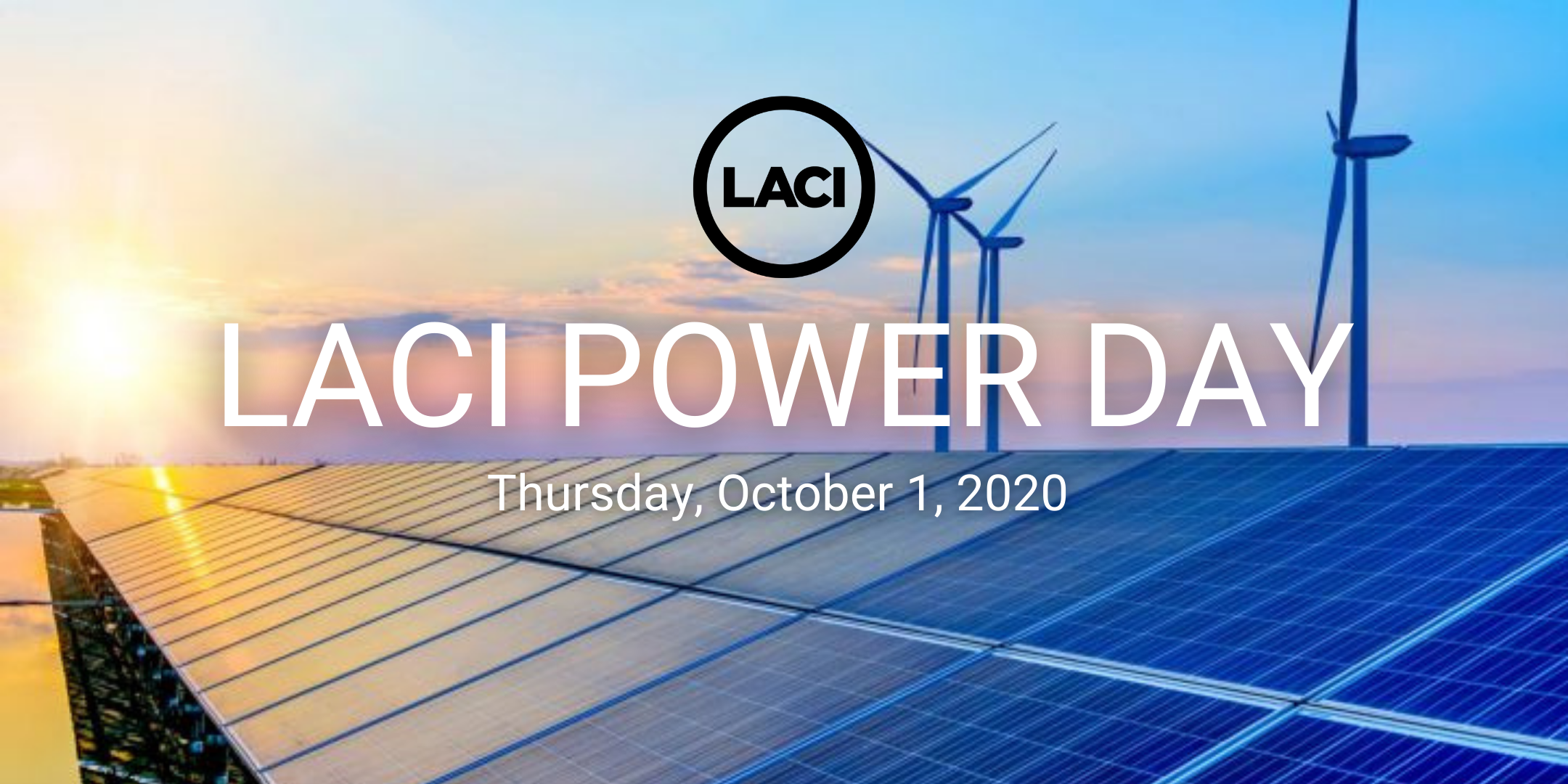 On October 1, the Los Angeles Cleantech Incubator (LACI) hosted its Second Annual LACI Power Day Conference, bringing together the clean energy ecosystem in California and celebrating accomplishments that have resulted from bold policy commitments. The event provided LACI Startups with the opportunity to showcase their technology to stakeholders in the region and broaden their potential customer and partner base. 
Opening Remarks 
LACI's President and CEO, Matt Petersen, kicked off the event welcoming guests  and affirmed the importance of clean energy innovation and technology including LACI's support of Governor Newsom's commitment to accelerate the state's decarbonization goals, including the goal of a clean energy grid by 2045.
After, California Energy Commission Vice-Chair Janea Scott provided opening remarks, spotlighting the renewal of the Electric Program Investment Charge (EPIC) program through 2030 that will invest $1.5 billion in clean technology over the next 10 years. Commissioner Scott also emphasized the Empower Innovation Network Platform that enables users to find resources and funding opportunities and connects individuals and organizations to create a clean energy economy for all. 
Innovators Pitch Competition
In the first pitch session of the day, CAMUS Energy and Green Light Labs, graduates from LACIs Innovators Program, a light touch one-year program for cleantech startups in the pre seed stage, pitched their clean technology and how their solution provides benefits in a post-COVID Society. In order to select a winner from this pitch competition LACI invited venture capital partners from Tech Coast Angels, Element 8, and Pasadena Angels to judge the pitches, culminating with Green Light Labs as the winner.
Power Talk Panels
The second part of the half day event was filled with panels focused on two major industry topics: Transportation and Battery Circularity.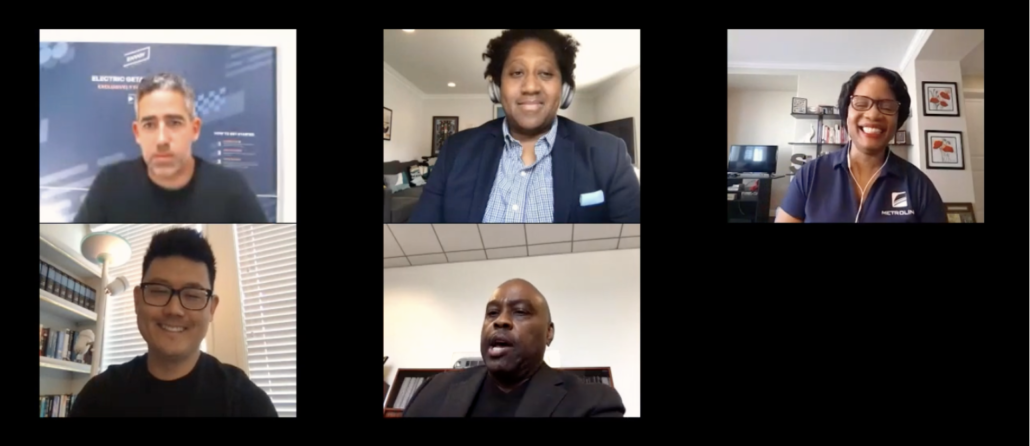 The Transportation Panel focused on transportation needs in a post-COVID Society and how to make zero emission and clean mobility accessible to all. The panel was moderated by Aric Ohana, the CEO of Envoy There, who led the discussion with industry leaders including Phil Washington, CEO of LA Metro, Stephanie Wiggins, CEO of MetroLink, Tamika Butler, transportation advocate and Principal of Tamika L. Butler Consulting, and Peter Lee, CEO of URB-E. Their discussion touched on how the COVID-19 Pandemic affected transportation operations and ridership as well as what policies, investments and behavioral changes are needed to ensure equitable clean public transit.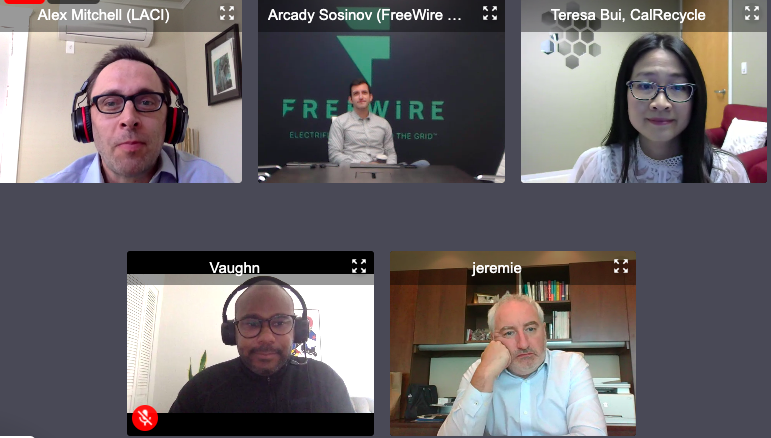 The battery circularity panel was led by LACI's very own Alex Mitchell, Sr. Vice President of Unlocking Innovation. Alex navigated panelists through a discussion on the potential for developing a marketplace for second life batteries, the challenges and  opportunities that exist around battery recycling and how the clean energy ecosystem should capitalize on those opportunities. The panel consisted of Jeremie Papin, Vice Chairman of Nissan North America,  Teresa Bui, Special Advisor at Cal Recycle, Arcady Sosinov, CEO of FreeWire Technologies, and Vaughn Blake, General Partner of Blue Bear Capital.
Remarks from UCLA's Provost 
In between the first and second half of the day, Dr. Emily A. Carter, UCLA's Executive Vice Chancellor and Provost provided remarks on how Los Angeles is positioned to lead the state and the nation in the adoption and deployment of sustainable city practices. Dr. Carter highlighted the energy and climate research that has been produced by UCLA as a living lab and the critical collaboration between LACI and UCLA that leads to innovative technology solutions.
Incubation Pilot Pitch Showcase
Later in the day, we showcased LACI startup companies in our Incubator program through a pilot project showcase with technology solutions related to Clean Energy, Clean Mobility and Circular Economy Solutions. Pitches from the twelve LACI Incubation Cohort 1 startups companies focused on their Pilot Project funded by LACI's Pilots Program under its Market Transformation Pillar.  Startups featured in the Showcase included:  Alumina, ChargerHelp Inc., ePave, JumpWatts, Maxwell Vehicles, Neocharge, Noria Water Technologies, SEED, Sparkcharge, Substance Power and Mobility, TBM Designs , Xeal. 
Keynote Speaker Address from Board Chair of the Energy Foundation
Lastly, the day concluded with a speech from our Keynote Speaker, Rose McKinney-James, Board Chair of the Energy Foundation. She discussed the urgent need for climate change mitigation action, additional collaboration, and the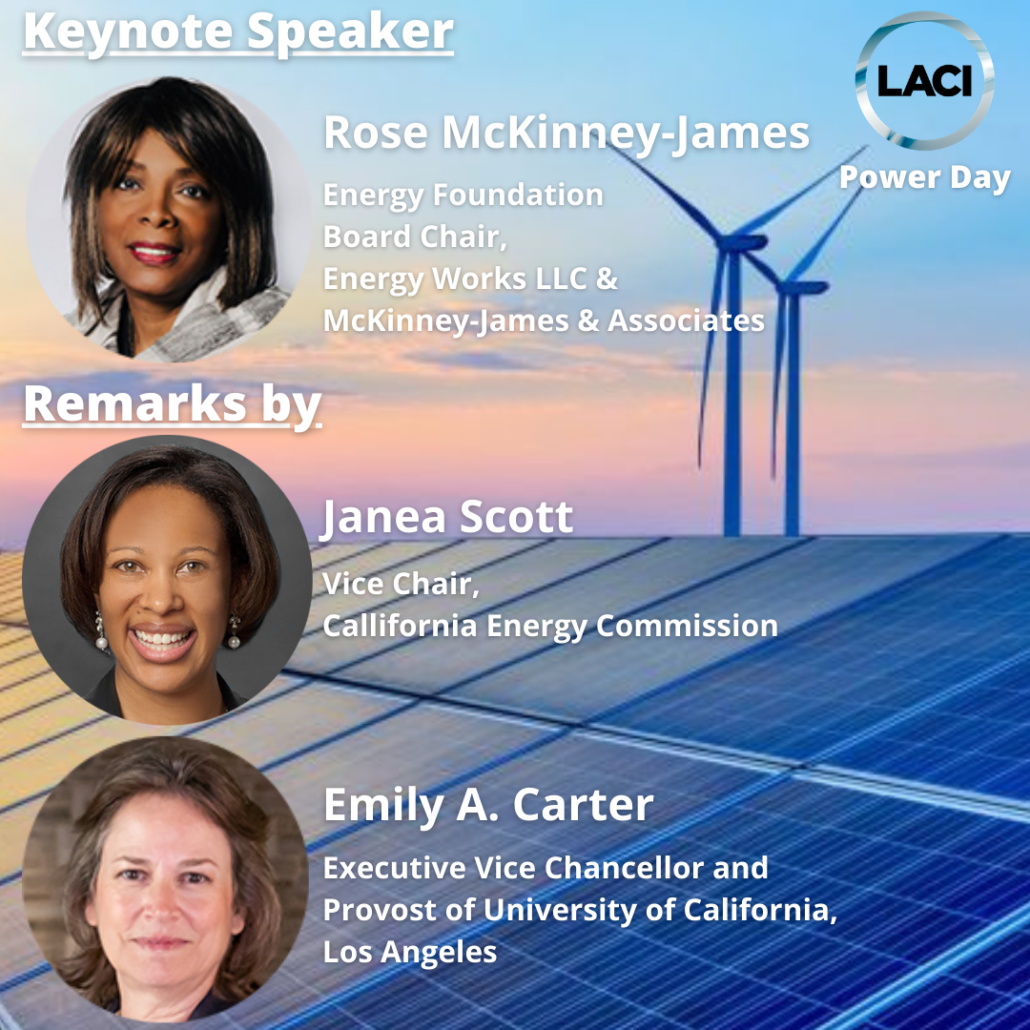 intersection of clean energy and social justice. She spotlighted the important role that innovation plays in addressing challenges and advancing advocacy to support economic, environmental and social issues.   
Moving forward
The half-day event brought together 288 stakeholders from diverse backgrounds and sectors – Including 197 unique organizations such as corporate business, utilities, investors, government agencies, non-profits, startups, other accelerators, national labs and universities. The connections established through this event by LACI enable best practices and new technology trends to be shared throughout the ecosystem strengthening our collective efforts to combat climate change and create an inclusive green economy. We look forward to next year's Power Day and celebrating the continued efforts and achievements of the clean energy ecosystem.
Watch portions of LACI Power Day 2020 below via our Power Day 2020 YouTube playlist.
To learn more about LACI's Pilots Programs email Pilots@LACI.org or visit our website. For more information on how to invest in a LACI Startup email Taj@LACI.org.
Power Day 2020 YouTube Playlist