I'd like you to meet the latest addition to the LACI family, Juicer Fine Electric Motorbicycles a talented designer tapping into the growing global electric chopper trend. Certainly all the Silver Lake hipsters hanging at Handsome Coffee Roasters down the road will now have something new to lust after, but beyond it's obvious Made-in-LA street cred and how incredibly cool we think it is, this is an opportune moment to segue to the topic of creativity and innovation in technology.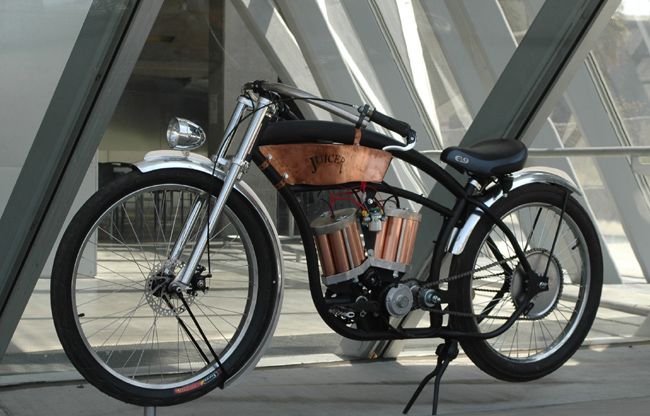 The essence of successful entrepreneurship is defined by creativity (and hard work). Coming up with new ways to solve problems is often the initial impulse to found a startup, and then once underway finding creative ways to marshal the required resources and overcome the obstacles encountered at every turn is what differentiates the winners from the unemployed. However, surviving the Valley of Death and then excelling beyond requires more than just solid intellectual horsepower and analytics, it requires true creativity. Which brings us to the $10,000 question: what is creativity and how do we cultivate it, especially under the high stress conditions a startup entails?
Creativity is the production of something new and original. In general, creativity comes through when we're relaxed, when the active, analytical part of the brain is superficially focused elsewhere, or obscured/numbed/diverted as so often happens with consciousness altering drugs (alcohol, marijuana, etc), during exercise, when driving or listening to music.  But hard as you may try, you can't think your way into creative inspiration, it just happens in a flash, a torrential downpour of pure original thought, sometimes as a coherent whole and other times as the seed of an idea that must be nurtured and cultivated and perfected. Lest you think it stops there, though, just having a creative idea isn't enough, it's a two part process. After the initial burst of inspiration, there is the hard work, the blocking and tackling, the nuts and bolts labor of fleshing out the idea, fully realizing it, improving and perfecting it, and bringing it to fruition (well articulated by Steve Jobs).
However if creativity doesn't come from the mind, where does it come from? Where is that "other" part of consciousness within which it resides? And how does it get there? The short answer is that it comes from other parts of ourselves, from our subconscious, or depending on your philosophical bent, from other planes of reality – what quantum physics might term, the Unified Field. But regardless of your belief in its origins, one indisputable fact is that training your active mind to relax and get out of the way enables you to access the intuitive, creative part more easily. And meditation is a healthy tool (with lots of other benefits) that can be used to enable high levels of creative flow. David Lynch is a big believer, and Norman Seeff has documented it amongst hundreds of world renowned artists, engineers, businesspeople and others.
What does this mean for you as an entrepreneur? How can you learn these techniques and put them to use in your own life to make your own dent in the universe? Well, let me tell you. LACI is launching a new program called Zen Bootcamp: Meditation for Entrepreneurs. Is it just about Zen? No. It's a survey of a wide variety of different meditation techniques, their physiological impacts (think brain wave patterns) and an overview of some of the most powerful creative processes out there to help you get your bearings and navigate the landscape. What will it do for you? Hopefully make you the next Apple, but if not, at least catapult you forward Chuck Norris style into the sustainability beyond and help you conquer our planet's most challenging and vexing problems.
We're certain this is a global first for incubator programs, and think it's apropros that LA is where it's all beginning. So watch for the details on our website soon, till then, order your own Juicer motorbicycle (or come see it at LACI) and make all the snarky coffee chugging plaid shirt wearing mustachioed hipsters falter in their relaxed cool affectation as they furiously fume with jealously while you're whistling by on battery power…
– Ian