VOLUNTARY NEIGHBORHOOD ZERO EMISSIONS DELIVERY ZONE
This RFI is now closed for submissions
Technology providers of all kinds, whether startup, corporates, community-based organizations, non-profits, etc. are encouraged to apply with creative ideas for how their ideas could be put to use in this pilot. 
Delivery Companies defined as companies responsible for last mile delivery of goods either through fleet, third party courier or contractor, should not respond to this RFI. Delivery Companies interested in becoming Delivery Partners should contact pilots@laci.org for more information.

This RFI is the first step towards identifying the appropriate mobility solutions for a voluntary zero emissions delivery zone. In particular, LACI and Santa Monica are interested in assessing the following types of technologies:
E-cargo bikes and other micromobility

devices for last mile delivery of parcels, groceries and food:  Vehicles, maintenance, infrastructure and charging (fixed and mobile), customer interface for check in/check out, fleet management services, etc.

Curb management

, including digital curb management, prioritization, signage, driver booking of curb spots, enforcement, etc.

Light-duty and medium-duty electric vehicles (EV)

used for last mile delivery of parcels and furniture:  Vehicles, EV maintenance, charging (fixed and mobile), fleet management services, mini delivery depots, charge management, etc.

Measurement and tracking solutions for noise and air pollution (including hyper localized), traffic congestion, delivery volumes, telematics, enforcement, etc.

Other innovative solutions that can help make a voluntary last mile delivery zone succeed (business model solutions, policy solutions, technology solutions, information and best practice sharing platforms or clearinghouses, etc.)
EXECUTIVE SUMMARY
The LA region is one of the most traffic-choked in America, and suffers from some of the worst air pollution in the nation. This has been exacerbated by a recent threefold rise in e-commerce deliveries, with diesel-powered delivery trucks exacerbating both congestion and pollution. 
LACI and many other organizations are working on revolutionizing transportation and mobility in the LA region—and one of the major steps they have taken together is to create the Transportation Electrification Partnership (TEP).  In order to meet the aggressive targets of the partnership, TEP released its Roadmap 2.0 report in November 2019, articulating how to achieve an additional 25% reduction in GHG emissions and air pollution in the LA region by 2028.  In particular, the Roadmap calls for 60% of medium-duty delivery trucks in LA County to be electric by 2028.
This goal aligns seamlessly with other Los Angeles goals linked to medium-duty trucks. The City of Los Angeles, for example, has committed to a zero emissions zone covering people and goods movement by 2030 in partnership with the global nonprofit C40. Moreover, LA's Green New Deal calls for 100 percent of urban delivery vehicles to be zero emission by 2035.
Towards this end, LACI has partnered with the City of Santa Monica to pilot a voluntary zero emissions delivery zone, the first of its kind in the US.  A pilot of this nature could jumpstart progress towards the TEP 2028 goal and drastically improve air quality in the region. We expect it will allow cities in Southern California and across the nation to develop the confidence to mandate zero emission delivery zones and the phase-out of medium-duty diesel trucks. It would also allow cities and corporations to develop "ahead of the curve" logistical and operational best practices involved in a zero emissions delivery zone, including the deployment of smaller footprint delivery methods, such as e-cargo bikes.  Furthermore, communities would see immediate benefits in terms of reduced air pollution, noise, and congestion. This partnership is also supported by the Southern California Association of Governments (SCAG), the City of LA's Urban Movement Labs (UML), Southern California Edison and Los Angeles Metro. 
Intended outcomes are focused on:
A blueprint for cities to adopt zero emissions delivery zones and provide best practices for other zero emissions zones.

Provide ahead of the curve learnings to delivery companies for zero emission delivery zone operations by working hand in hand with the project implementation team. 

Immediate benefits to the local community such as reduced air pollution, GHG emissions, noise and congestion, as well as improved safety.

Provide economic opportunity to small businesses and individuals through access to zone benefits via vehicle sharing platforms. 
*REQUESTS FOR CLARIFICATION OF THE REQUEST FOR INFORMATION
If any respondent has questions regarding the meaning of any part of this RFI, the respondent shall submit a written request to pilots@laincubator.org. 
LACI will also provide opportunities to connect with project partners to help with submissions. Please email pilots@laincubator.org to with the request.
RFI Schedule & Deadlines
This RFI is now closed for submissions
FAQ: 

What is the zone?
As  currently conceived, the zone is a one-square mile area in the commercial activity core of Santa Monica.  The zone is roughly bound by Wilshire Blvd on the north, Lincoln Blvd on the east, Dewey Street (City boundary) on the south, and the Pacific Ocean on the west. The zone covers ZIP  codes 90401, 90405, and 90403 and is home to 15,850 residents, and two primary commercial districts—Downtown Santa Monica (including Third Street Promenade) and Main Street—that together employ roughly 28,900 workers in a wide range of industries. These areas welcome millions of annual visitors, and are hubs of commercial, social and institutional activity. Bolstered by beach proximity, the area serves people from local, national and international origins. In addition to many small and large local retail, trade, hospitality and food service businesses, the proposed zone contains numerous institutions like the RAND Corporation, Santa Monica High School, and Santa Monica City Hall.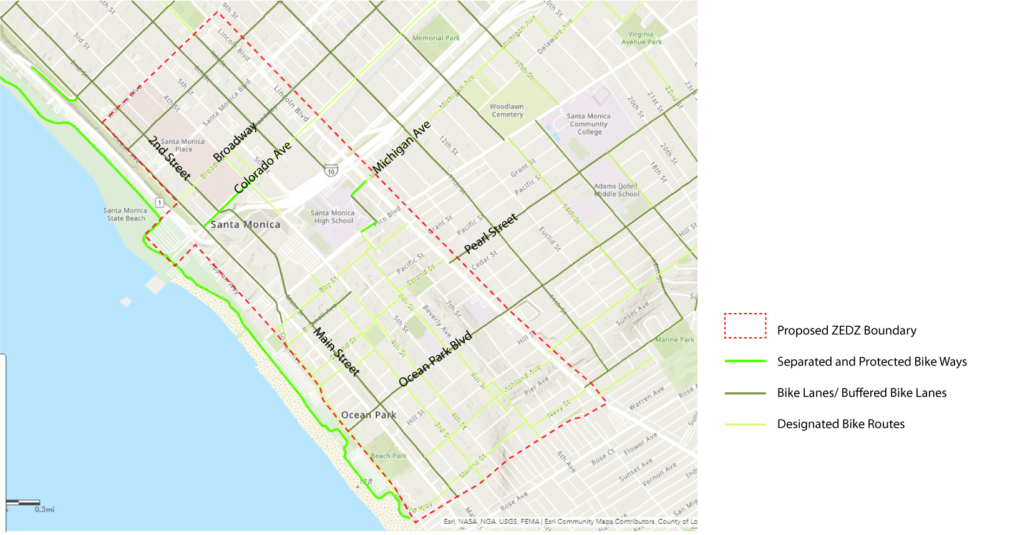 Will operational components outside of the Proposed ZEDZ Boundary be considered in the pilot project?
The Proposed ZEDZ Boundary is flexible in that it can include customer deliveries, carrier operations, among other components related to the operational characteristics of last-mile deliveries.
Will all transportation operating in the voluntary last-mile zero emissions delivery zone be required to be zero emissions?
No, only those from delivery companies who commit to engaging the pilot.  LACI will work to engage delivery companies in the pilot.
Which Delivery Partners are supportive of the voluntary last-mile zero emissions delivery zone?
Parcel, bulk and food delivery partners are engaged in the pilot process and several are anticipated to commit to the pilot. Among these, Ikea is supportive of the zero emissions delivery zone project in Santa Monica. The number of delivery providers engaging in the pilot is expected to grow over time.
How will the impact of this pilot be measured?
LACI is targeting funding for measurement and verification, including air quality monitoring (general and hyper-local), noise levels, congestion, and operational and cost efficiencies by delivery companies.  Applicants are encouraged to articulate what impact measures their technology could help track and should be clear about what limitations they have in terms of data sharing.
Some technologies deployed in the pilot may use Mobility Data Specification (MDS). If there are issues with compliance or data sharing, please note in your response. 
How will costs be covered?
There is limited funding available to support the full scope of technology implementation and operations. Many of the providers selected will be providing their solutions at no or reduced cost, with their benefit generated by the significant market access opportunity in terms of customer engagement, PR, and the ability to influence future public policies relating to zero emissions delivery technologies.
Applicants should flag whether they would need grant funding from LACI to partially or fully offset their deployment costs.  Due to funding requirements and the spirit of the pilot process, data sharing from those receiving funding is required.  Applicants should be clear in their application about what limitations they have in terms of data sharing.  
Do companies that want to participate in the pilot have to join LACI?
Startups that plan to operate or are currently operating in Southern California, under 10 years old, and have raised under $25m or in Series A/B, and in need of funding assistance for pilot execution may be asked to join LACI's Market Access Program to de-risk the pilot deployment both for the startup and for LACI. The Market Access Program provides incubation services including mentorship and advisory services, general business support, and funding opportunities and investment services to support startups during pilots and scale impact in the Southern California market. Read more here.
What does success look like for this pilot?
We expect a successful pilot will improve local air quality, and reduce noise pollution and congestion for communities. Furthermore, a successful pilot will provide best practices on policies, deployments, and enforcement for cities in Southern California and across the nation to develop the confidence to send market signals and scalability on zero-emissions goods deliveries. 
If a firm is not interested and/or beyond needing incubation services, can the firm still apply for this opportunity?
This opportunity is open to all companies, not just startups. If you have a solution that could work for the zone, please apply.
Joining LACI as a Market Access company is an option for certain companies with interest and fitting certain criteria.
Is LACI and its project partners going to select proposed solutions through this RFI or use the RFI to inform a future RFP ?
RFI will lead to an initial round of procurement in the ZEDZ in 2020. This RFI will also feed future RFPs that will lead to subsequent procurement for 2021.
What is LACI's proposed timeline for the ZEDZ RFI?
Refer to the timeline in the RFI. There will be an initial selection in late Summer 2020. These selections will go directly into procurement and deployment will occur in late 2020.
Responses for this RFI will also be eligible for future rounds of deployment in the zone (2021 and beyond) that will be done via RFP(s).
The pilot is expected to last one to three years.
When LACI and its project partners select technology to be deployed in the zone, how many solutions are expected to be in the pilot?
Selection of technologies in the zone will be based upon the number, size and quality of submissions to the RFI, as well as funding available.
Does LACI and its project partners have a preference for technologies that will be deployed in the zone?
LACI and Santa Monica are open to all types of technologies/services to support the ZEDZ.
If there is interest in partnering with a delivery company for the pilot, you can contact pilots@laci.org with a request highlighting the service/technology offering and the specific company you are interested in working with. LACI will provide introductions if there is mutual interest. 
A technology does not need a delivery company as a partner in order to be submitted.
Are firms allowed to submit with any delivery partner, or only a delivery partner approved and registered with LACI prior to submission?
Firms may submit an application with any delivery company, so long as all parties agree to deploy technologies and have service territory within the scope of this project. Delivery Partners will need to commit to the ZEDZ via Memorandum of Understanding. Interested Delivery Companies should contact pilots@laci.org for more information.
Is ridesharing included as a curb management solution in the zone?
The zone is focused on delivery. If a solution also offers benefits to ridesharing, that is acceptable as long as the primary focus is for zero emissions delivery.
Will grant funding for the pilot be tied to equity?
Funds provided for this pilot will not be tied to equity. However, startup companies that participate in the Market Access program will have a small equity ask for additional services provided by LACI.
If a firm has a product in development that will not yet be ready by the launch of the zone, but expected to be available for future phases, does the firm still need to apply to the RFI in order to be considered for future phases?
Yes. To be eligible for the initial procurements (2020-2022), a technology/service provider should submit an application indicating the expected product release date, product description and application for the zone.
If a firm is not based in Southern California, can they still apply to the zero emission delivery zone?
Yes, all technologies are welcome to propose their solutions in the zone.
The Los Angeles Cleantech Incubator (LACI), a private nonprofit organization, is creating an inclusive green economy by unlocking innovation (working with startups to accelerate the commercialization of clean technologies), transforming markets (through partnerships in transportation, energy and sustainable cities) and enhancing communities (through workforce development, pilots and other programs). Founded as an economic development initiative by the City of Los Angeles and its Department of Water & Power (LADWP), LACI is recognized as one of the most innovative business incubators in the world by UBI. In the past seven years, LACI has helped 78 portfolio companies raise $221M in funding, $220M in revenue, create 1,750 jobs, and deliver more than $393M in long term economic value. Learn more at laci.org