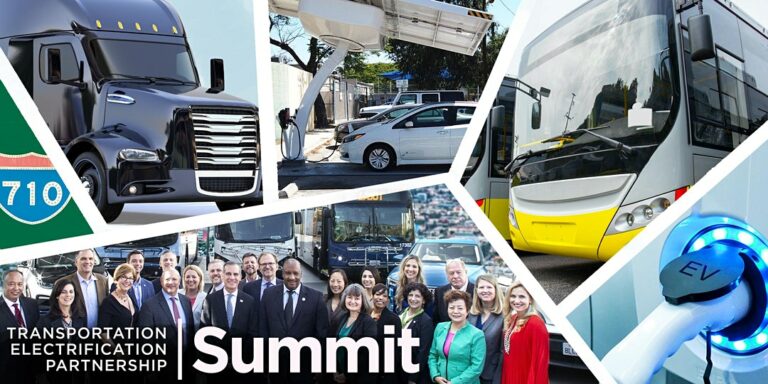 Formed in May 2018, the Transportation Electrification Partnership (TEP) is an unprecedented regional collaboration to go further, faster together toward a zero emissions future. In November 2019, TEP issued a 3-pronged Call to Action setting the nation's most ambitious targets for electric cars, charging infrastructure, mode shift and zero emissions trucks.
The Summit will bring together TEP members, policymakers, industry leaders, startups, academic experts and advocates to share progress towards TEP's ambitious targets, reflect on the year in transportation electrification, and frame the opportunities and challenges for 2021. Topics will focus on TEP initiatives and other key efforts in the field:
Advancing TEP's federal stimulus proposal for zero emissions transportation
Sharing how other cities and regions across the US are transforming how we move people and goods
Supporting Governor Newsom's Executive Order via TEP's proposed California EV Authority
Prioritizing equity in transportation electrification, with updates on our electric car sharing and e-cargo bike pilots
Electrifying the I-710, where 40% of of the nation's goods move from the Ports of LA and Long Beach to the rest of the country
Showcasing TEP's last-mile zero emissions delivery zone pilot and other learnings
Unveiling of startup and corporate technology innovations
DAY 1: Thursday, December 10, 12:30 PM – 5:15 PM
DAY 2: Friday, December 11, 9:00 AM – 12:00 PM
LACI's Transportation Electrification Partnership Summit will be a virtual event.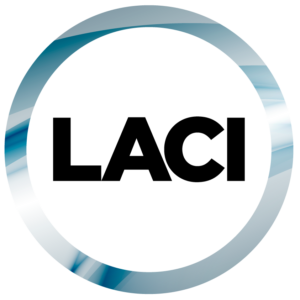 Welcome Remarks from Matt Petersen (President & CEO, LACI)
Keynote by Congressman Peter DeFazio (OR)
Panel: "Federal Stimulus for
Zero Emissions Transportation"
Moderator: Matt Petersen
Tom Ashley (Vice President, Policy & Market Development, Greenlots)
JoAnn Covington (Chief Legal Officer and Head of Government Relations, Proterra)
Madeline Janis (Executive Director, Jobs to Move America)
Rick Stockburger (President & CEO, BRITE Energy Innovators)
Spotlight on LACI Startup in
Transportation Electrification – ChargerHelp!
Remarks by Los Angeles Mayor Eric Garcetti
Panel: "How TEP has Inspired Regional Initiatives"
Moderator: Spencer Reeder (Director Government Affairs & Sustainability, Audi of America)
Ryan Martin (Partner, LDR Houston)
Pamela Frank (CEO, ChargEVC, New Jersey)
John Cerveny (Director of Resource Development at New York Battery and Energy Storage Technology Consortium, NY-BEST)
Jorge Madrid (Program Director, Cities, Energy Foundation)
Spotlight on LACI Startup in
Transportation Electrification – SparkCharge
Panel: "Advancing Equity in Transportation Electrification"
Panel opening remarks: Phil Washington (CEO, LA Metro)
Moderator: Estelle Reyes Madrid (SVP of Enhancing Communities, LACI)
Kevin de León (Councilmember District 14, Los Angeles City Council)
Veronica Padilla-Campos (Executive Director, Pacoima Beautiful)
Adrian Martinez (Staff Attorney, Earthjustice)
Aminah Zaghab (Director of Transportation, Energy Foundation)
Startup Showcase featuring Ampaire, CERO Bikes,
Envoy, JUMPWatts
Closing Remarks & Day 2 Preview
Welcome Remarks by Michelle Kinman
(Director of Transportation, LACI)
Fireside Chat: "Creating the Transportation Electrification Partnership, a statewide EV Authority, federal stimulus proposal, and the collaboration needed for a zero emissions future."
Mary Nichols (Chair of the California Air Resources Board)
Matt Petersen (President & CEO, LACI)
Panel: "Creating a California Electric Vehicle Authority"
Moderator: Clinton Moloney (Managing Director Sustainability Solutions – Americas, ENGIE Impact)
Nancy Sutley (Senior Assistant General Manager of External and Regulatory Affairs and
Chief Sustainability Officer, LADWP)
Drew Murphy (Senior Vice President, Strategy and Corporate Development at Edison International)
Jennifer Kropke (Director of Environmental and Workforce Engagement, IBEW Local 11 & 
National Electrical Contractors Association Los Angeles County)
Brett Hauser (Operating Partner, Infrastructure Group, Partners Group)
Breakout Sessions
Choice A: "Electrifying Small and Mid-Size Heavy-Duty Truck Fleets"
Moderator: Michelle Kinman (Director of Transportation, LACI)
Vic Shao (Founder & CEO, AMPLY Power)
Weston LaBar (CEO, Harbor Trucking Association)
Patrick Duan (Senior Vice President of Operations, Clean Transportation Business, BYD Motors Inc.)
Michael Samulon (Senior Policy Analyst, Sustainability Office of Los Angeles Mayor Eric Garcetti)
Choice B: "Preview of the Santa Monica Zero Emissions Delivery Zone"
Moderator: Kelly Schmandt Ferguson (Director of Pilots, LACI)
Ariana Vito (Sustainability Analyst, Transportation Electrification, City of Santa Monica)
Steven Moelk (Fulfillment Project Implementation Manager – Zero Emission Delivery, IKEA)
Rachel Nguyen (Director, Global Upstream Planning, Nissan North America)
Charles Jolley (CEO, Urb-E)
Panel: "Raising Ambition in 2021"
Moderator: Kristen Torres Pawling (Sustainability Program Director, County of LA)
Patty Monahan (Commissioner, California Energy Commission)
Matt Nelson (Director of Government Affairs, Electrify America)
Lauren Faber O'Connor (Chief Sustainability Officer, Mayor Garcetti's Office of Sustainability)
Preview of the LACI-USC Dornsife Public Exchange Study on Economic Development Potential for the LA Region in Zero Emissions Transportation 
Kate Weber (Executive Director of the Academy in the Public Square, Director of Public Exchange, USC Dornsife)
Matt Petersen (President & CEO, LACI)
Call to Action & Final Remarks