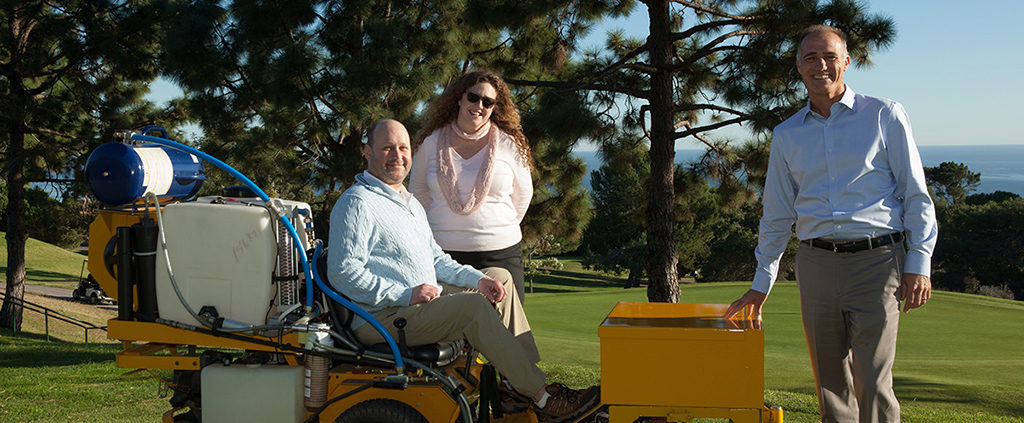 Rain Systems Installation at CSUN, (L-R): Jim Sibert, CTO and Co-Founder; Elaine Sibert, CEO and Co-Founder; Keith Brown, Advisor and Board Member
LOS ANGELES, CA—March 29, 2017—SoCal Edge, an initiative accelerating investments in high-impact building technologies, announces successful installations at Cal State, Northridge (CSUN) and the La Kretz Innovation Campus. Made possible through a Department of Energy (DoE) grant, SoCal Edge programs identify market-ready, best-in-class water and energy efficiency solutions to be matched with property owners committed to innovation and sustainability.
SoCal Edge pilot programs are conducted in conjunction with the Los Angeles Cleantech Incubator (LACI) and the Better Buildings Challenge, a DoE initiative. "Deployment of these installations on Campus has proven to be better than anticipated with dramatic results in water and energy savings," stated Ben Stapleton, Chief Partnerships Officer for LACI, managers of the La Kretz Innovation Campus. "This Campus is meant as a place of public demonstration to educate the people of Los Angeles on technologies they can implement today to reduce their utility use and costs. We look forward to implementing more of these projects in the future."
UgMO, a pioneer in measuring soil moisture and temperature at the root level in real time, is among technologies being piloted at the La Kretz Innovation Campus. Wireless sensors transmit data to the UgMO base station enabling irrigation control zones to be closely monitored and watered only on areas in need of water. Since its installation, UgMO has saved the La Kretz Innovation Campus 60% of its outdoor water usage.
Rain Systems, developers of the Precision Injection Machine (PIM) to inject cross-link polymers (CLP) into turf reducing irrigation requirements, is successfully piloting its technology with several turf locations at California State University, Northridge (CSUN). Since its installation, Rain Systems has saved CSUN nearly 112,000 gallons of water, which translates to 1,800,000 KWH of energy. A full study on the effectiveness of the deployment will be completed in Q2 2017.
"We are committed to achieving aggressive water and energy savings through strong partnerships," stated David Hodgins, Executive Director of the Los Angeles Better Buildings Challenge. "The successes achieved by SoCal Edge projects so far are a testament to the innovative nature of our technology partners and the strength of the commitment from our real estate participants."
Technologies promoted through SoCal Edge meet the Department of Energy's aggressive performance guidelines, or have been sourced through LACI's innovative technology vetting process. SoCal Edge Technology Partners average 20% energy and/or water efficiency savings and may be eligible for additional utility rebates. Many of the program's technologies have been successfully deployed in GSA Facilities, and thoroughly tested by National Labs to prove their effectiveness.
Media Contact:
Laurie Peters, LACI
(818) 635-4101
lpeters@laci.org