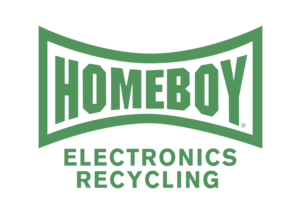 A triple bottom line social enterprise that combines best practices in e-waste management with training and employment for previously incarcerated Angelenos
Website | Sector(s): Recycling, Waste Management
Isidore is building the e-­waste recycling industry in the underserved Southern California market (where over 70% of electronics head to the landfill), making it easy, accessible and data secure. While functioning as the premier R2 Responsible Recycling certified company in Los Angeles, Isidore provides job training and employment opportunities for people who face severe barriers to work, primarily formerly incarcerated people. Industry-­best practices, policies and certifications guide electronics repair, recycling, and de­ manufacturing services… all done cost effectively and with purpose.
R2, ISO 14001 & OHSAS 18001 Certified, B Corporation, and Woman Owned with US Department of Defense level data security and policies.
Key clients include Banc of California, LA County Museum of Art, City of West Hollywood, NASA Services, CA Department of Justice.
Hundreds of tons of e­waste processed and growing fast.
Awards, Grants or Highlights
Awarded the inaugural Smart on Crime Award by CA Attorney General Kamala Harris, CEO Kabira Stokes presented with Women For A New Los Angeles award by LAANE and named one of The Most Interesting People in Los Angeles by the LA Weekly (2015). Isidore named Small Business of the Year by the 32nd CA Assembly District (2014).
Kabira Stokes
Founder / CEO
LACI

Chris Zwicke
Chief Operating Officer
LACI
Van Jones
Advisor
LACI
Omar Brownson
Advisor
LACI