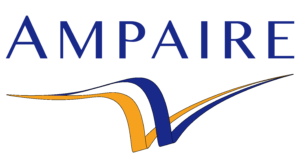 Ampaire: we will transform air travel with zero emission planes.
website | Sector(s): Air & Environment, Transportation
Ampaire is designing and developing high performance zero-emission aircraft to help improve efficiency and reduce aviation's impact on climate change. Our jet will be the first commercial, 9 passenger, all electric aircraft. It achieves the comfort of a business jet without the high cost, noise and pollution. Our custom propulsion system is the heart of our aircraft, and is scalable to planes of various sizes. On our way to our jet, we'll turn existing airplanes electric too. Combined with innovations in lightweight, swappable battery packs, we're optimizing our system for integration into turboprop airframes that are in the air today. We're satisfying current market needs for short flights and we'll reduce costs by around 25% while producing zero emissions and less noise.
Engineering milestones
Multiple patents pending

Sub-scale flight tests complete

Ongoing subsystem ground testing

Targeting 2018 full-scale flight test
Actively engaged with customers
Received letters of interest from 7 airlines
Received letter of intent from an aircraft OEM
On contract with a major engine manufacturer
Awards and Recognition
Named the top Aerospace startup at the 2017 Hello Tomorrow challenge, out of over 3,000 applications
Named the top Electrification startup at the 2017 LACoMotion New Mobility Challenge
Recognized by IEEE with their N3XT Stars Award
Highlighted and mentioned multiple times in Aviation Week, the U.S. top aerospace publication
Named the top Aerospace startup at the 2017 Hello Tomorrow challenge, out of over 3,000 applications
Named the top Electrification startup at the 2017 LACoMotion New Mobility Challenge
Recognized by IEEE with their N3XT Stars Award
Highlighted and mentioned multiple times in Aviation Week, the U.S. top aerospace publication