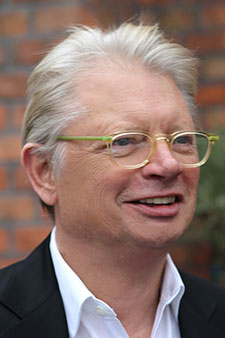 Fred H. Walti, II
Co-Founder
LACI
Fred H. Walti, II, Co-Founder
Mr. Walti is a Co-Founder of the Los Angeles Cleantech Incubator (LACI), combining experience as an entrepreneur with his passion for clean technology.
In just a little over five years, Mr. Walti forged LACI into a regional commercialization ecosystem with an international footprint. LACI is now recognized as one of the premier cleantech commercialization programs in the world: ranked as the #3 Global Incubator by the UBI Index of 1200 incubators; selected by the Department of Energy (DoE) as one of their three national incubators; and chosen by the California Energy Commission (CEC) to establish a Los Angeles Regional Energy Innovation Cluster through a $5 million CEC grant.
Under Mr. Walti's leadership, LACI has helped 67 companies raise $130 million in funding, created 1,500 jobs, and delivered more that $335 million in long-term economic value for the City of Los Angeles. In 2016, LACI celebrated the grand opening of the La Kretz Innovation Campus and has been the recipient of numerous recognitions, including the Rudy Bruner Award for Urban Excellence; an OurCycle LA Commendation from the City of Los Angeles; the Los Angeles Downtowners of Distinction Award; the Los Angeles and Mexico City Sustainable Real Estate Award; and the 2014 Startup of the Year Award by the LA Sustainability Collaboration.
Mr. Walti leads LACI's international initiatives through the Network for Global Innovation (NGIN), a global mechanism creating a commercialization ecosystem comprised of eighteen world-class innovation institutes in nine countries. Mr. Walti was named on the Techweek100 as one of the most impactful technology leaders in 2014.
Fred Walti has been involved — either as a founder, consultant, principal, or investor — in the startup of several-dozen technology companies. He brings twenty years of entrepreneurship experience, having co-founded The Propellant Group, a management consulting group, Full Moon Interactive (FMI), an Internet architect, and LAI, Inc., a consulting company focusing on leveraging technology in traditional businesses. Mr. Walti also started one of the first interactive divisions of a global advertising agency in 1995.
Mr. Walti speaks often to groups on creating cleantech innovation ecosystems, harnessing the region's strengths to build a large green economy, entrepreneurship, the role of economic development in creating jobs, and public/private partnerships.
Fred Walti received his BA from New York University.