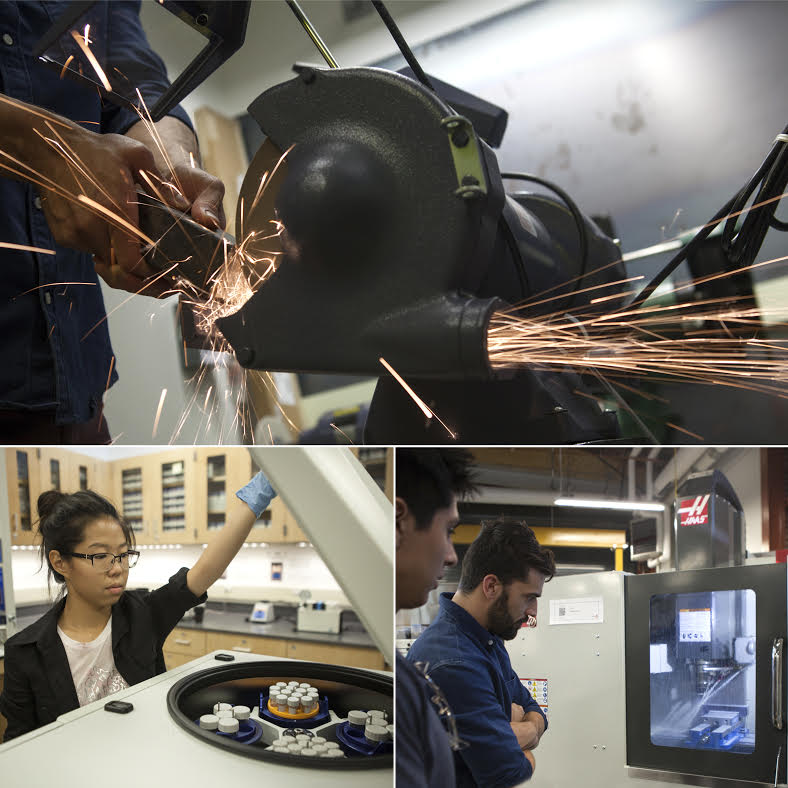 Applications are now open to access the West Coast's most advanced prototyping equipment and lab space available to the public.
Los Angeles, CA- November 2, 2016 – The Los Angeles Cleantech Incubator (LACI), a non-profit organization helping promising cleantech companies deliver market-ready solutions and further economic development for the City of Los Angeles, announces the launch of the Advanced Prototyping Center (APC) at the new La Kretz Innovation Campus in the DTLA Arts District. Significant discounts for memberships are being offered for the public to join a community of inventors, engineers, artists and entrepreneurs through the Advanced Prototyping Center's What Will You Make Today? Indiegogo campaign.
The Advanced Prototyping Center, currently being used by LACI's portfolio companies for product development, will open its doors to the public in January 2017. Applications are now being accepted for monthly memberships enabling innovators of all skill levels to bring their ideas to life. Use of the West Coast's highest caliber facility for prototyping offers members the ability design, build, test, certify and manufacture products all under one roof. The facility includes an electronics lab, chemistry lab, cell lab, CNC center, waterjet center, welding shop, 3D printing shop, textile shop, material working center, use of premium CAD software, laser cutters, woodworking, measurement science equipment, assembly space, training centers and more.
"The diverse breadth and depth of capabilities within the Advanced Prototyping Center's multiple labs and shops accommodate everyone from beginners wanting to learn about 3D printing to companies taking their product through prototyping and design to manufacturing," states Brandon Iglesias, LACI Director of Engineering.
Tours of the Advanced Prototyping Center and product demos will be offered at the upcoming "Smart Prototyping: Turning Your Idea into a Real Product" MAKE IT IN LA event, taking place December 1, 2016 from 3:30-6:30 p.m. at the La Kretz Innovation Campus. The Advanced Prototyping Center is a coalition member of MAKE IT IN LA, Los Angeles Mayor Eric Garcetti's region-wide initiative to connect and celebrate the nation's largest community of makers, and will host the event on campus as part of the MAKE IT IN LA event series.
The La Kretz Innovation Campus is a place where entrepreneurs, engineers, scientists, and policymakers can collaborate, promote and support the development of clean technologies and LA's green economy. The Campus, which is home to LACI and sits on 3.2-acres owned by the Los Angeles Department of Water & Power (LADWP), is LEED Platinum Certified and houses an ecosystem of thought leaders shaping a sustainable future for Los Angeles.
The Advanced Prototyping Center is managed by LACI and was made possible through funding from the City of Los Angeles, Los Angeles Department of Water & Power, U.S. Economic Development Administration and founding sponsorships from Autodesk, Eppendorf, Hyperloop Tech, EMD Millipore, Faro, SafetySpot.com, ProSIM, Dassault Systemes, ANSYS, Aproe, Reactwell, Trinity, Purple Platypus, Insight Systems Exchange, National Instruments and Advanced Industrial Solutions.
About LACI
The Los Angeles Cleantech Incubator (LACI) is a private non-profit organization helping to accelerate the commercialization of clean technologies by offering flexible office space, CEO coaching, mentoring, and access to a robust network of partnerships and capital. LACI was founded in 2011 as a cluster-driven economic development initiative supported by the City of Los Angeles, LADWP and the Community Redevelopment Agency of Los Angeles. Recognized as one of the most innovative business incubators in the world, LACI identifies local entrepreneurs across multiple cleantech business sectors and guides them to market, creating jobs that advance LA's green economy. In just five years, LACI has helped 60 companies raise $80M in funding, created 1,150 jobs, and delivered more than $230M in long term economic value for the City of Los Angeles. LACI operates out of the La Kretz Innovation Campus with satellite offices in Northridge, CA and Silicon Valley and is the organizer of GloSho and founder of the Network for Global Innovation NGIN. For additional information, please visit: laincubator.org
Media Contact:
Laurie Peters
Communications Director
(M) 818.635.4101
(O) 213.358.6542
525 S. Hewitt Street
Los Angeles, CA 90013