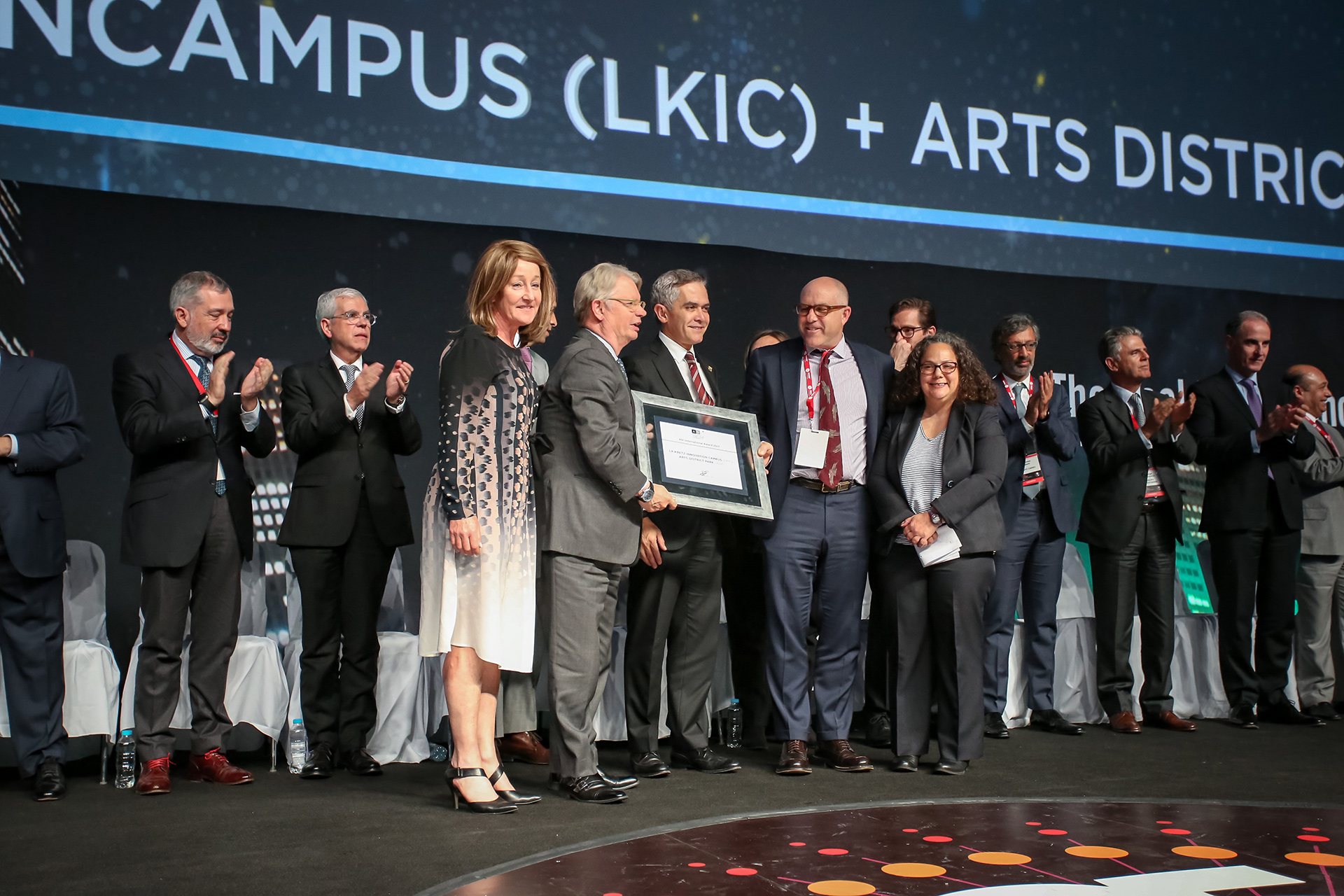 Award Recognizes Arts District 'sustainability factory' for Outstanding Design
Mexico City, March 22, 2017— The La Kretz Innovation Campus, a 61,000-square-foot clean technology incubation center in Los Angeles' Arts District, will receive the 2017 Los Angeles and Mexico City Sustainable Real Estate Award. The award honors projects that embody sustainable building practices, showcase innovative design principles, and promote civic engagement.
La Kretz Innovation Campus, which opened in October 2016, is the headquarters of the Los Angeles Cleantech Incubator (LACI), a nonprofit tasked to transform the city into a green-collar hub, and the anchor for cleantech investment and innovation in Los Angeles.
"The La Kretz campus embodies the power and potential of sustainable development," said Los Angeles Mayor Eric Garcetti. "An incubator for clean technology should reflect the values of the innovators who call it home, and the facility's design promotes and inspires the green advances that will define our future. With this recognition, La Kretz will serve as a model for architects, designers and entrepreneurs around the world."
The award, sponsored by the Association of Real Estate Developers (ADI), one of the most influential real estate developer groups in Mexico, is the result of a longstanding partnership between Mexico City and Los Angeles. Beginning with a Memorandum of Understanding signed by Mayor Eric Garcetti of Los Angeles and Mayor Miguel Ángel Mancera of Mexico City in 2014, the partnership between Los Angeles and Mexico City is a recognition of the two cities' shared interests and business opportunities. Over the past several years, the Los Angeles Business Council has played a pivotal role in the strategic dialogue between government and business leaders in L.A. and Mexico City, including sponsoring delegations in 2013 and 2014.
"The LABC is proud of the work we've done to promote a stronger partnership between Los Angeles and Mexico City and couldn't be more pleased that a building showcasing our shared interest in clean-energy and sustainable design is getting the recognition it deserves," said LABC president Mary Leslie.
The campus, designed by John Friedman Alice Kimm Architects (JFAK), was developed by the City of Los Angeles, the Department of Water and Power (LADWP), the Community Redevelopment Agency of Los Angeles, and LACI. The fully renovated facility features an Advanced Prototyping Center, conference rooms, an amphitheater and workspaces for a growing ecosystem of more than 500 members including leading environmental organizations, strategic partners, engineers and non-profits, in addition to LACI operations, portfolio companies and the LADWP Energy Efficiency Labs and Customer Engagement Lab. It is the first facility in which an incubator is housed in the same building as the R&D labs of a major utility.
"One of the goals of LADWP is to support the green technology that will lead to Los Angeles' sustainable water and power future," Nancy Sutley, Chief Sustainability Officer for LADWP said. "It's gratifying to receive this award, not only for the outstanding work that was done on the La Kretz Campus, but also because it encourages future green development and promotes a green economy not only for Los Angeles, but for cities across the world."
The La Kretz campus comprises 3.2 acres of land owned by LADWP, and features bioswales and drought-tolerant planting, a 175 kilowatt photovoltaic solar canopy, grey water filtration and a micro grid system. The building conforms to the new CAL-Green environmental standards and LEED-Platinum status is anticipated.
"This building is a living lab of clean technologies, a magical place of incredible innovation," said Fred Walti, President and CEO of the Los Angeles Cleantech Incubator (LACI). "We are grateful to receive this distinguished award recognizing sustainable, energy-conscious buildings and most importantly, the relationship between Los Angeles and Mexico City."
The award ceremony will take place March 22 in Mexico City at the ADI Real Estate Show, with Mexican president Enrique Peña Nieto attending. Previous recipients of the award have included esteemed Los Angeles landmarks such as the Broad Museum in 2016, and the California Institute of Technology Keck Institute for Space Studies in 2015.
"This award honors two things we are particularly proud of in delivering projects in L.A., which are our focus on sustainability in the built environment, and our role as a design leader in the global arena," said Gary Lee Moore, City Engineer of the City of Los Angeles. "We are honored that the La Kretz Campus, a green, adaptive reuse of old industrial buildings, is joining the ranks of Los Angeles icons."
A Mexican design project will receive a reciprocal award at LABC's 47th annual Architectural Awards on June 22. LABC is also hosting an inaugural Mexico and Los Angeles Economic Forum on May 5. The event is a convening focused on promoting business relationships between companies in L.A. and Mexico, with an emphasis on bilateral investments, development, and sustainability projects.
About the Los Angeles Business Council
The Los Angeles Business Council is one of the most effective and influential advocacy and educational organizations in California. For over 70 years, the LABC has had a major impact on public policy by harnessing the power of business and government to promote environmental and economic sustainability in the Los Angeles region. To learn more, please visit http://www.labusinesscouncil.org/