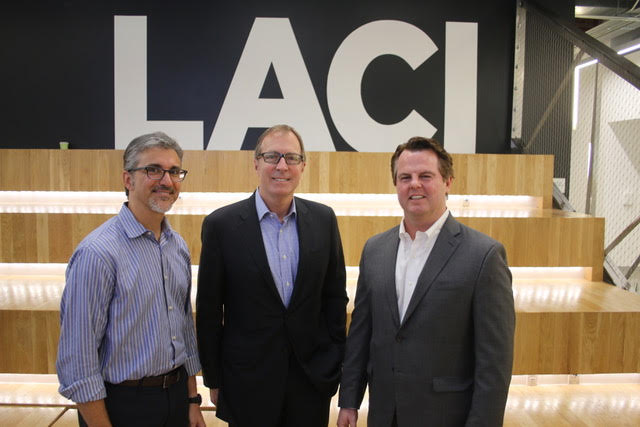 Pictured: Robert Fortunato, LACI Built Environment Executive-in-Residence; Steve Churm, FivePoint Chief Communications Officer; and Michael Swords, LACI VP Partnerships (Photo credit: Ken Lee)

Bi-Monthly Gathering Featured Keynote Address from LA City Controller Ron Galperin, Open Data Initiatives in the City of LA, LA Metro on Measure M and the Japan External Trade Org
LOS ANGELES, CA – January 24, 2017 – The Los Angeles Cleantech Incubator (LACI) hosted its January Leadership Council Meeting at the La Kretz Innovation Campus last week featuring keynote speaker Ron Galperin, LA City Controller, and an impressive list of speakers including Trevor Houser, Rhodium Group; Pauletta Tonilas, LA Metro on Measure M; Lilian Coral, Chief Data Officer, City of Los Angeles; Hisashi Kanazashi, Japan External Trade Organization (JETRO); and Steve Churm, discussing the Net Zero Newhall initiative from FivePoint.
Net Zero Newhall, a plan to build Newhall Ranch in the Santa Clarita Valley with net zero greenhouse gas emissions from construction or operation, was among the highlights at the event. Developer FivePoint has proposed Net Zero Newhall to win reapproval for Newhall Ranch, one of the largest, mixed-use master-planned developments in California. It is a $12.7 billion project with plans to build 21,500 units of net zero housing and create 60,000 permanent jobs along the way. Located 30 miles north of downtown Los Angeles, Newhall Ranch is the first of its kind to feature sustainability solutions for an entire community, including 25,000 EV chargers, solar panels on all homes, mobility and transit solutions for first and last mile, and a recycled water system enabling irrigation with no additional water requirements. The project is currently in its public comment period and letters of support for Newhall Ranch are welcome through the Newhall Net Zero website.
"A recent McKinsey Report said California may be short 3.5 million housing units by 2025. We can help close this gap and provide sorely needed jobs in the process—it is our responsibility," stated Steve Churm, FivePoint Chief Communications Officer, developer of the project. "We plan to change the game when it comes to development, keeping California's three highest priorities in mind—jobs, housing and the environment."
Robert Fortunato, LACI Executive-in-Residence (EIR) and owner/builder of a net zero energy case study house, commented on the project, stating "We've proven that net zero emission buildings can be more affordable, comfortable, and clearly better for our health and the environment. Building at this scale with these goals will set a new standard, spur innovation, new jobs – and make a make a significant impact on climate change.  LACI's network of portfolio companies and partners are perfectly positioned to accelerate this kind of innovative project."
Fortunato is the newest addition to LACI's team of highly-experienced EIR advisors, providing guidance and counsel to LACI's cleantech portfolio companies. Fortunato's focus is on built environment, with an emphasis on net zero commercial and residential innovations. He will be formally introduced at LACI's quarterly Built Environment cluster group meeting this Thursday, January 26, at 4 p.m.
About LACI
The Los Angeles Cleantech Incubator (LACI) is a private non-profit organization helping to accelerate the commercialization of clean technologies by offering flexible office space, CEO coaching, mentoring, and access to a robust network of partnerships and capital. LACI was founded in 2011 as a cluster-driven economic development initiative supported by the City of Los Angeles, LADWP and the Community Redevelopment Agency of Los Angeles. Recognized as one of the most innovative business incubators in the world by UBI, LACI identifies local entrepreneurs across multiple cleantech business sectors and guides them to market, creating jobs that advance LA's green economy. In just five years, LACI has helped 64 companies raise $118M in funding, created 1,200 jobs, and delivered more than $270M in long term economic value for the City of Los Angeles. LACI operates out of the La Kretz Innovation Campus with satellite offices in Northridge, CA and Silicon Valley and is the organizer of GloSho and founder of the Network for Global Innovation NGIN. For additional information, please visit: laincubator.org  
Media Contact:
Laurie Peters, lpeters@laci.org
LACI Communications Director
(818) 635-4101
https://laincubator.org/wp-content/uploads/LC-Meeting_1_19.jpg
427
640
Clare Le
/wp-content/uploads/LACI-LOGO-BLACK-WEBSITE.png
Clare Le
2017-01-24 23:47:26
2017-02-09 20:59:14
Plans to Build an Entire City with Net Zero Greenhouse Emissions Among Discussions at LACI January Leadership Council Meeting