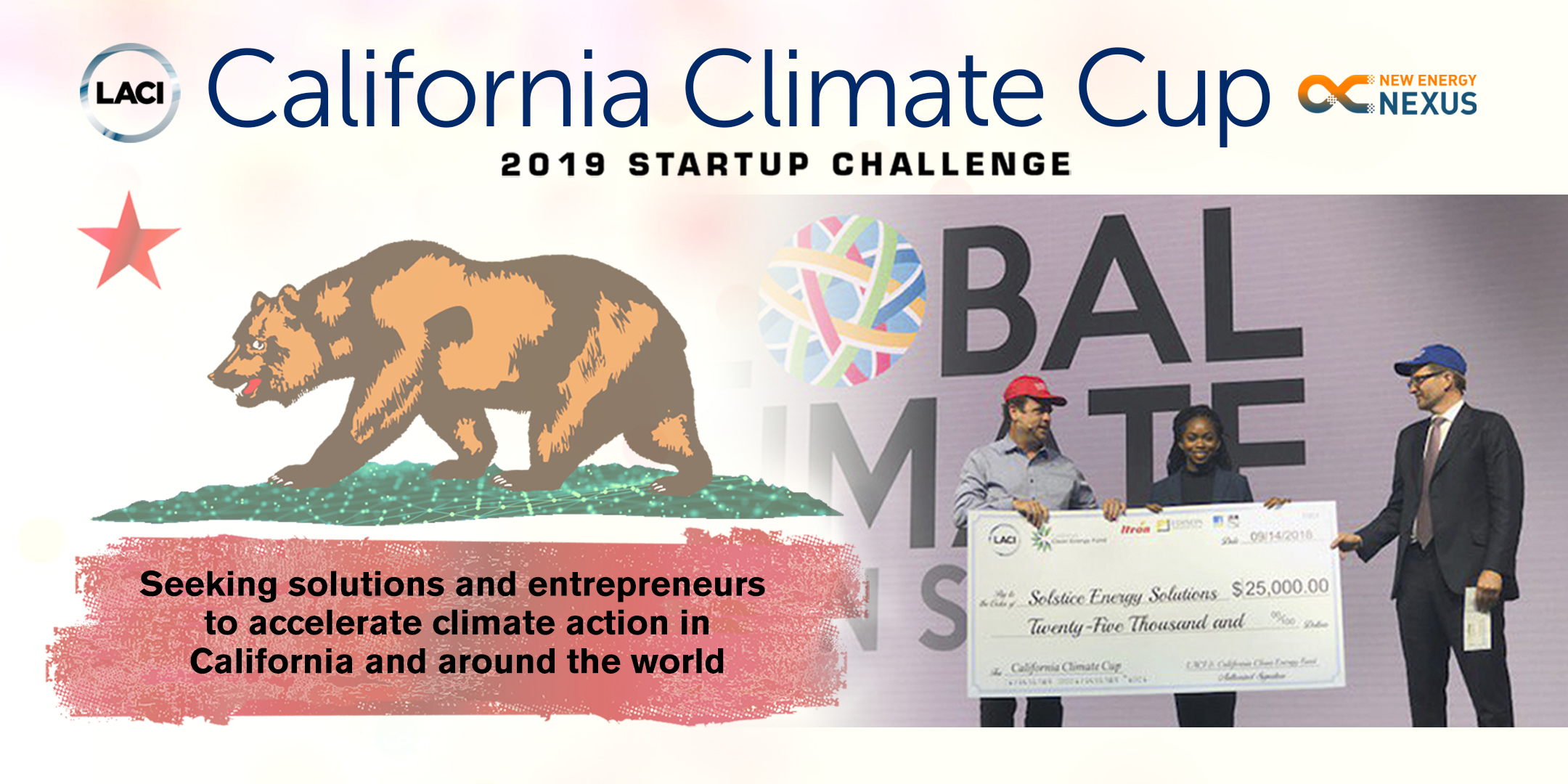 Applications Open for California Climate Cup — Putting the Call for a Green New Deal into Action
LOS ANGELES (April 15, 2019) The Los Angeles Cleantech Incubator (LACI) and New Energy Nexus are seeking solutions and entrepreneurs to accelerate climate action in California and around the world. Applications for the California Climate Cup startup competition will be accepted until May 15, 2019. The grand prize winner will receive $25,000 in non-dilutive award money and priceless exposure to California's business and policy ecosystem.
In its second year, the California Climate Cup debuted at the 2018 Global Climate Action Summit, where innovative startups from around the world pitched their technology and ideas for innovation to decision-makers across the world.
"Winning the first ever California Climate Cup was a great experience because it gave me unparalleled visibility with corporates, funders and state agencies. California has created an amazing innovation ecosystem and it is a thrill for me that Solstice's IoT software is one of the game-changing climate solutions that is building the inclusive green economy," said Ugwem I. Eneyo, co-founder and CEO, Solstice Energy Solutions.
"As the fifth largest economy in the world, California has visionary leaders who have put policies in place to shift markets and unleash innovation from entrepreneurs," said Matt Petersen, President and CEO of LACI. "These market signals ensure California remains a global leader and innovator in driving progressive environmental initiatives forward while growing our economy. The entrepreneurs who compete for the California Climate Cup are putting the Green New Deal into action and serving as an example to other regions."
"California is a world leader in a lot of ways—including experiencing the impacts of climate change," said Danny Kennedy, CEO of New Energy Nexus. "The good news is we are also demonstrating the solutions, especially in LA. The California Climate Cup is a great platform for entrepreneurs to showcase their most innovative climate change solutions and technologies to California's policy and business leadership. We will shine a light on the startups that will bring us the clean mobility and electricity we need and speed them on their way to commercial success."
The California Climate Cup will showcase inspiring ideas from startups across three cities over three days.
June 25 – Los Angeles. Nine semi-finalists (three per category) will pitch their ideas to a panel of distinguished judges at La Kretz Innovation Campus in the heart of downtown Los Angeles. Category winners will be announced.

June 26 – San Francisco. Semi-finalists will network with and pitch to Silicon Valley entrepreneurs and VCs.

June 27 – Sacramento. Semi-finalists will pitch to policymakers in California's capital. Overall winner will be announced at the State Capitol to an audience of policymakers and agency officials.
We are seeking applicants who have a solution that is deployable in California and potentially scalable across the world. Companies must be less than five years old, with less than $5M in revenue, and have a product in pilot, beta, or prototype stage. We are looking for companies that are answering the call for a Green New Deal—competition categories address the greatest climate resilience and carbon reduction needs in critical sectors and winning companies will be working to specifically address SB100 or the goals of the Transportation Electrification Partnership.
Clean & Smart Grid

• Renewable energy

• Energy storage

• Digital and physical (wildfire) grid security

• Grid load optimization & efficient technology bundling

• Transactive energy

Energy/Transportation Nexus

• EV charging and energy storage infrastructure

• Charging solutions for medium- and heavy-duty vehicles and fleets

• Demand response, smart charging, charge management (V2G, V2H)

Zero Emissions Transportation

• Goods movement and urban logistics

• People movement, urban mobility and access

• First and last mile
The California Climate Cup application deadline is May 15, 2019.  For more information and to apply visit laci.org/climatecup.
About LACI
The Los Angeles Cleantech Incubator (LACI), a private nonprofit organization, is creating an inclusive green economy by unlocking innovation (working with startups to accelerate the commercialization of clean technologies), transforming markets (through partnerships in transportation, energy and sustainable cities) and enhancing communities (through workforce development, pilots and other programs). Founded as an economic development initiative by the City of Los Angeles and its Department of Water & Power (LADWP), LACI is recognized as one of the most innovative business incubators in the world by UBI. In the past seven years, LACI has helped 78 portfolio companies raise $221M in funding, $220M in revenue, create 1,750 jobs, and deliver more than $393M in long term economic value. Learn more at laci.org.
About New Energy Nexus
New Energy Nexus (NEX) is a global organization that supports the next wave of entrepreneurs with funds, programs, and connections that reflect emerging trends in the clean energy economy. Since 2004, New Energy Nexus (formerly known as the California Clean Energy Fund) has leveraged $1.5 billion in investment, invested in more than 100 clean energy enterprises, and launched industry leading centers for collaboration. Our network includes more than 100 incubators and accelerators, funders and development organizations from 29 countries around the world. We have offices in California, Shanghai, Singapore, Indonesia and Vietnam.
Media Contact:
Sarah Bryce