Below you'll find a listing of various job opportunities at LACI, our Portfolio Companies, and through our Programs.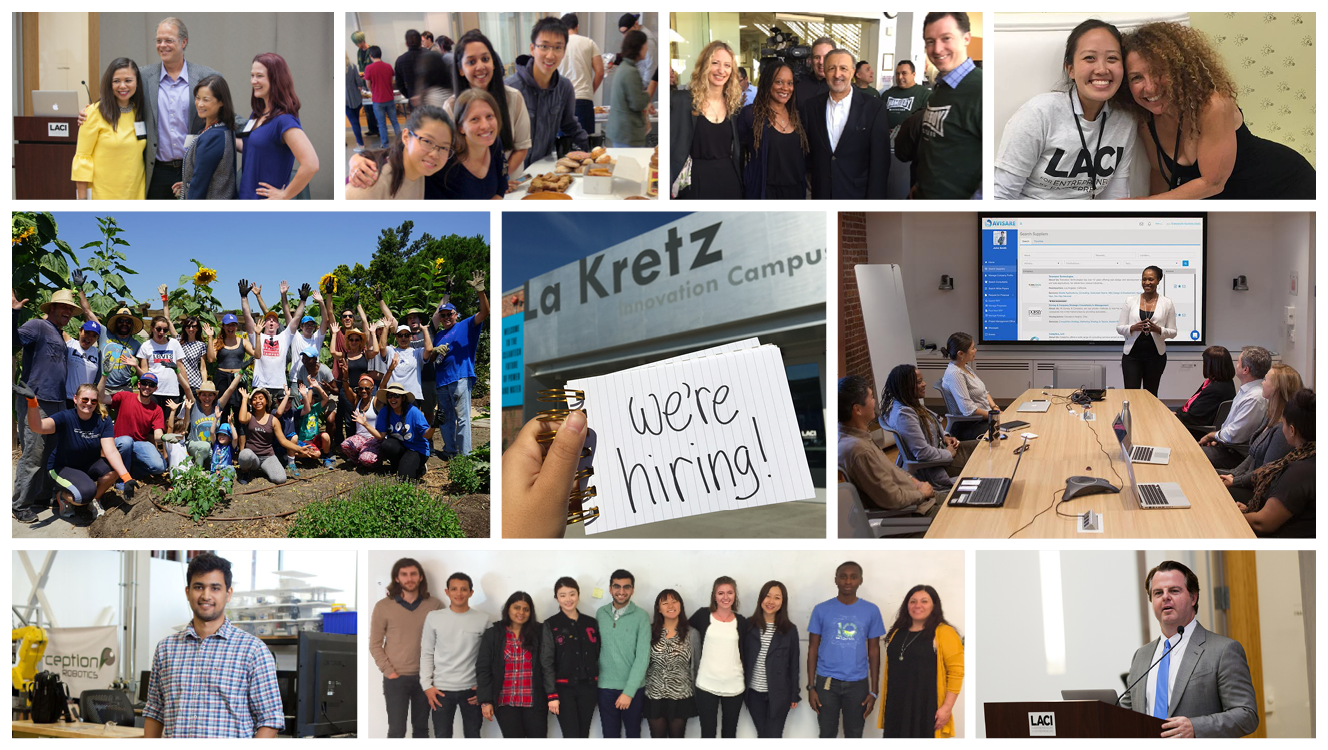 LACI
LACI is an Equal Opportunity Employer (EOE) and committed to building a more inclusive ecosystem that integrates women, people of color, and other underrepresented groups into the cleantech sector and the overall tech industry.  We strongly encourage applications from qualified applicants and members of underrepresented groups. The information collected from the application helps us ensure that we are meeting our goal of an equitable and diverse campus and community.
Ampaire
Ampaire is designing and developing high performance zero-emission aircraft to help improve efficiency and reduce aviation's impact on climate change.
Ampaire is currently seeking to fill the following positions:
Immediate Need:
Summer 2019 Interns:
Summer 2019 Full Time:
Motivated candidates should submit resumes to info@ampaire.com
Avisare
Avisare is a business-to-business marketplace and software system that allows companies to find all the small businesses they need to hire as part of their supply chain.  We are tackling income inequality and wealth disparity for disadvantaged populations through entrepreneurship.  We support LGBT, minority, women, disabled and veteran owned businesses.
We are searching for talented, enthusiastic and motivated people to join our team to help us develop the next fortune 500 company in the making.
Current openings:
Director of Engineering
Director of Marketing
Senior Account Manager
Chief of Staff
Check out our Careers page here. Please send your cover letter and resume to careers[at]avisare.com.
Chai Energy
Chai Energy provides the first-ever digital and truly personal energy advisor built on top of a customer's own energy data. Chai's personal energy experience is powered by the data captured from over 50 million smart electric meters installed by utility companies throughout the US. In making energy-decisions simple for customers Chai is easing the adoption of energy efficient products, distributed generation resources, time-based electricity pricing, and other products aimed at mitigating the negative impact of our electric grid.
Chai Energy is currently seeking a Mobile Development Intern. Please send your resume to jobs@chaienergy.net.
Connect Homes
Connect Homes' goal is to bring high design to those previously priced out of building their dream home. The company's modular system utilizes building modules that can be fully-finished in the factory and plug into the intermodal shipping container network, cutting the logistical costs of doing modular prefab by up to 90%. With this system, Connect Homes breaks the regional constraints of the housing industry and delivers the first truly global housing product.
Connect Homes is currently seeking a Construction Operations Manager and a Senior Vice President of Manufacturing. Please send your resume to Jared Levy, CEO, at jared[at]connect‐homes.com.
Ferraris Power
Ferraris Power is a magnetic power harvesting technology company that is changing the way utilities deploy and power smart devices. Their power supply solutions are designed to attach to standard power lines, leveraging proprietary scaling technology to harvest magnetic energy that is otherwise wasted, and eliminate device dependence on batteries or transformers.
With R&D and mass-manufacturing facilities in Seoul, Korea and over $12 million in funding to date, Ferraris Power's US operations are based in the Arts District of downtown Los Angeles as a portfolio company of the Los Angeles Cleantech Incubator.
Motivated candidates should submit CV to ysheen@ferrarispower.com
Green Commuter
Green Commuter is the US's first zero-emission vanpool, car share and fleet replacement company. We are working to decrease commuting costs, reduce greenhouse gases and alleviate traffic. A certified B-Corp, we manage a car sharing program in Chattanooga, Tennessee and have recently initiated vanpool operations in LA.
We are looking for new team members who can bring a mix of hands-on experience and "hard skills" to our LA office: candidates with experience in implementing car share programs, knowledge of electric vehicles, plus backgrounds in transportation planning or environmental policy are strongly encouraged to contact us.
Hive Lighting Inc.
Hive Lighting Inc. designs and manufactures energy efficient lighting products for the entertainment industry. The company's award-winning products are high quality, environmentally responsible and proudly Made in the USA. Hive Lighting's innovation in plasma lighting for film and television is currently in consideration for a 2017 Academy Award for Scientific and Technical Achievement.
Hive Lighting Inc. is currently seeking an Electrical Assembler and a Shipping Quality Control Manager. If you think you might be a good fit, please send your resume in PDF format and cover letter to info[at]hivelighting.com.
Homeboy Recycling
A triple bottom line social enterprise combining best practices in e-waste management with training and employment for previously incarcerated Angelenos.
Current Openings:
Nevados
Nevados
 is commercializing a cutting-edge single axis solar tracker to address the need to install more efficient solar systems, more sustainably. Every year the solar industry spends over $1B flattening land to install solar power plants and carries with it a negative environmental impact. The Nevados All Terrain Tracker (ATT) is poised to address this problem with a unique mechanical design that allows for slope agnostic installation and a machine learning control system that eliminates the need for human intervention during commissioning. The Nevados ATT is the most advanced single axis tracker product on the market, eliminating major cost components of solar installation, reducing the negative environmental impact, and increasing ROI.
OnRobot
OnRobot A/S is a global company working to grow a world-class one-stop-shop for robot peripherals.
OnRobot A/S is the merger of three companies including Perception Robotics (Los Angeles, LACI Portfolio Company) and 2 other organizations located in Odense, Denmark and Budapest, Hungary to create a global leader in robotic grippers and sensors.
See all our open listings at https://onrobot.com/career/
We are currently accepting resumes for:
Pick My Solar
Think you've got what it takes to get solar on every compatible rooftop in America? Would you like to work for a progressive, game-changing company with a conscience? Then we'd love to hear from you.
https://pickmysolar.com/about/employment
We're currently seeking a Senior Inside Sales (Energy Advisor). Find a complete listing of job openings on our careers page. Please send your resume to info[at]pickmysolar.com
Repurpose
The leading consumer brand in eco-friendly tableware. Repurpose products are 100% made from plants, non-toxic, renewable and compostable – a sustainable and affordable alternative to single use plastic products.  Welcome to a cleaner world.
Current Openings:
The Los Angeles Cleantech Incubator and Advanced Prototyping Center are always looking to connect with terrific people! Perhaps you enjoy working in Marketing & Communications, IT, Events, Community Management, or Operations, or maybe you'd like to be involved in a short-term project with one of our six Clusters (Water, Transportation, Energy Generation & Storage, Waste & Sustainable Materials, Built Environment, and Agriculture & Food Science). The Advanced Prototyping Center is seeking Artists, Engineers, IT Technicians and Administrative Assistants.
If you're interested in volunteering, please complete our online application here.
We look forward to hearing from you!
LACI
Stay tuned, as more internships will be posted soon! Meanwhile, please check out our volunteer opportunities above!
Advanced Vehicle Manufacturing
Avisare
Hive Lighting Inc.
Repurpose
Stay tuned, as more internships will be posted soon!
SAYA Life