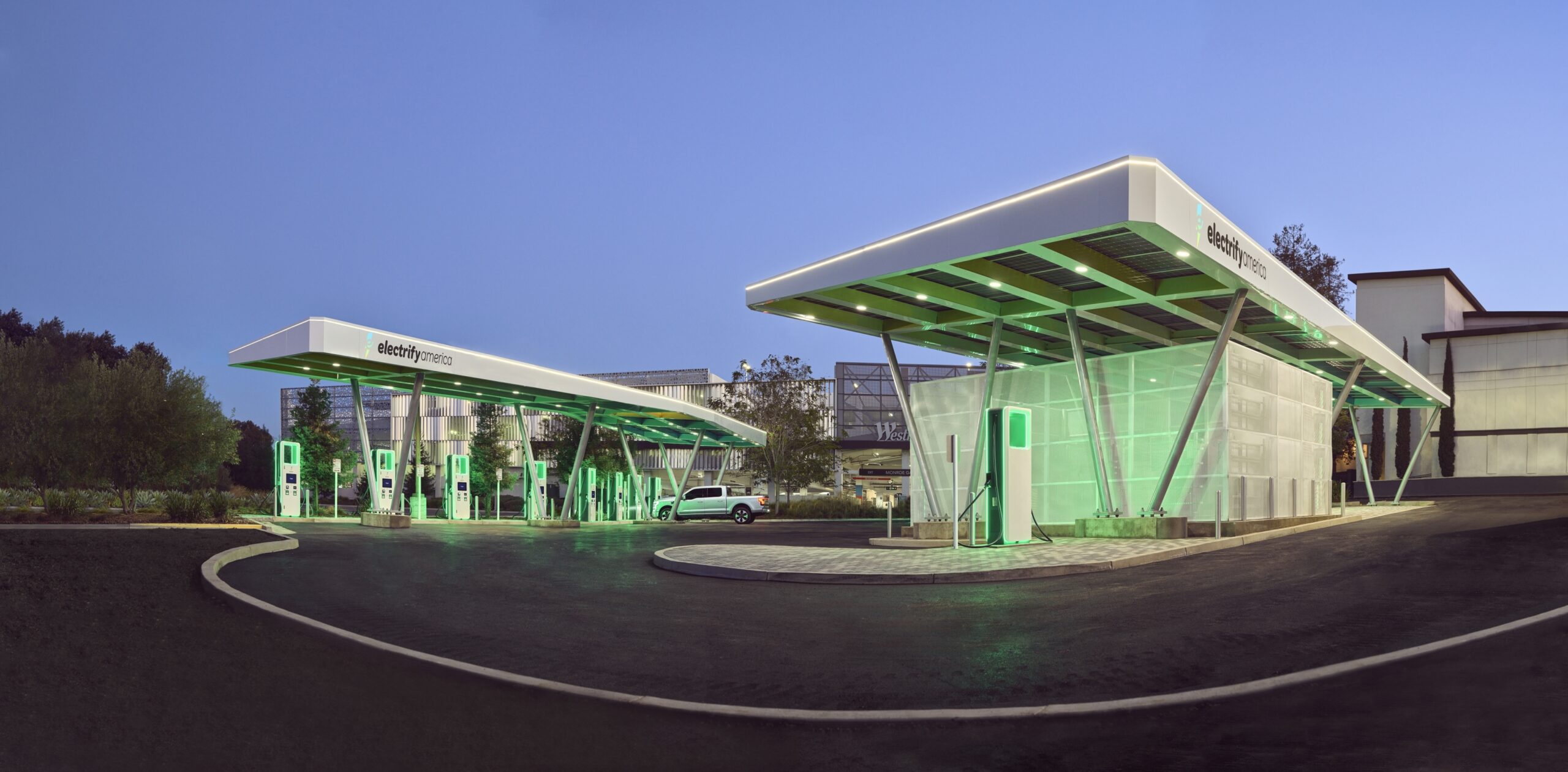 With over 30 partners in the Transportation Electrification Partnership (TEP), we are fortunate to
have a partner that is investing deeply in the LA region, focusing on direct-current fast charging, and is approaching
the work holistically with a virtual power plant. Electrify America LLC has been a member of
the Transportation Electrification Partnership (TEP) since 2020. As the largest open DC fast
charging network in the U.S., Electrify America is working to enable millions of Americans to
discover the benefits of electric driving and support the build-out of a nationwide network of
ultra-fast community and highway corridor chargers that are convenient and reliable. Through
an investment of more than $2 billion over 10 years in zero emission vehicle infrastructure,
education and access, Electrify America is making bold moves to ensure a zero emissions
future. As we push forward with our TEP goals set forth in the Roadmap 2.0, Electrify America's
work to expand the charging network is critical.
Collaboration is Key
One of the ways Electrify America is able to expand its reach is through collaborations with
industry leaders. For example, Bank of America and Electrify America recently announced plans
to more than double the number of financial centers equipped with EV charging stations by the
end of 2023. As of the beginning of this year, 172 Electrify America individual EV chargers have
been installed at 46 financial centers – totals the companies intend to grow to more than 350
chargers at over 90 financial centers by the end of 2023.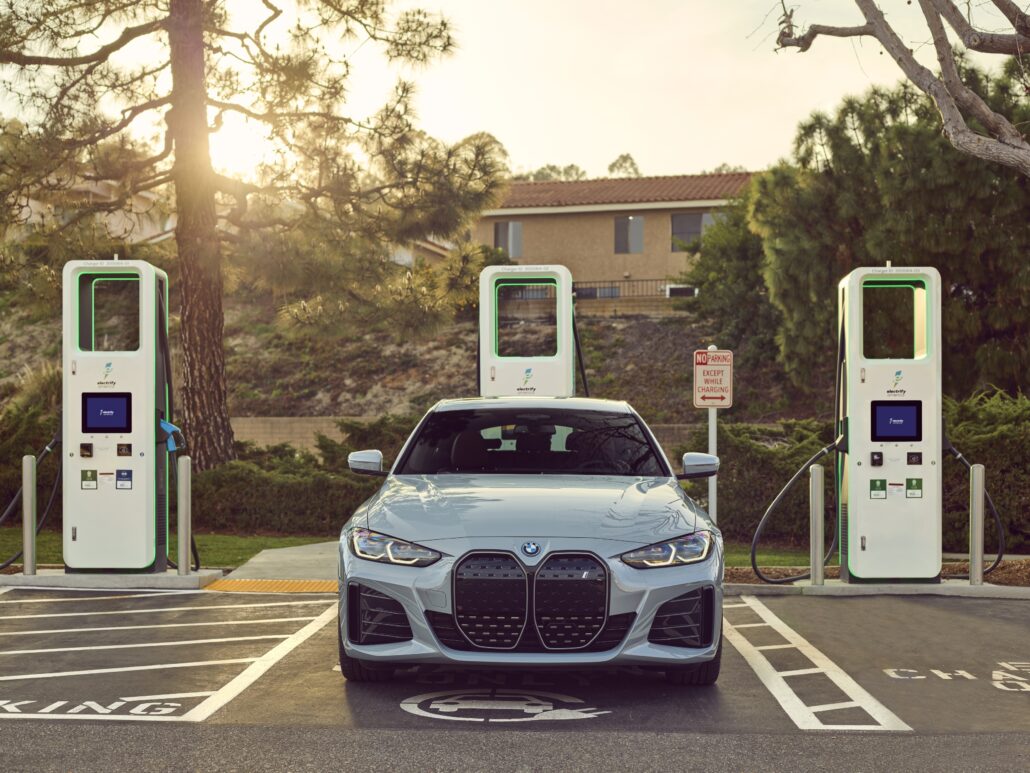 Additionally, BMW of North America and Electrify America publicized an agreement this year to
provide 2022 BMW EV customers with two years of 30-minute complimentary charging sessions
at all Electrify America public charging stations, from the date of vehicle purchase. With no
additional cost to the vehicle's purchase price, customers can receive immediate access to
complimentary charging at more than 3,500 Electrify America chargers across the U.S. Electrify
America has announced other customer charging agreements with companies such as Audi,
Ford, Kia America, Volvo, and more. By providing this resource to new EV owners, Electrify America is incentivizing potential customers and helping to make EVs a more attractive option.
Through bold initiatives like this, Electrify America has helped move the needle and encourage
the adoption of EVs. In 2021, they provided 1.45 million customer EV charging sessions, which
highlights the rapid deployment of its charging stations across the United States. By
comparison, the company recorded 268,000 customer EV charging sessions in 2020. This
impressive change shows the increasing popularity of their services, making it imperative that
the country is able to keep up with demand.
Going Bigger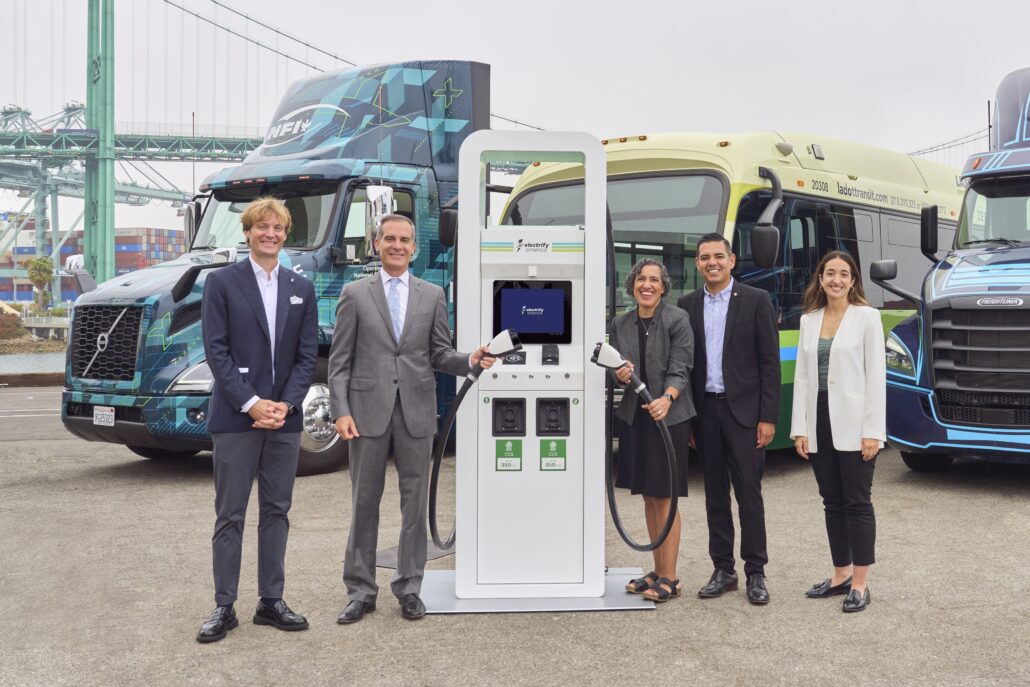 Building on Electrify America's first successful Green City program in Sacramento, the company
is now also working with Long Beach and Los Angeles city officials as well as private fleet
operators, owners and collaborators to implement projects focused on charging electrification
for public transit and heavy-duty electric vehicles, showcasing ultra-fast charging technology,
and energy management for these two emerging use cases. Efforts are focused on tackling
medium and heavy-duty emissions in the Long Beach and the Wilmington neighborhoods of Los
Angeles.
Additionally, Electrify America and NFI Industries revealed plans for the nation's single largest
charging infrastructure project to support heavy-duty electric trucks, with 38 ultra-fast DC
chargers slated for completion by December 2023 to support 60+ battery-electric drayage
trucks.
Powered Up
As Electrify America continues to grow its network, providing electricity to increasing numbers of
chargers will require massive amounts of energy. To address this, Electrify America has entered
into a 15-year virtual power purchase agreement (VPPA) with developer Terra-Gen to build a
solar photovoltaic renewable energy generation project in San Bernardino County, California
called Electrify America Solar Glow™. The new solar project is expected to generate 75
Megawatts of 100% renewable energy annually at peak production, the equivalent power usage
of more than 20,000 average American homes, or an estimated annual production of 225,000
Megawatt hours. It is projected to produce enough 100% renewable energy annually to more
than offset the energy currently delivered on an annualized basis to Electrify America's
customers charging on its extensive network and is targeted to be operational by mid-2023. This
groundbreaking project will ensure that Electrify America's extensive charging network will be
supported by renewable energy and has helped the company become North America's largest
open DC fast charging network to enter into a virtual power purchase agreement for new
renewable energy generation.
As we draw closer to the 2028 Olympic and Paralympic Games, it is vital for us to make bold
moves and lead the way towards a cohesive, accessible zero emissions transportation system.
Through close collaboration and strong leadership, we will shape the future of transportation to
become a more accessible, zero emissions system that will serve as a model to the rest of the
world.
– Shevonne Sua, LACI Transportation Program Coordinator
The Transportation Electrification Partnership (TEP) is an unprecedented regional public-private
collaboration to accelerate deep reductions in climate and air pollution by the time of the 2028
Olympic and Paralympic Games. All of our partners have committed to work individually and
collectively to pursue policies, pilot projects, and other actions that are equity-driven, create
quality jobs, grow the economy, and help the region reach the bold targets in the TEP's Zero
Emissions 2028 Roadmap 2.0.