[av_textblock size=" font_color=" color="]
2015 was a transformative year for LACI. The organization's beginnings in a converted bus repair terminal have given way to a sparkling new address at La Kretz Innovation Campus, a move that positions LACI at the focal point of cleantech innovation in Los Angeles.
We have many people to thank for this continued growth and good fortune: We're lucky to have worked with mayors who possess great vision. Honored to work with the LADWP, whose confidence in us is a daily inspiration. Grateful for our academic partners, mentors and advisors: you continue to be a wellspring of innovation and invention.
It's not all luck: it takes the tireless efforts of our staff, the dedication of our executives, and most of all the creativity and persistence of our portfolio companies to make this all happen.
As we move forward into our 5th year and continue to broaden our outreach, expand our services and further our mission of building great cleantech companies, we wanted to take a look back and once again say to all who give so freely of their time, wisdom, and advocacy: thank you.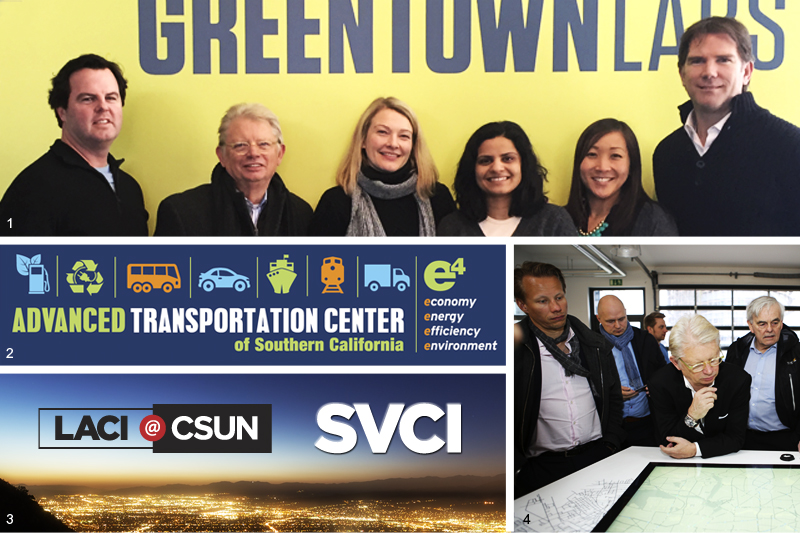 (1) The year began with a visit to Greentown Labs, a Boston area incubator who would later join LACI's Network for Global Innovation (NGIN) on Earth Day, April 22nd  (2) The Advanced Transportation Center of Southern California opened for business at LACI in February (3) LACI's satellite network continued to expand in 2015, with LACI@CSUN building a successful program in Northridge featuring portfolio companies Got Gift Cards and Project Pals and SVCI in Silicon Valley working with new portfolio company Nevados Engineering (4) LACI CEO Fred Walti is shown visiting NGIN member Borderstep Institute in Berlin last February. In 2015 NGIN grew to 15 members in key markets in 7 countries around the world.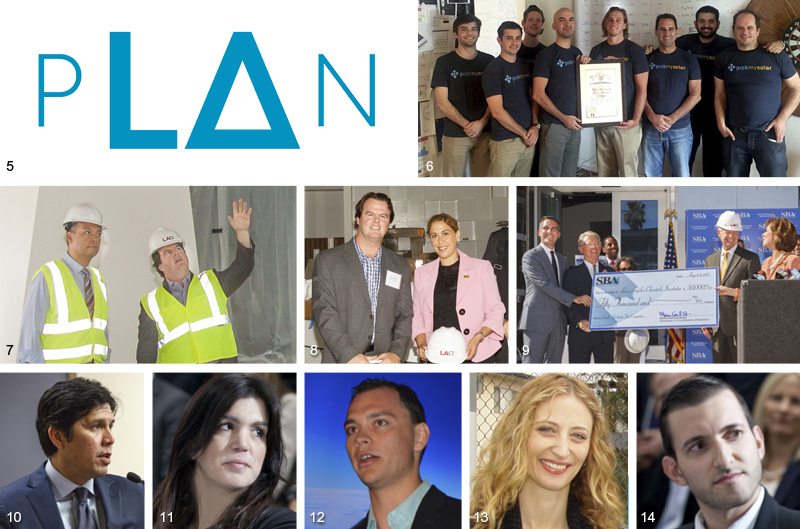 (5) On April 8th, Mayor Eric Garcetti unveiled his landmark Sustainable City pLAn outlining a set of goals and directives to improve Angelenos' environmental and economic quality of life. The pLAn directly cites $50 million dollars of private investment raised by LACI portfolio companies as an example of "LA's Leadership to Date." (6) Pick My Solar had a blockbuster 2015, winning an Outstanding Small Business Ward from the SBA, Techweek's Grand Championship and the DoE's Sunshot Catalyst Award   (7) VP of Partnerships Mike Swords is shown giving Secretary of State Alex Padilla a tour of La Kretz Innovation Campus, a hot ticket even before its construction was complete (8) Other Campus visitors included the SBA's Eileen Sanchez (9) White House Cabinet member Maria Contreras-Sweet, who presented LACI with a $50,000 check for its win in the SBA Growth Accelerator Fund Competition and (10) State Senator Kevin de Leon who also spoke at May's LACI Leadership Council meeting. Other 2015 Leadership Council speakers included CA Secretary of State Padilla and Brogan Bambrogan of Hyperloop Tech (11) LACI companies enjoyed a successful 2015, including Repurpose (CEO Lauren Gropper pictured) getting shelf space for their line of compostable cups plates and utensils at Safeway stores (12) Chai Energy's app went live with SDGE, SCE and PG&E in 2015 (CEO Cole Hershkowitz pictured) (13) Isidore Electronics Recycling now employs 13 people full-time and is now the premier R2 certified company in Los Angeles (Kabira Stokes pictured) (14) Freewire Tech's Arcady Sosinov appeared on CNBC as Freewire won $35,000 in the Secure America's Future Energy competition with it's Mobi technology. Other LACI company developments featured Grid Logistics securing a patent for their containerized goods transportation system, Local Roots raised a round of financing and moved into a new headquarters in Vernon. Green Way Labs developed a second brand of cleaner (Verday) and its Masticlean product is carried in 135 Lowes stores. Juicer unveiled a new concept in Motorbicycles, Current EV launched its new website, Perception Robotics , Cal Lithium Battery and Ecoponex continued to advance their disruptive technologies. CAGIX launched its beta site, Vena Water received a $300K round of funding and got to pitch its technology in Dubai. Revoterial continued in its quest to minimize the toxicity of the fashion industry and Xelnt's client list for it's NanoTec-ERA continues to grow.

(15-19) The LACI Cleantech Global Showcase (GloSho15) brought the cleantech world to Los Angeles. This year's conference was focused on the nexus of three themes: the cleantech investment outlook, innovation, and global markets. Glosho15 featured almost 600 guests, 50+ speakers including LA Mayor Eric Garcetti, Steve Westly and CA Secretary of State Alex Padilla, spirited and informative panel discussions, 30+ investors and over 50 companies from 17 different countries presenting their technologies at the JW Marriott at LA Live.

(20-23) LACI moved into it's new headquarters at the 60,000 square foot La Kretz Innovation Campus in Downtown Los Angeles on October 30. Owned by the Los Angeles Department of Water and Power, this remarkable facility features collaborative workspace, offices, R&D and prototyping labs, conference rooms, a workforce-training center, and more. The campus provides an abundance of options and opportunities for the innovation ecosystem LACI is building and provides physical space for the organization to grow.
(24) November spawned a new international collaboration as LACI and MaRS Cleantech, announced a cooperation agreement aimed at the advancement of a sustainable future for both cities at an event attended by Ontario Premier Kathleen Wynne. (25) In November Vice President of the United States Joe Biden visited LACI to take part in a roundtable discussion with Fred Walti and Mayor Eric Garcetti to discuss jobs and clean technology. (26) Panelists included LADWP General Manager Marcie Edwards, Deputy Mayor of Economic Development Kelli Bernard, LACI Board Members Jim McDermott, Richard Morganstern and David Nahai, TCW Managing Director Tom Soto, as well as several entrepreneurs from LACI's portfolio companies. (27) LACI was ranked #3 on the list of World Top University Associated Business Incubators for 2015, by UBI Global. (28) Robert Rutherford and Jon Miller of Hive Lighting will receive the International Press Academy's (IPA) 2015 Tesla Award for Visionary Achievement in Filmmaking Technology for their revolutionary plasma lighting.
Wow. After a year like that, we can't wait to see what 2016 has in store.
[/av_textblock]